Direct Messenger is a great solution for sending out professional SMS text messages.
This integration allows you to send all your subscribers from Smaily to Direct Messenger. Only email addresses with phone numbers will be added to your Direct Messenger account. At the moment it's not possible to send lists to Direct Messenger.
Phone number parameter name in Smaily must be number, phone_number, telefon or telefoninumber (read how to import contacts with parameters). The number has to start with country code (372, 371, 370 etc) and can't contain any spaces, e.g 372xxxxxxxx.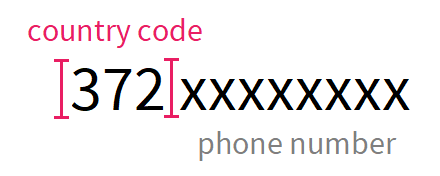 Contact synchronization isn't automatic and is just one-way, i.e. subscribers have to be updated before every SMS campaign and can only be added from Smaily to Direct Messenger.
Integrating Smaily to Direct Messenger is easy! You just have to…
Make a new account or log in Direct Messenger, by clicking here.
In Direct Messenger go to "Group" (1) then choose "Smaily" (2).

4. Add created Smaily API username, password and your account subdomain. You can see the subdomain in the address bar when you are logged in Smaily (marked in pink).
5. Click "Submit" button and the contacts will be sent to your Direct Messenger account.