B2B or business-to-business marketing is complex and needs to encompass the impact of various stakeholders within companies with different roles in business purchase decision-making. Unfortunately, many organizations have cut their B2B marketing budgets due to the pandemic. On the positive side, marketing technology and digital marketing are being rediscovered by an increasing number of B2B companies. Many B2B marketers have recognized email marketing as one of the most effective channels for generating customer engagement. Therefore, this time, let's learn more about one of the most important aspects of B2B email marketing – the B2B mailing lists.  
B2B Email Marketing Lists
Same as for B2C, it does take time to grow your B2B mailing lists, but organically building your email database will give you the best results. Experienced email marketers will always urge you not to purchase mailing lists. Unfortunately, many businesses are tempted to rent or buy such mailing lists to try and boost their sales quickly. However, you'll likely do more damage than good with purchased or rented lists.
Data Protection and Privacy Laws
It is important to understand the different data protection and privacy laws that apply to you. While you will probably find that many regulations are meant to manage B2C marketing, B2B is not an exception.
There are many different data privacy laws out there, such as GDPR, CASL, or CAN-SPAM, and while their goals are similar, the regulations have differences too. And, yes, as we said, even for B2B email marketing, you have to be compliant.
Let's take the GDPR as an example. GDPR laws are stringent when protecting personal information. Unfortunately, one might assume that B2B data isn't "personal information" as these are all "business contacts". However, it's not that simple!
For instance, an email address such as firstname.lastname@companyname.com is a personal, corporate email address. And an inbox such as department@companyname.com doesn't really have personally identifiable information. Can they be treated the same under GDPR? Also, many sole traders are using their email addresses for business purposes – and sole traders should be treated as individuals under the GDPR regulations. What do you think – will buying email addresses or renting mailing lists keep you compliant with data protection laws?

Trustworthy ESPs Won't Allow Sending to Non-Compliant Mailing Lists
Reputable Email Sending Providers will operate under permission-based marketing terms and conditions. Therefore, buying scraped email addresses, renting databases, and using other similar non-compliant lists will get your account penalized, suspended, or even closed.
Therefore, you should invest time and effort into growing your mailing list organically: a list that is going to be active, healthy, and engaged with your content. If you don't want to manage your email deployments yourself, find a reputable agency. If you are going to handle your email marketing in-house, find a trusted, compliant email service provider.
How to Build a B2B Email Marketing List?
Building a mailing list takes time; however, it is very much possible! Here are some B2B email list building tips to help you grow your own B2B email database.
Build Your Own Quality Email Marketing Communications
In B2B marketing, content is king. Company employees are looking for information relevant to their work roles and researching for various solutions to help grow their business. They look for experts on the subject matter. 
If you offer B2B products and services, you can offer your expertise, your guidance through email marketing. If you have relevant information to share with your prospects and existing customers, you will get engaged subscribers in return. Remember, newsletters and other email marketing communications are not just for B2C!
Lead Magnets
Same as for B2C, B2B lead magnets can help boost your email sign-ups. Lead magnets are frequently used to obtain email addresses in exchange for something that a company offers.
What can be used as lead magnets for B2B? Think of what fits your business and is valuable to your audience. Is it educational content that your subscribers might be looking for? Why not use that information and knowledge formed as a lead magnet – free video tutorials, eBooks or whitepapers, free demos, or consultations can all work as lead magnets. However, when getting sign-ups from lead magnets, be sure that you are compliant with your local data protection laws!
Social Media and Other Online Connection Opportunities
Yes, social media works for B2B list building too! Know your channels – where can you find your prospects? Are they on Facebook? Or maybe LinkedIn is where you'll find them? You can run targeted ads in these specific social media channels to build your subscriber list.
Build your online presence and reputation in various relevant forums. Don't forget Quora – a question-and-answer website to build your subscribers list – you'd be surprised how much web traffic Quora can generate for you. When used correctly, it can surely boost your email subscription rate!

Influencers
Using influencers could help build your brand reputation, vitalize storytelling, and, of course, generate email sign-ups. Reputable influencers should have a strong, established reputation in your industry. Remember, the B2B purchase cycle is longer than B2C, so your B2B marketing efforts could take longer to bring back results.
Offline Marketing
Use your offline marketing opportunities – if you have a physical store, you can try to gather opt-ins in-store. If you're participating in trade shows, don't forget to get email sign-ups there (OK, even virtual trade shows during the pandemic can help you gain subscribers!).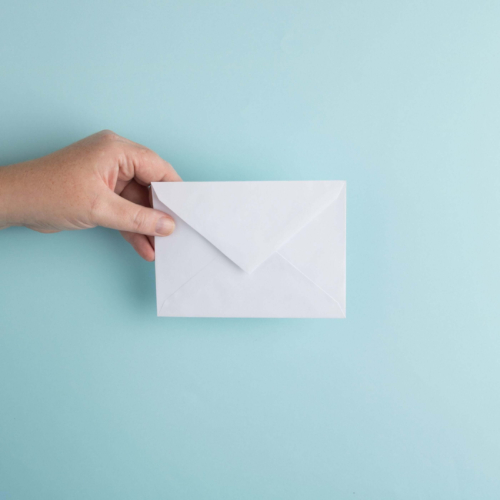 If you're targeting local markets, look for offline marketing opportunities to build your business reputation and promote the business offering, as well as get email subscribers.
B2B Email Marketing is More Important than Ever
In these turbulent times, and even with reduced budgets, B2B email marketing stands strong. It's more important than ever to build good quality B2B email marketing lists, and utilize the power of marketing technology to generate leads and increase customer conversions. Smaily is ready to help you build those beautiful B2B marketing emails!
In our next article, we'll discuss different types of B2B emails and have a look at some inspiring design ideas.