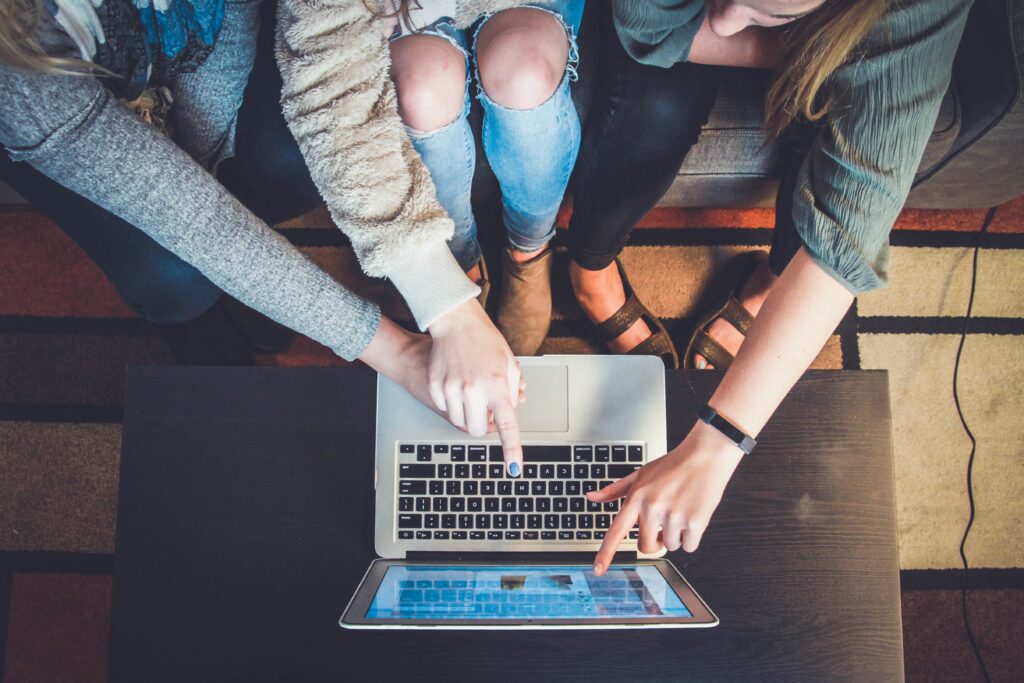 Very rarely do we buy something without reading reviews. As consumers, we might be checking for feedback about product performance or purchaser satisfaction. We might be trying to find out if the product or service works as advertised. As marketers, we value feedback because we know that reviews can really help drive business results. So, this time, let's find out more about customer review emails and how to generate more reviews with email marketing.
Influence Consumer Purchasing Decisions
Reviews have a significant impact on consumer purchase decisions. According to Statista research, in 2019, 93.4% of digital shoppers worldwide read customer reviews before buying from an unknown digital retailer. Reviews can help boost sales and build customer trust, but a lack of reviews or too much negative feedback can do the opposite.
That said, it's been found that when you connect customer feedback with their transactions, you can improve your reviews and ratings and generate strong social proof.
Let's not forget that reviews are considered one of the most significant factors influencing local SEO performance. According to the Local SEO Ranking Factors 2020 survey, the two most important grouped factors affecting Google local pack rankings are Google My Business and… yes, reviews. You can read more about the findings of this survey on Brightlocal.
Therefore, by regularly generating authentic customer reviews, you will impact customer buying decisions, and you'll help your SEO!
Sometimes All You Have to Do Is Ask
The first step in generating customer reviews is simple – ask them for feedback. That said, knowing when and how to ask can help you generate more reviews and even build a segment of customers who essentially become your brand advocates.
Thus, make sure you ask for that feedback. And the easiest way to do that is with email marketing.
Before sending your review request emails, you should set your goals. Is your aim to build a segment of satisfied and loyal customers? Or maybe find the unhappy ones and try to win them back? Your goals will help you create targeted and effective feedback request emails. Your aims might vary per review type – there are many things you can try to get feedback for, such as getting a store review or a product or service review. They are different; hence the content and questions asking for that feedback could be tailored accordingly.
Another thing we want to highlight – review emails should not be manual deployments. For the best results, reviews should be post-transactional, coming from a "verified buyer". Therefore, create automated email workflows and connect the email deployment to your transaction data. 
Review request email template design needs to be focused and clean. You shouldn't include other sections there. There should be one primary call-to-action. Your subject lines should be easily associated with a review ask. So, don't be wordy. Review email isn't your beautiful newsletter. Here's an example of a short and sweet feedback request email from Nokia: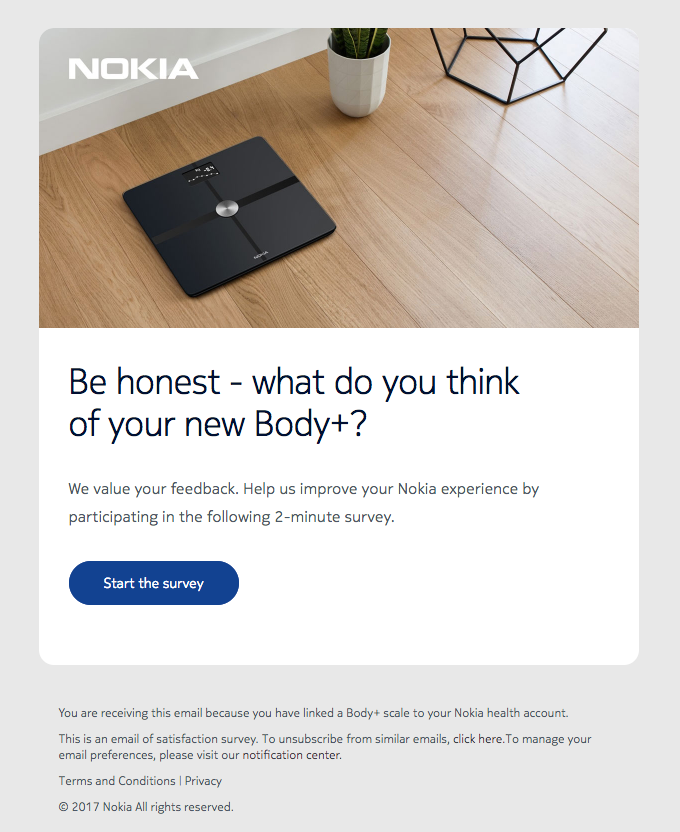 Personalisation & Dynamic Content
If you're connecting the review requests with specific transactions, personalisation and dynamic content can help drive reviews. For a start, you can address the recipient personally and then tailor the message using dynamic content functionality.
Let's say you're building a store review email. In that case, your HTML email template can contain merge fields that automatically add the store location or name. If you're crafting a product review email, you should show the purchased product and add your CTA button. Here's an example from Target: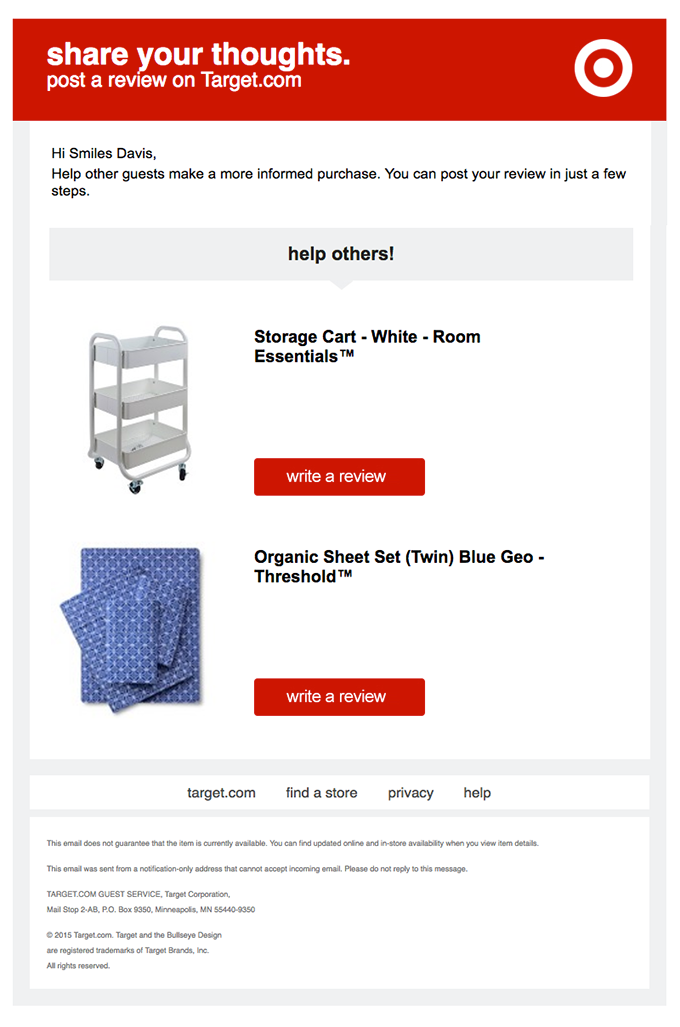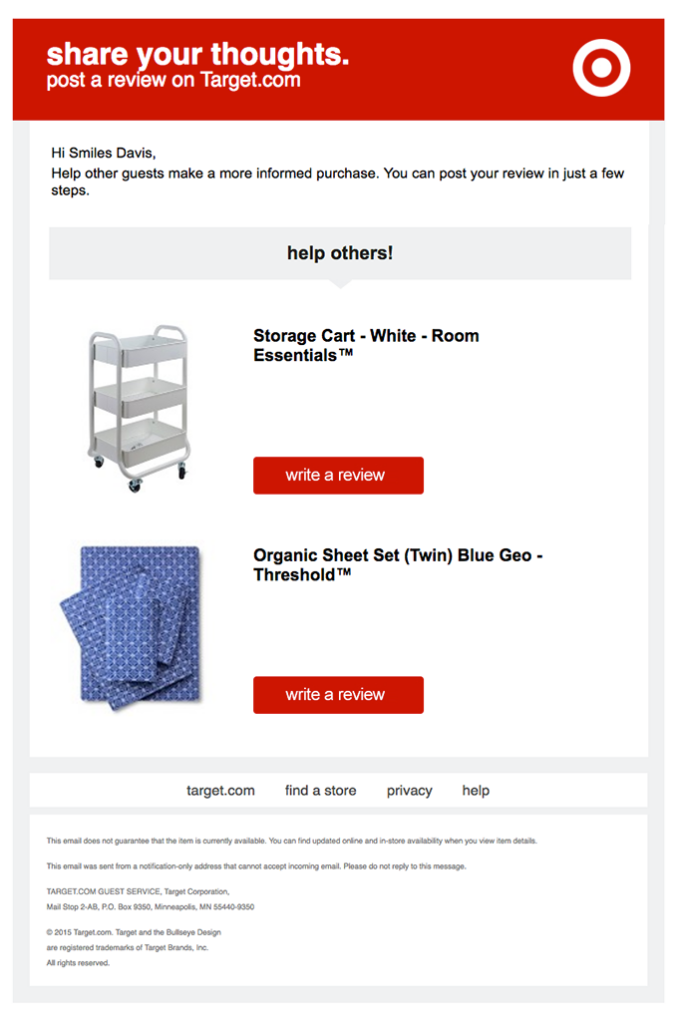 Similarly, you can use a star rating instead of the button call-to-action. Everlane email is an excellent example of how to add a star rating, dynamic content and even include a separate button for a review:


Plan the Timing of Your Email Deployment
It's easy to say, "send your review requests as soon as possible". But that might not always be the best option. Yes, some reviews are best sent out shortly after the transaction, such as the store reviews. You're unlikely to receive an accurate review if you delay too long. 
Product or service reviews are different. Their timing should depend on your industry and the product or service itself. Some products or services will work great with a minimal deployment delay. But some simply require your customers to use the product/service for a while to be able to share credible feedback. Let's say you're buying new tires. You need some time driving them to be able to assess their performance. It can't happen overnight. So, in this case, you should add an appropriate delay in your automated workflow.
Another good way to boost feedback submissions is by providing an incentive (and with that, potentially drive more sales!). It's a good way to stand out with your review email. 
Unfortunately, your email will probably battle for attention in the inbox. It will have to compete with other review emails. What can encourage your email recipients to complete your survey? An incentive. Remember, in many cases, there's always that question: "what's in it for me?". Here's a beautiful example from Tailor Brands. A well-designed, short and sweet review request email offering 50% off.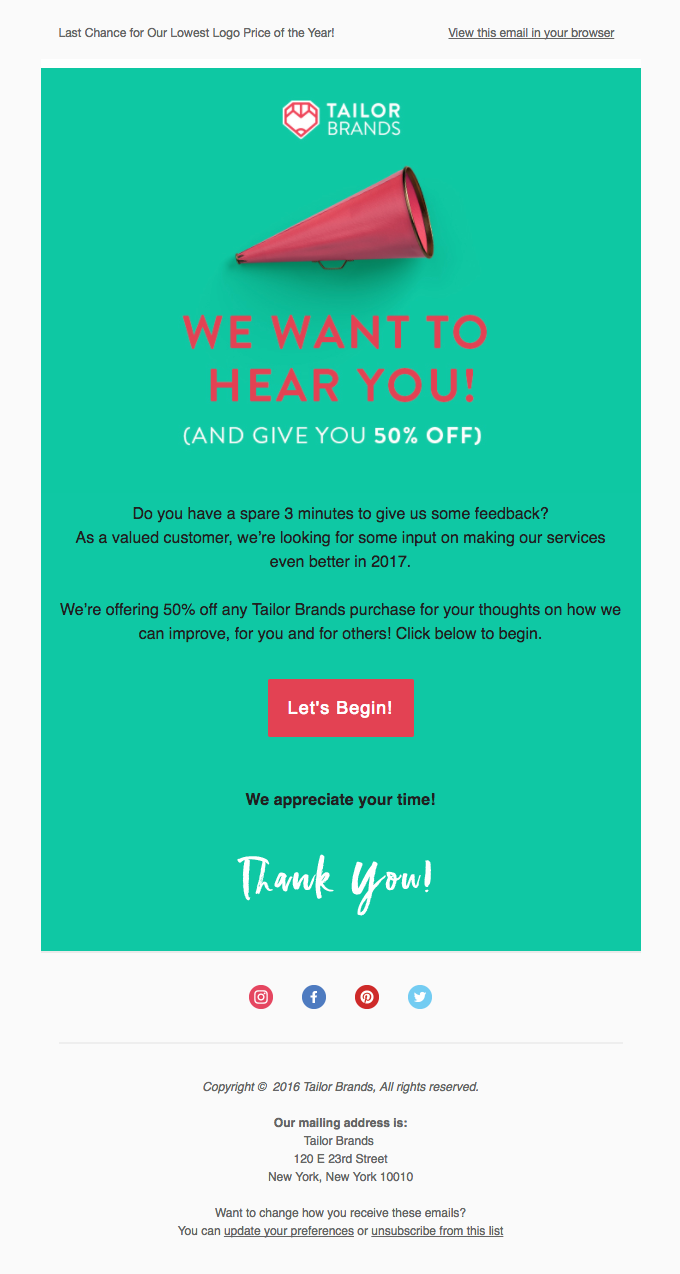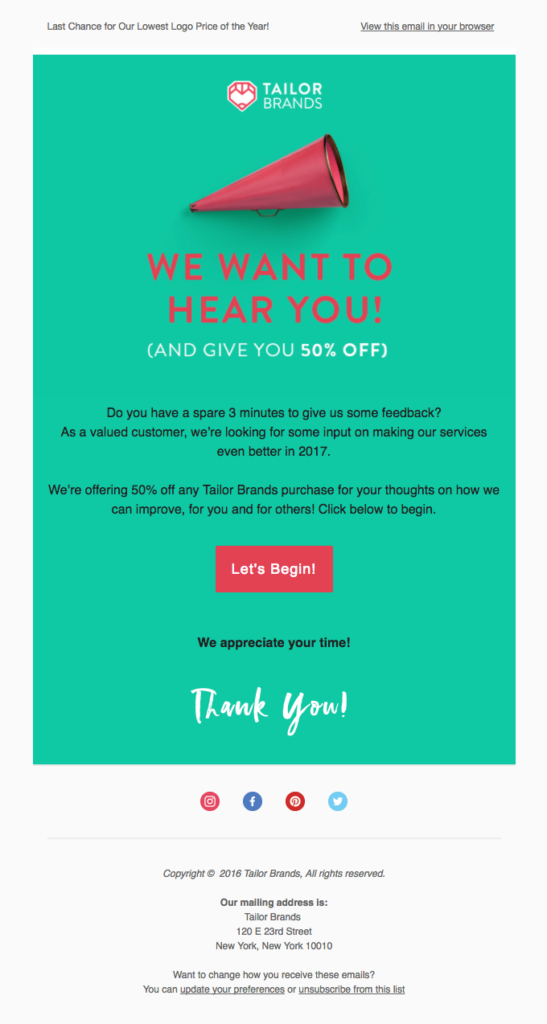 Lastly, we want to encourage you to monitor the replies coming from your marketing emails. Review emails can generate multiple direct customer replies. They can be informing you about issues with your email or your survey. You might get complaints, and it's best to act as soon as possible to prevent a potentially negative review and try to keep the customer. Therefore, it's recommended not to use a "no-reply" or an unmonitored inbox.
Email Marketing is Perfect to Ask for Reviews
Email marketing is super effective when it comes to generating reviews. You can add real-time triggers, personalisation and dynamic content. Use the power of automation; optimise the timing, flows and content and get even more customer reviews. Remember, authentic reviews can help boost sales, influence purchasing decisions, and help your SEO. So make sure you ask for those reviews!