Relevancy and targeting are crucial aspects of successful marketing campaigns. Email marketing is not an exception – you need to know your audience to best engage them. This time, we'd like to talk about the Baby Boomers generation. How can you optimize your email marketing to engage Baby Boomers generation?
Generally, the "Baby Boomers Generation" refers to people born during the years following World War II. While there are variations of the exact years that comprise this generation, the most common range is 1946-1964. Baby Boomers got their name because of the spike in birth rates after World War II.
How are Baby Boomers described? They are said to be hardworking, resourceful, focused and goal-centric. They also value relationships but are quite competitive and independent. It's definitely worth recognising that Baby Boomers generation makes up a significant segment of the consumer population; therefore, it's worth understanding how to best engage them.
Baby Boomers Embrace Technology
Naturally, Baby Boomers find it more challenging to embrace new tech – especially as it's evolving and changing fast. However, it doesn't in any way mean that this generation doesn't use modern technology.
According to a Statista survey done back in 2017, it's clear that Baby Boomers in America own smartphones, computers and tablets. A small percentage are using wearable tech and home assistants.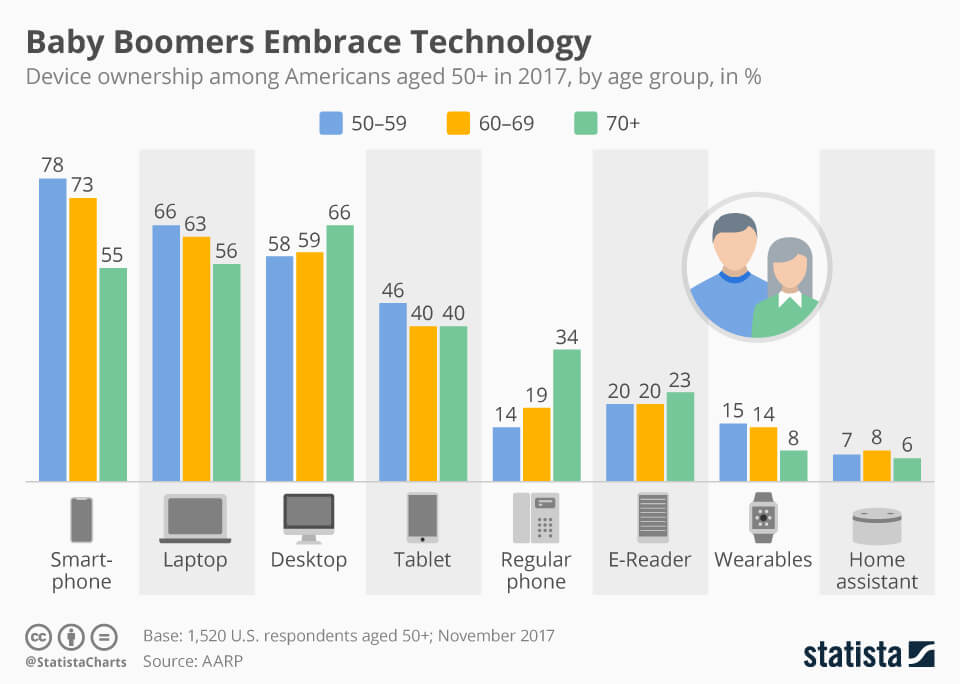 Therefore, when you're creating your email content and building your email templates, think of where they are most likely to read them. Make sure that your emails are rendering well across different devices.
Adapting to Online Shopping
The COVID-19 pandemic has changed the online behaviour in all generations. As we can see from the chart below, digital spending has significantly increased in all age groups, including the Baby Boomers.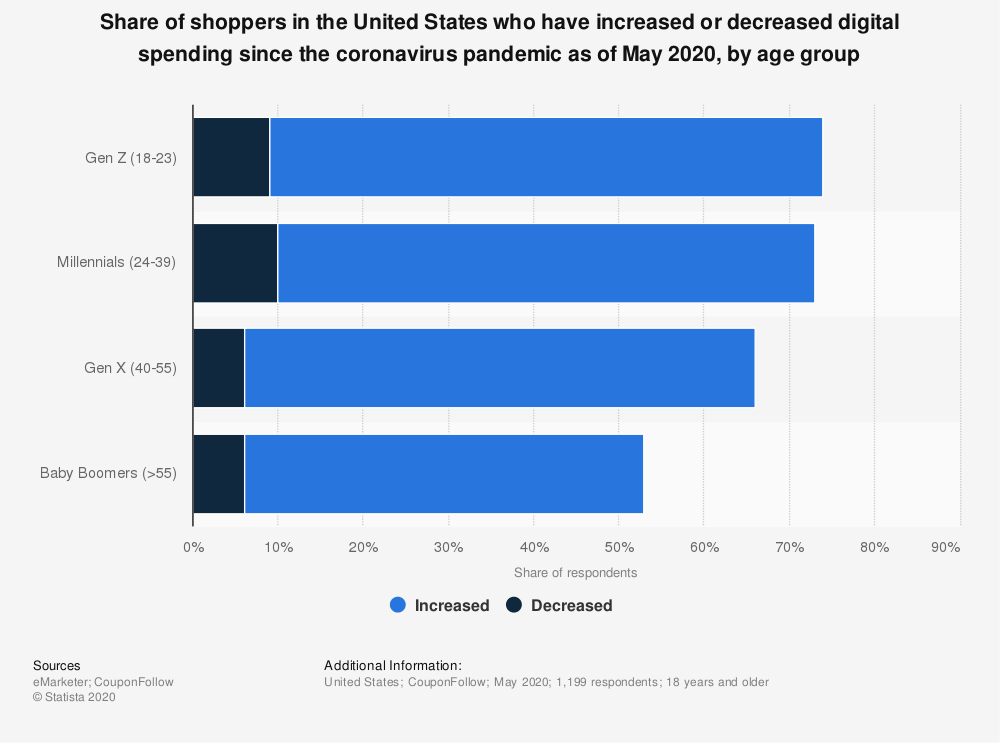 Therefore, it is an excellent time to work on your e-commerce sites and make them user-friendly (all-age friendly!). Create automated email workflows to support your e-com sales: build your abandoned cart triggers and review flows.
We've mentioned that Baby Boomers value relationships. This trait is also reflected in brand loyalty. Boomers don't like switching brands. That, unfortunately, makes life harder for marketers trying to acquire more Baby Boomers as new customers. Baby Boomer's loyalty is much harder to obtain. That said, if they become loyal to your brand, they are likely to stick around! Therefore, amongst your marketing emails, try to regularly promote your brand loyalty.
Make Accessibility a Top Priority in Your Emails
If you're trying to reach Baby Boomers, make sure your emails are easy to read and understand. For example, bigger font size and good contrast will help your email readability. Don't forget adequate paragraph spacing too. Here are some tips to make your emails more accessible.
Promote Your Social Media Channels
While boomers read newspapers and magazines and watch TV, they have started to use social media too. According to Statista, in 2019, boomers' most widely used channel was YouTube (70%). Facebook was in a close second (68%). Pinterest was the third most-used channel by Baby Boomers; however, only 27% of respondents reported using it.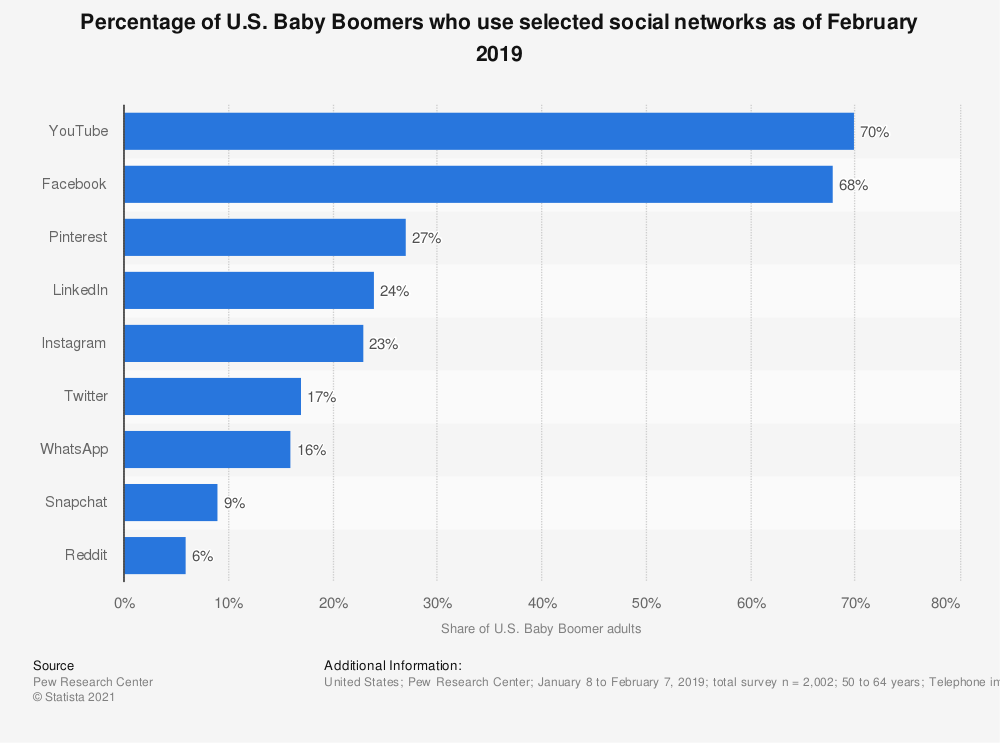 Utilise your email marketing to connect with your Baby Boomer customers on social media.  However, make sure you promote relevant channels. Consider adding a social media bar in your marketing emails. Or create a dedicated email marketing campaign to increase your social media following.
According to The Shelf  Baby Boomers spend more per online purchase than Gen Xers or Millenials. 92% of boomers' generation shop online and on average they do so at least once a month! Baby Boomers have more disposable income, so their average spend is higher. Of course, this statistic might not be accurate in countries facing more economic issues.
Generally, Baby Boomers are more likely to add a higher-ticket item to their shopping cart. We recommend that when you're planning your marketing emails to this generation try to include your upselling messages. Remember, it's easier to upsell than to generate a net-new sale.
If you're promoting your products or services to this generation, you should make emails relevant to them. Think about what language, what words you are using in your email copy. Understand what type of content they like – what's their sense of humour, what tone of voice they appreciate? Use appropriate creative assets to support your email message too.
Offer Good Customer Support
It's a good idea to clearly include ways to contact your brand and highlight customer support options in your marketing emails. It's one of the factors that can persuade a boomer to make a purchase, so make your customer support option strong and visible in your emails.
Optimize Your Email Messages
Now that you've learned what Baby Boomers generation is, the likes and characteristics, it should help you create a plan of how to best optimize your email marketing campaigns to engage them more. You can do several things to make your messages more relevant to this generation, such as adjusting the design and ensuring good accessibility. Learn about the shopping habits of boomer customers – their average shopping cart value, for instance. Build email automation to support the online shopping experience and promote upselling. Baby Boomers are a consumer segment that you should not ignore!