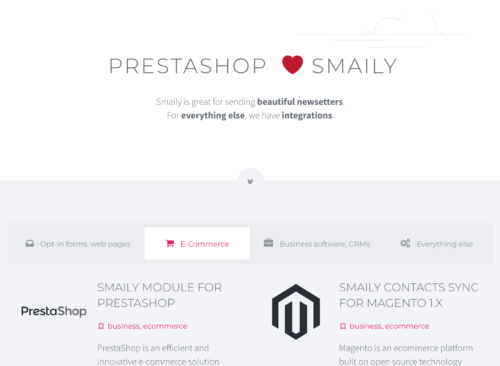 Here at Smaily, we have long believed in the power of emails. Email marketing can significantly increase your ROI, strengthen your brand, and engage your target audience. We will always strive to give you the ability to create and send beautiful emails easily and improve your marketing efficiency and productivity.
Over the last ten years, Smaily customers have used our super-friendly drag-and-drop editor to create beautiful, personalized, mobile-responsive emails, such as colorful newsletters, event invitations, or product highlights.
We know that there are many programs, apps, and systems out there used to make marketing more effective. However, holding your data in different places could make your business processes lengthy and complex. We want to transform and connect your marketing tools, as the real power comes when you use them together. We are incredibly proud to present a nice, revamped, and thorough Smaily Integrations page to our customers.
Supercharge Your Email Marketing With Smaily Integrations
Evolve your email marketing with Smaily, generate new subscribers, and keep your mailing list engaged. We are here to help you succeed.
Smaily Will Help You Take Your Business to Another Level
We care about our customers; we want you to grow and accomplish your goals and aspirations. If you are running an e-commerce business, you will be excited to see what else we have to offer:
Increase Your Marketing Efficiency
Smaily is here to help you close the gap between the different business functions, such as sales and marketing. As many companies use Google apps to increase their business efficiency, we want to make sure you can integrate and use Smaily with confidence.
Smaily Is Here For You And Your Business
Modernizing your email marketing can be tricky, with so many different apps and systems offering a wide range of different functionalities, but none that offer everything for everyone (in any way that is considered decent of all the aspects required). We are here to help you connect all your data sources with your Smaily account and master the art of effective email marketing.
If you want to jump right in, we have compiled a library of useful integration resources to help you start. Not sure where to begin? Get in touch with the Smaily customer success team.