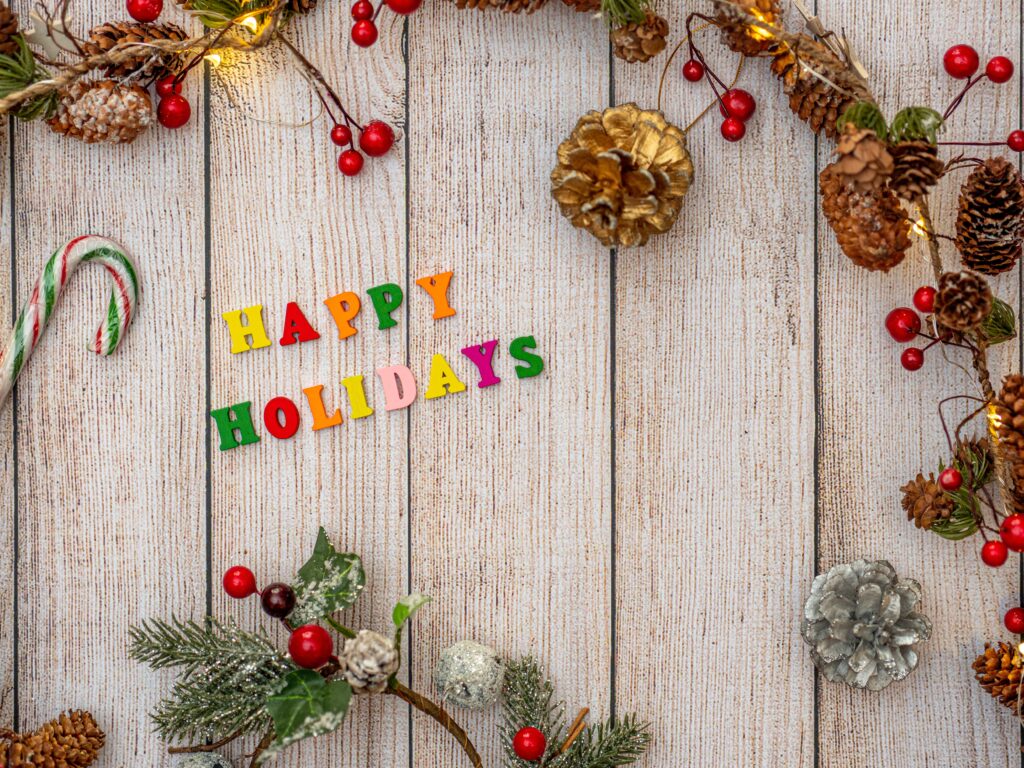 To many businesses, the Christmas holiday season brings opportunities for increased sales as consumers get ready for the winter holiday spend. These few weeks of festive sales can benefit any company, especially small and medium-sized businesses. Unfortunately, it can be challenging for smaller stores to compete with offers from large retailers or online companies. However, having a solid marketing plan can help even the smallest business drive the winter holiday festive shopping. And this is where email marketing can make a big difference. Therefore let's review some great tips on driving sales with winter holiday email campaigns.
If your target audience celebrates Christmas, your winter email campaigns might as well be Christmas themed. You can start by creating a festive email template design, graphics and content.
Highlighting your Christmas Specials – featuring the relevant products or services for Christmas – can really help drive traffic. So, if you're sending a sales targeted email, still spread the holiday vibe. This is where you can get creative and boost your email personalisation. If you have the tools to display the relevant products to each of your subscribers or subscriber group, this is the time to build that dynamic content! But if you're not there yet, then select the products that can represent your Christmas Specials the most.
Also, for many shoppers finding the perfect Christmas gift can be quite a challenge. Hours and even days spent searching for great gift ideas… And you have the power to help your customers (and potentially boost your sales!) – a Christmas gift catalogue and emails with gift ideas could make holiday shopping quicker and easier. And here's a perfect example:

Have an Option for a Gift Card
What kinds of Christmas gifts make people happy? Here are the top Christmas gift categories compiled by Statista: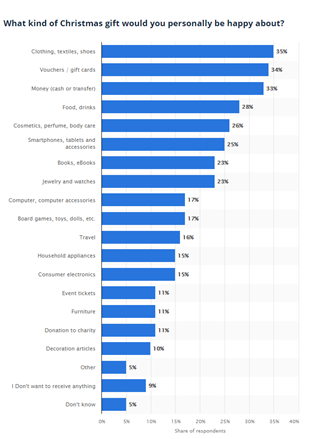 While vouchers and gift cards as Christmas gifts can be a good topic for debate, the research shows that many respondents actually appreciate them. Therefore, where relevant, having the option of a gift card or a voucher could be very beneficial. And if you are featuring your Christmas Specials, it could be a good idea to mention gift cards in your festive email campaign too. Here's a fantastic email example for inspiration:

Gamification and Interactivity for Increased Engagement
Making your winter holiday emails special can increase engagement and conversion. Therefore, try to build them to be more fun, pretty or interactive than your usual campaigns. Many businesses will be competing for consumers' attention in the online space. Thus, being creative can help keep your recipients interested and encourage them to interact with your calls to action.
Gamification can be a great tactic! For example, the advent calendar email series can be highly engaging for your subscribers. And, nowadays, you have the technology to support your creative ideas. Reputable Email Service Providers usually have the capabilities of building automated journeys. Therefore, your automated emails can be triggered and deployed in real-time.
So, if you're building something like an advent calendar for your email marketing, your workflows can manage the deployment automatically. This way, your subscribers can get a daily advent calendar email to open and click and receive something in return. And that something could lead your email recipients to continue shopping at your business. Remember, curiosity can help with email engagement and click-through – who doesn't like to unwrap their gifts, even if they are in the digital space!
Specify Delivery Information
Christmas shopping can get extremely busy for the stores and for the delivery companies. Therefore, when you're sending your festive email campaigns and encouraging Christmas shopping, it is advisable to mention the information about the delivery times. If your customers do not get their Christmas gifts in time for Christmas, they will be disappointed.
New Custom email campaign highlights delivery information perfectly: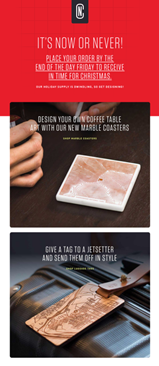 A good deed can go a long way! The Christmas period is not just for material gifts. Many are looking for opportunities to do something good for others, find that act of kindness that we can be a part of. If your business can be a part of that good deed, why not try it this year?
There are many small community centres and organisations that need help and support. Donating to a local charity can make a big difference to them! And you could potentially tie these donations to your sales by offering a percentage of the item sale price as a donation.  It's a win-win. Not only you can boost your sales, but you can also help others.
If you cannot donate money, maybe you can volunteer or find other ways to keep the Christmas acts of kindness alive. Remember, many of your email recipients will appreciate knowing about it! Yes, it's easier for big companies with corporate social responsibility policies and departments to do that. But shoppers will notice and more appreciate good deeds done by smaller companies than big corporations! And your email marketing can be an excellent channel to share these acts of kindness. Your customers may prefer to spend money at a place where they can be a part of that goodness, even indirectly. So don't be modest, if you're involved in Christmas kindness or volunteering, highlight it in your email campaigns.
Hopefully, your Christmas campaigns will meet all your targets! One last thing – between your sales email campaigns, don't forget to say thank you to your subscribers. They are a part of your business. Try and make them feel appreciated with a nice message, a heart-warming winter holiday e-card or even a special subscriber gift or discount.