For the first 3 tips, check out 12 Must-Know Tips and Tricks to Conquer Email Marketing for Your E-Commerce Business, Part 1.
4. How to Maintain A Healthy Email Database For Your Online Business
Like everything else, your mailing list needs care and attention. An active mailing list is a sure way to bring better engagement, boost your online sales, deliver fewer bounces and unsubscribes. So, what can you do to help your email database stay healthy?
Watch Those Bounces
Simply put, a bounce is an email that failed to reach the recipient. A soft bounce usually shows a temporary issue, such as a full inbox, while a hard bounce is a permanent one. If you get a hard bounce, remove the contact immediately from your mailing list because either the email address or the domain name does not exist.
Manage Your Inactive Subscribers: Re-Engage or Remove
Deliverability is critical for your email marketing success. If you keep deploying emails to inactive or even non-existing email addresses, you will eventually damage your sending reputation. Poor reputation increases the likelihood of your emails being considered as spam by ISPs and thus sent straight to the junk folder.
For example, if your subscribers have not opened a single email in the last six months, consider them disengaged. You could create a re-engagement campaign, and if it fails to convert the inactive recipients, remove them from your list. When we are talking about databases, it is definitely better to go for quality rather than quantity.
Regular Email Deployments
It is vital to email your subscribers regularly. It's good for your brand and reputation, as your readers will see your emails in the inbox, but also it is an excellent technique to keep your list clean and active. Each campaign will show you the most recent bounces, and throughout a set period you will accumulate a good amount of data to make those decisions about active or inactive subscribers.
5. Learning to Segment Your E-Commerce Mailing List
When people subscribe to receive your emails, they expect relevant and useful content. Thus, the purpose of segmentation – or narrowing down your main mailing list to smaller segments – is to provide relevant content to your subscribers.
5 E-Commerce Email Segmentation Ideas
The level of your segmentation will, of course, depend on your database quality and the information you hold about your subscribers. Today, let's look at five trendy e-commerce segmentation techniques:
1. Geo-segmentation
Geo-segmentation is a method of narrowing down your list to specific segments based on the geographical location, for example, countries, regions or cities. As an online shop, you probably already have this information in your database.
2. Demographics
Demographic segmentation means trying to create mailing lists and deploy relevant content to target your subscribers by demographic factors. For instance, age, gender, income, and even family size. Select the aspects most relevant to your online business and segment your mailing list.
3. Buying behaviour and buyer journey
You can segment your mailing list to create targeted content according to your clients' buying behaviour. For example, separate the buyers from the non-buyers, analyse the past purchases and buying habits. See where your clients are in the customer life cycle loop and build relevant email messages.
4. Preferences
If you are sending many different types of emails, it is great to let your readers select what they want to get. Subscribers will not interact with emails that do not interest them. A preference centre can give your subscribers the option to opt-in for the updates about specific products in a much detailed way. For example, you are an online gadget shop; your subscriber could be interested in items that fall into a certain price range. Let them select email frequency too. Even without a preference centre, you can try and manually determine your clients' preferences.
5. Engagement
Some of your readers might be very engaged, and others would open your emails only occasionally. Analysing this type of information can help you create targeted database segments, allowing you to send appropriate and useful emails. Try to re-engage the non-engagers and even convert prospects into customers. You can find more segmentation ideas on our blog!
6. Sales and Marketing Emails Explained
Email marketing can encompass a variety of emails – for example, marketing ones, such as newsletters, or sales emails, aiming to directly or indirectly make a sale.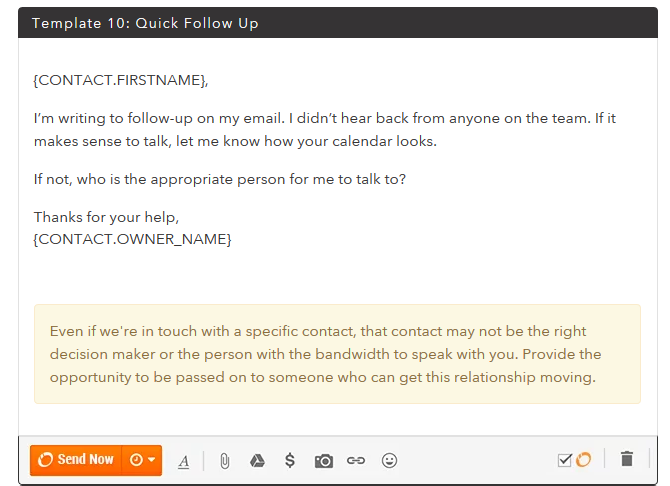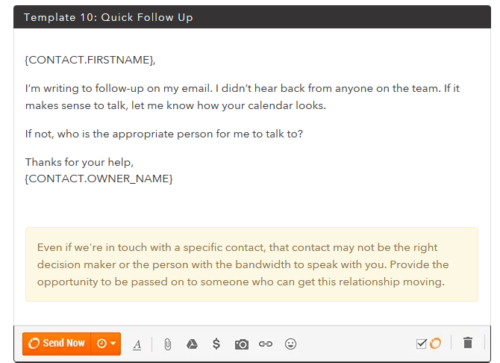 What are sales emails?
A sales email has one clear goal – to drive sales. For your e-commerce sales email strategy, try to avoid sending out cold emails. Sales emails can too be targeted and segmented. Use calls-to-action such as "buy now" or "shop now" to directly sell your products or services.
Some marketers create HTML emails to imitate plain text to support their sales funnels or drip campaigns. Moreover, business development or sales reps often use them to get more information about the client or attempt to schedule a call and make a sale over the phone. Just be aware, that direct sales emails usually generate more unsubscribes and even spam complaints.
On the images you see two examples of contrasting emails aimed to increase sales. The first one is a neatly built Groupon email showcasing a range of products for sale and the second one is a HubSpot email template for sales or CRM representative to be used as a follow-up email.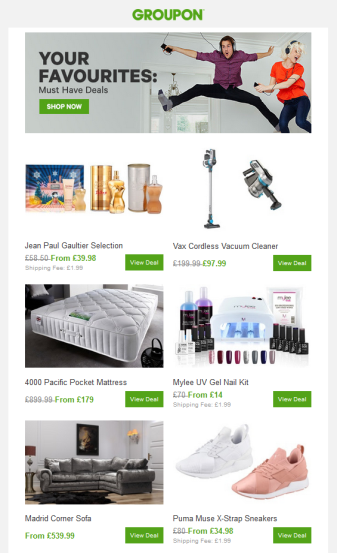 What are Marketing Emails?
First of all, your marketing emails can also be used to support indirect sales, for example, offer free trials or free shipping, a gift with a purchase, discount coupons and even sample products.
The overlap is expected; as marketing as a function should be supporting the sales within the business too. However, marketing emails are much more complex; they have many different goals.
If you are hosting an online event, you will use marketing invitations. Marketing emails can be newsletters or emails providing instructions about specific products. They can also be your e-commerce brand awareness campaigns, surveys, and even promotions of your competitions.
You can revisit the first 3 tips once again from here.
To be continued…
What to keep in Mind:
Email lists need care and attention
Re-engage or remove your inactive Email Subscribers
Spam filters play a significant role in the success of your email marketing campaigns. Earlier, spam scoring might have been more focused on the message itself, the words and phrases, the language used, grammar, spelling and even punctuation. But now it is more complicated than ever. Read from our next blog post and find out what to do and what to avoid when sending Bulk Emails.
Make sure you check our blog regularly and don't forget to subscribe to our emails. Or you may want to follow up the last blog post on How to Get Your Messages Through with Better Subject Lines if you've missed it out.