Spam filters play a significant role in the success of your email marketing campaigns. Earlier, spam scoring might have been more focused on the message itself, the words, phrases, and language used, grammar, spelling, and even punctuation. But now it is more complicated than ever.
Many argue that the importance of spam words has decreased as, nowadays, other factors have a more considerable influence on your inbox placement. Yes, it is true. However, it is also true that spam filters still flag spammy phrases and words.
Though no one knows for sure which words and phrases are marked by which filters, many marketers try to watch out for words that are related to common spam messages. We will surely have a look at them in this article.
Global Spam and Local Language Spam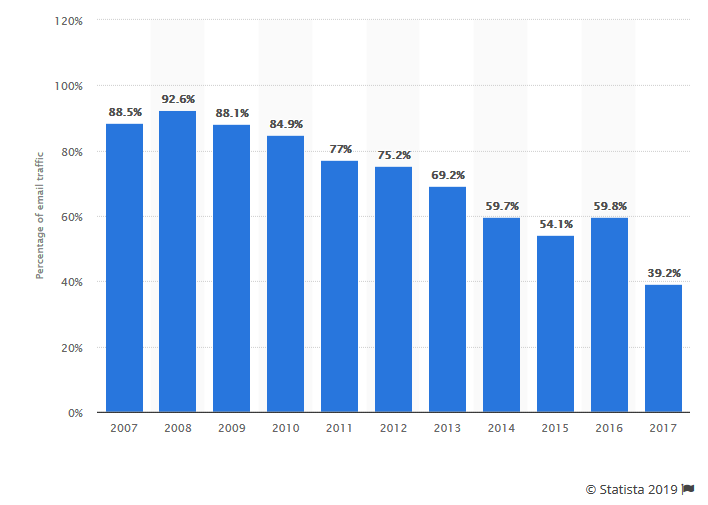 One thing's for sure – spam is still out there, and most likely, it isn't going away any time soon. However, on the positive side, maybe the increase of spam in other digital mediums (such as referral spamming, spamdexing, SMS spam, etc.) accounts for the decrease in global email spam. It is hard to say. Nevertheless, the good news is that the worldwide volume of spam has been steadily decreasing.
There are many questions about spam words in local languages. Some believe that, in general, languages foreign to your inbox language have a higher chance of being classified as junk mail.
However, sometimes your message can be blocked for perfectly harmless reasons. If your spam filter finds a string of letters in a word that seems to contain an unacceptable meaning, it will block it. Often, it happens to emails containing abbreviations, names, or various technical terms. It's called the Scunthorpe problem.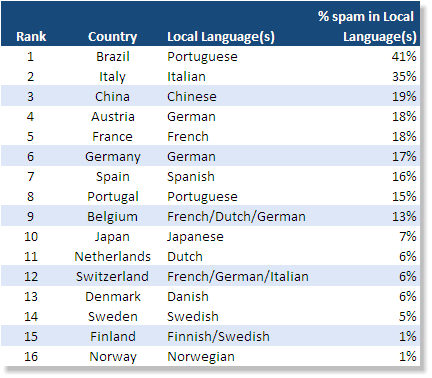 Symantec believes that English language spam is the most dominant globally. Thus, the majority of information about spam words will be in English. Symantec also mentioned Russian, French, German, and even Portuguese and Italian languages used for spamming.
Local language spam is out there – check out the spam ranking table for the countries studied for their research (where the local language is other than English).
A Closer Look at Spam Words
The most common spam word category is usually associated with adult content, so try to avoid such words or phrases in your email body copy and subject line. Here are some examples that you could have used or have considered using in your emails (obviously, we are not adding the most apparent adult content spam words here):
"xxx"; "18+"; "adult";  "be / over 18"; "over / must be 21"
You should also pay a closer look at your CTA-s (call to action). Remember, many spammers try to lure the recipients into clicking on their links, so unsurprisingly, spam filters could also flag similar CTAs:
"click here"; "click now"; "click this link"; "call free"; "buy now"; "contact us immediately"; "get paid"
Many marketing and business words are considered spammy too. Have a look at these examples; no surprise that we often see them in junk mail:
"additional income"; "amazing"; "be your own boss"; "cheap"; "congratulations"; "dear"; "don't delete"; "extra income"; "free" (variety of combinations); "home based business"; "home employment"; "increase sales"; "increase traffic"; "internet marketing"; "marketing solution"; "online marketing"; "profit"; "sale"; "stop further distribution"; "this isn't junk/spam"; "urgent"; "win / winner"; "work at home"; "while you sleep"
Financial words, and phrases related to money have a high tendency to be flagged too:
"£££"; "$$$"; "accounts"; "bonus"; "cash"; "cost"; "credit"; "earn"; "finance"; "financial freedom"; "free investment"; "get your money"; "invoice", "make £ / $ / money"; "million"; "nominated bank account"; "potential earnings"; "profit"; "risk free"; "thousands"; "US Dollars"
Don't forget that overabundant use of emoticons, exclamation, or question marks, and ALL CAPITAL LETTER words can also be marked as spammy.
Final Words: Better Safe than Sorry
As we say, spam filters have increased in complexity. While previously it was mainly based on the content, now spam filters analyze many other aspects of your email to determine whether it is spam. Thus, it doesn't mean that if you use a word such as "earn" in your email, it will surely go to junk mail. No, as long as all your other elements in the email are nice and clean, you should be fine. However, if you can use different words and phrases – try! Always better to be safe than sorry.
What to keep in mind:
A spam filter might block a string of letters in a word that seems to contain an unacceptable meaning.
ALL CAPITAL LETTER words could be marked as spammy.
Raul Leppik from Newbase believes that there are three things to be considered when studying the soul of a well-made newsletter. Read our next blog post about Raul's case study and find out what his recommendations are.
Make sure you check our blog regularly, and don't forget to subscribe to our emails. Or you may want to follow up on the last blog post on 12 Must-Know Tips and Tricks to Conquer Email Marketing for Your E-Commerce Business, Part 2, if you've missed it.