In our previous posts, we wrote about the timing of the abandoned cart emails. Also, we looked at the potential setups of the various workflows that you can build to minimize the lost revenue from the abandoned carts. And this time, we want to explore segmentation and find some interesting abandoned cart email examples.
Market Segmentation
Market segmentation is generally broken down into these four main types:
Demographic segmentation
Geographic segmentation
Psychographic segmentation
Behavioral segmentation

A lot of segmentation possibilities will, however, depend on what data you have – and what information you want to get. Let's look at some useful segmentation suggestions for your abandoned cart email marketing strategy.
Customer Value & Personas

Every customer is different. Therefore, it's very beneficial to use your customer's lifetime value to build out your segmentation. This information will help you create more attractive, personalized offers, especially for your high-value customers.
If you have identified your buyer personas, use that knowledge to generate offer ideas and even email template designs. This will enhance the customer experience and will likely increase the conversion rates for your abandoned cart emails.
Abandoned Cart For The First Time?
Maybe you can identify the "first-timers" – the customers who have abandoned their virtual shopping carts for the first time. This data could really help you optimize your abandoned cart email strategy for that segment and inspire you to craft really personalized email content.
Are they new clients? Maybe some gentle convincing and a discount could encourage them to finish the purchase. Or are they your regular customers who abandoned their cart for the first time? A reminder to complete their purchase is undoubtedly a good idea. They might be loyal to your business, but also, they might favor a specific product that you might be selling. Use this information when you are planning a potential offer or even when drafting your email template.
Cart Value: Small, Medium, Large

Try to incorporate the abandoned cart size/value when you are planning your abandoned cart segmentation workflows. Generally, the cart value is split into small, medium, and large.
Small cart value does not necessarily mean that the customers or potential customers aren't big spenders. It could also show that, for example, they are looking for a specific product or service. With small and medium-value carts, you can try to use free shipping as an incentive (or at least highlight the free shipping threshold if you have one).
For large value carts, try to identify if it's a single, more expensive item or many different products with a high likelihood for returns. Try to approach these segments differently in your emails too. For example, for carts with lots of products, free returns could be a good selling point. An abandoned cart email for a cart with one item could, for instance, benefit from product reviews or user stories. You could also share some educational content about that particular product.
Abandoned Cart Email Examples

It's time for some abandoned cart email examples. Take a look at the Dote email – their subject line says, "Your shopping bag misses you!" and the email copy is friendly, with a good sense of humor. Their email is short and clean, with a visible call-to-action.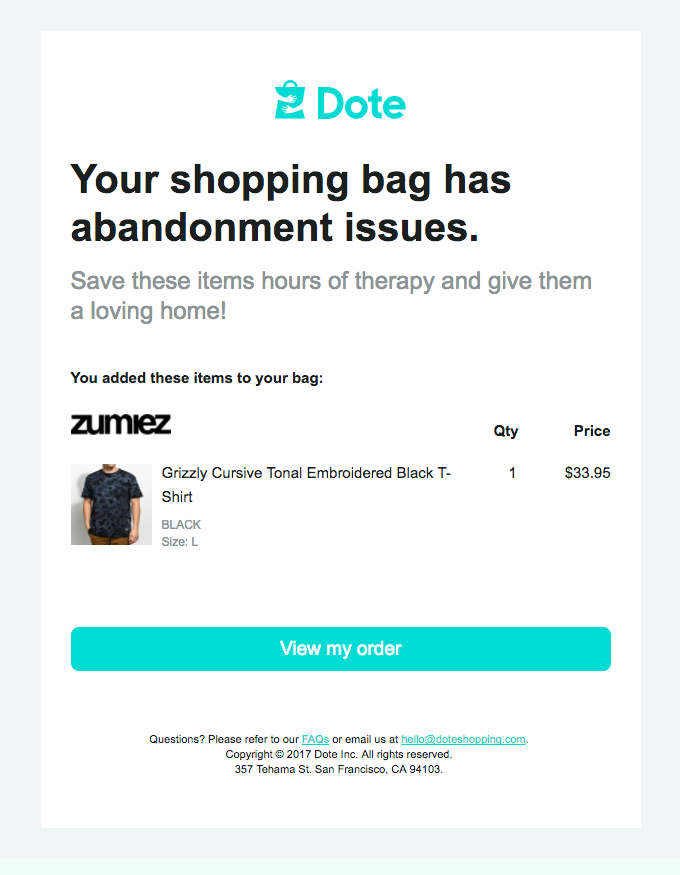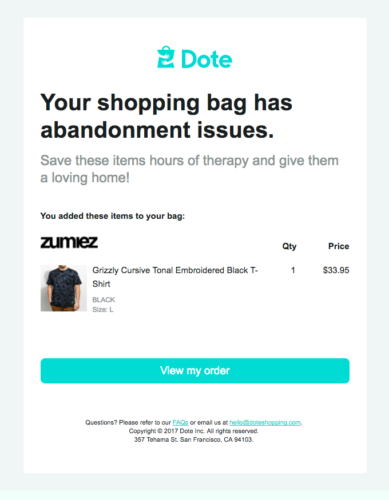 Rudy's abandoned cart email has a very noticeable subject line: "Don't let free shipping go to waste." Once you see the email, the pre-header creates urgency (the free shipping offer will expire soon). Good template layout – as a customer, you can see what you left in the cart, and let's not forget great copywriting in the email itself. Creating urgency is often used to close a sale; you can use urgency in your abandoned cart emails too.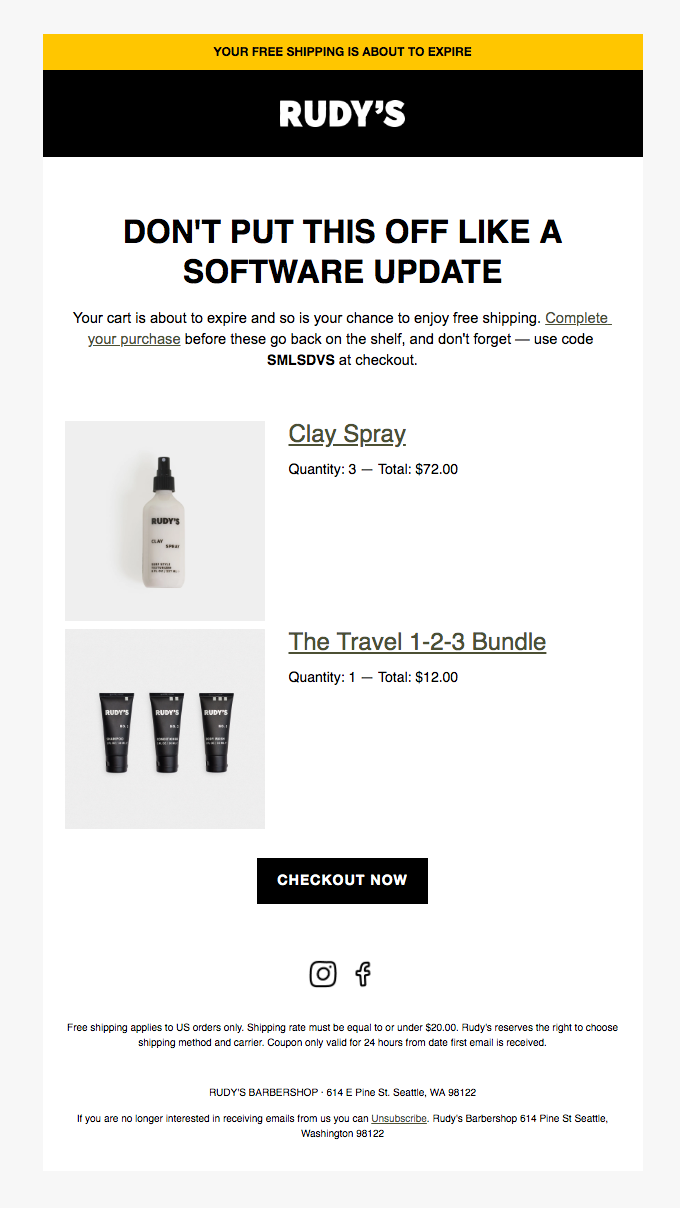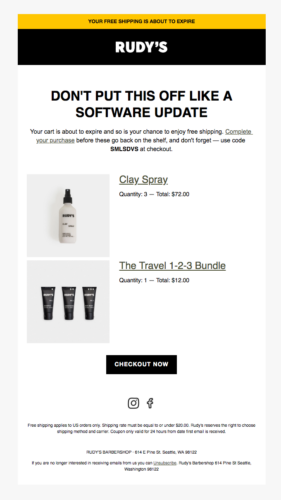 We previously mentioned using customer feedback or product reviews for abandoned cart emails. They can be on your website, social media, or even in the email itself. Casper abandoned cart email is quite cheeky content-wise. Still, they've found a great customer review to display in their email itself.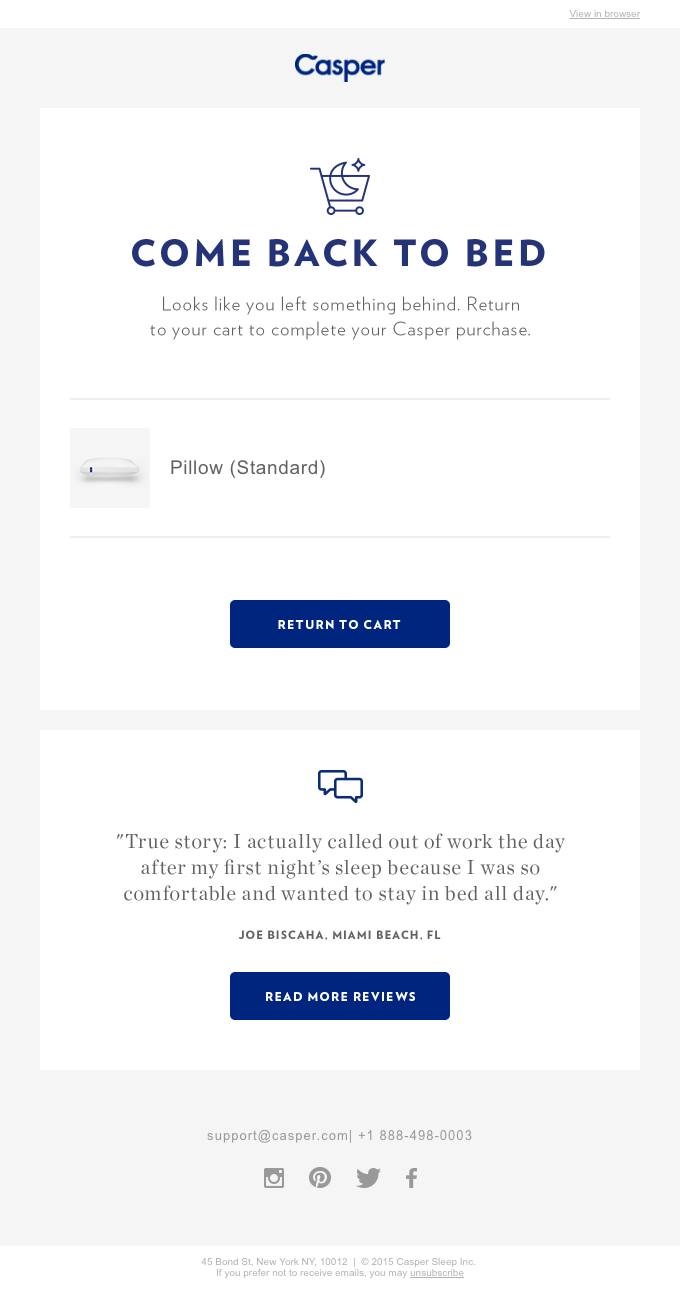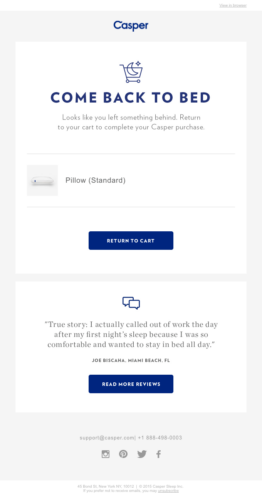 Not sure how to present the discount in the email? Alex Mill has a great example of how to do that – use the header space for the most critical information – in this case, a very noticeable 15% off.

Remember, the more you know about your customers, the better you can use the email space to attempt to persuade them and even for upselling or cross-selling opportunities. Why not try to increase the value of the cart when you send the abandoned cart email? For instance, you can display a similar recommended item or items that work well together, or just show popular product categories in your emails.
Society 6 email has a very colorful email design. They present a very appealing offer and also use some of their email space to display different product categories that could interest the customer.


Know Your Customers
All in all, our last recommendation is this – understand your customers, optimize your emails, and be very targeted with your segmentation. Remember, their inboxes might be full of promotions, so try to cut through the clutter with catchy subject lines and grab their attention with your email design and content. Keep on testing; find the incentives that fit different types of buyers. All that will help you build great abandoned cart emails and their workflows.