Online shopping has become very popular – that's no surprise. We are so accustomed to adding items to our virtual shopping carts. It's easy. It is also easy to change our minds (and there are multiple reasons why we would want to do that) and not complete the purchase. While it's great for customers, it's lost revenue for businesses.
Does That Happen Often?
Absolutely. According to research published in Statista, in March 2020, 88% of online shopping orders were abandoned. To compare, in 2019, the annual shopping cart abandonment rate globally reached 69.57% (you can view the yearly change in this Statista chart).
Unfortunately, it looks like it is an upward going trend – it's not great news, especially in these uncertain times when many companies struggle to survive. But, there are measures businesses can take to reduce that impact as much as possible, and one of the best ways to do that is to use email marketing. Specifically, utilizing abandoned cart recovery by sending cart abandonment emails.
Reasons for Cart Abandonment
There are many reasons why customers are not completing their purchases – the biggest attributor to that is usually the added shipping costs. But there could be plenty of other factors – such as promotional codes not working, extra taxes or fees at the checkout, even technical issues or a problematic purchase journey.
Unfortunately, if the cart abandonment reason is the shipping cost, it was found that the majority of these shoppers purchase the same item at a different online retailer. A study conducted in the UK (Statista, 2015) has shown that 43% of such shoppers are lost to potential competition.
However, it was also found that 26% actually returned to purchase the item at a later date. And with the right tools and targeting in place, you can get a good portion of potential customers back.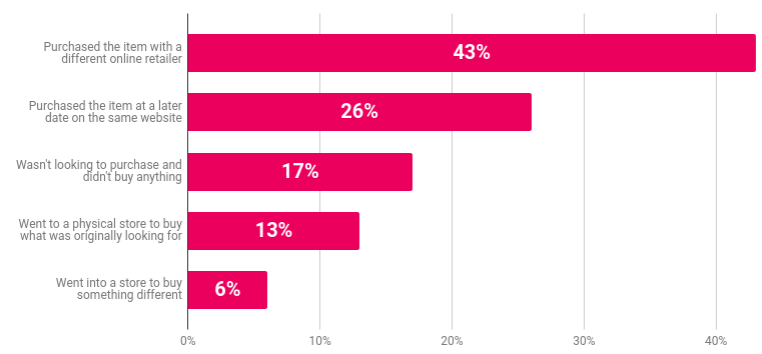 How to Send Cart Abandonment Emails?
Nobody wants to see such a considerable chunk of potential customers shop elsewhere. And there are things you can do to reduce this number. Thus, no surprise that a lot of marketing efforts go to remarketing and a big focus on cart abandonment emails.
What is a cart abandonment email? A cart abandonment email is a triggered email that is sent to a recipient who has added an item or items to their shopping cart but has not completed the purchase. One of the best ways to reach these customers is email marketing and the automated workflows that release the pre-set email triggers. In this case, the trigger is the abandoned cart/virtual basket.
When should I send an abandoned cart email?
Timeliness is the Key. Getting your customers to change their minds depends on your communication speed – your timeliness. Naturally, such shoppers will go look elsewhere, browse, compare the prices, etc. This is the window for you to reach these customers and get them back to your e-store.
It is a short window for sure – how short will depend on the industry and the items being bought. Naturally, the more expensive ones will be researched more thoroughly by the customers to get a better deal.
Therefore, we can't stress enough that cart abandonment emails require precision and timeliness. The good news is that many ESPs will give you automation tools – thus making instantaneous reach easier than ever.
How to Send Perfectly Timed "Abandoned Cart" Emails?
What are the best times to send those emails out? If you can, we would recommend deploying the first cart abandonment email within 10 minutes of the recorded abandoned cart/basket. If, for some reason, you cannot have an instant deployment, aim to send these emails out within the first hour.
Also, you could create a series of abandoned cart emails – a workflow – where the first message would be deployed instantly (or within the next 10 minutes). Depending on the response, you could then split your workflow and segment by engagement too.
For example, a contact who has opened the first cart abandonment email but has not completed the purchase would get one version of the follow-up email. The contact who hasn't opened the first cart abandonment email will receive a different version of the second email. Again, time is of the essence. Plan the second email to be deployed within the next 24 hours.
You can test having three emails in the workflow – the third email could be sent within 72 hours after the cart was abandoned. See if that works. Testing can always give you more insight and lead to improvement. Here's an example of a cart abandonment workflow.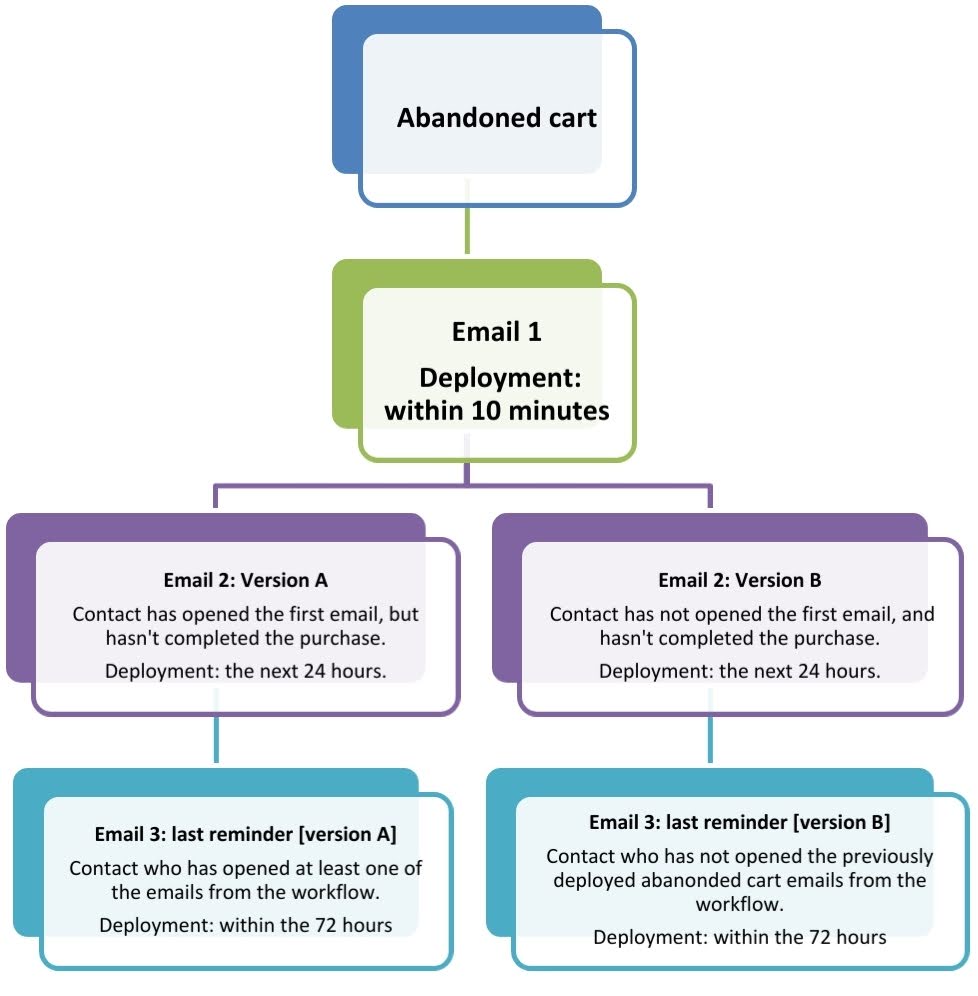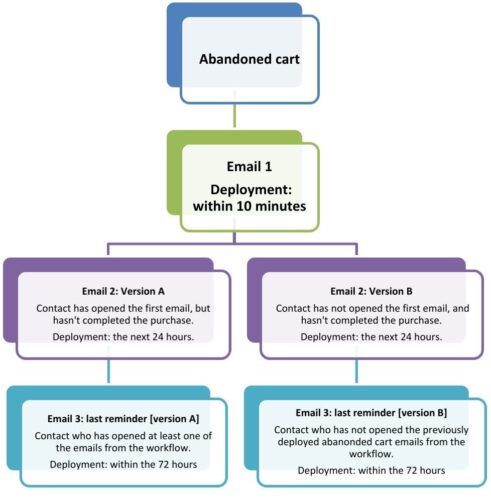 Next time we'll learn a bit more about sending abandoned cart emails, what else we can add to the workflows, review some examples, and more. Stay tuned!
Make sure you check our blog regularly, and don't forget to subscribe to our emails. Or you may want to follow up on the last blog post on Email Marketing and Influencers: Can it Work? If you've missed it.