Most of us are very familiar with SMS messaging. Despite that, some businesses believe that SMS could be replaced by other types of messages sent via different digital channels such as Facebook Messenger or WhatsApp. The fact is that billions of people send and receive text messages every single day. Thus, no surprise that SMS marketing is becoming popular too. So let's take a look at how SMS marketing fits into your email marketing strategy.
SMS and Email Marketing
Naturally, there are many differences between SMS marketing and email marketing. However, SMS and email fit together really well and form an effective cross-channel marketing approach. Let's find out why they work together so well.
SMS and email are both permission-based marketing activities
Aside from all the legalities and regulations, you should have permission to contact your database. You don't want your marketing to be perceived as intrusive by your subscribers, customers, or leads. Make sure you plan to capture the right permissions not just for email but for SMS marketing, too, as this will allow you to create a consistent marketing approach. Even if you only think of adding SMS marketing in the future, try to get the SMS opt-in early either way. MarketingProfs reveals that 75% of people would actually like to receive SMS with promotional offers, so your recipients could very likely view SMS marketing as a positive additional marketing channel.
SMS and email are two-way communication channels
Email and SMS can reach your database, but they can also be used to capture the replies. The recipients can respond to promotional texts or emails. They can take the initiative and try to reach out and connect with different companies through both of these marketing channels. For example, Statista research shows that in 2014, 27% of respondents from the US sent SMS to try and communicate with different brands or simply attempted to receive a discount. Moreover, email marketers are also very familiar with monitoring the replies to their marketing emails.
Email marketing builds relationships, SMS strengthens your calls-to-action
SMS marketing is very effective. Research done by Dynmark estimates that 90% of SMS messages are read within three minutes. SMS messages are short, have a high open rate and quick recipient reactions. Therefore, they can become a fantastic tool for creating powerful and catchy CTAs as well as serve to deliver very time-sensitive messages. Email, on the other hand, can contain beautiful visuals and much more content than an SMS message. Therefore, email marketing is excellent for connecting with your recipients and building valuable, long-lasting relationships, and strengthening your brand at the same time.
With the continuously growing mobile phone usage, both SMS and email marketing can reach their recipients on their mobile devices.
Even back in 2015, the share of mobile phone access in the European Union households reached a massive 93%, which would result in almost two mobile phones per household. With the smartphone usage growth that we have all witnessed in the last few years, these numbers would definitely be higher now. So, as might be expected, mobile phones have become a valuable gateway for companies to reach their clients or prospects. That goes for both SMS and email marketing.
The Cross-Channel Approach Will Give You Better Marketing Results
Each marketing channel is different and has unique strengths and weaknesses. If you start using a multi-channel approach for your marketing, you will have the opportunity to use the benefits of several marketing channels.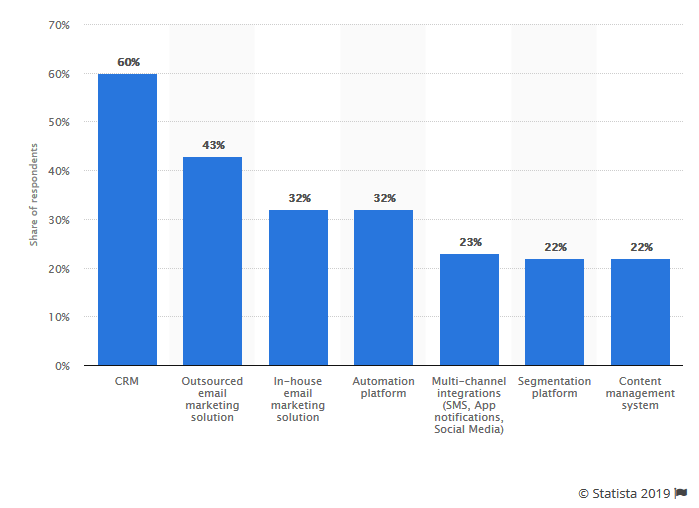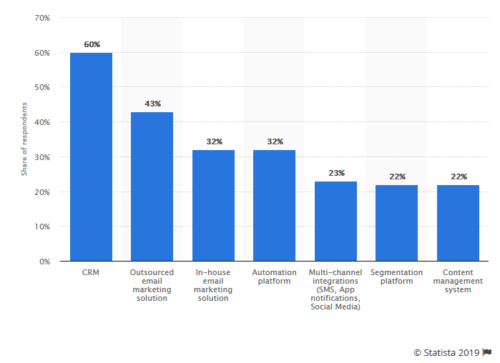 While email is well known for its cost-effectiveness, marketers have discovered the advantages of adding other digital mediums, such as SMS marketing, to their email strategies. Research conducted in the UK has shown that more than a fifth of marketers use multi-channel integrations for their email marketing programs, including SMS, app notifications, and social media.
That is why Smaily teamed up with Direct Messenger. We want to make sure our customers can easily add SMS marketing to their marketing mix. With straightforward API integration, you can now transfer your subscribers with captured phone numbers from your Smaily account to Direct Messenger. Planning an SMS marketing campaign to support your email marketing strategy has never been easier.
Continuous Growth: Both B2B and B2C
Email marketing's effectiveness and low cost make it one of the most favorite marketing channels. SMS marketing has seen substantial growth too. During 2015-2017 B2B and B2B2C channels have seen SMS marketing growth of an extraordinary 197%. At the same time, B2C channel SMS marketing has grown by a healthy 92% and email marketing by 106%, as reported by the Salesforce State of Marketing research. Many businesses have started to discover the SMS and email marketing combination, allowing them to effectively reach their customers at the right time of the day, determine and change the frequencies of delivery of their promotional materials as well as capture the recipients' replies.
What to keep in mind:
You need permission to reach out to your database.
It has been estimated that 90% of SMS messages are read within 3 minutes.
Sending out appointment confirmations is a good business practice. It demonstrates that you value your clients and their time. Also, you are using the opportunity to remind them about the scheduled appointment. Our next blog post is about designing a Perfect Appointment Confirmation Email.
Make sure you check our blog regularly, and don't forget to subscribe to our emails. Or you may want to follow up on the last blog post on Email Marketing Glossary: Understand the Terminology if you've missed it.