Undoubtedly, most of us have noticed that email marketing is becoming more and more focused on the experience of mobile device users. No surprise, as we all expect great rendering and fantastic content on the go, right there on our small screens. Hence, we have decided to take a look at email opens with a focus on the email client share: what has been happening and what we can expect in the future.
However, before we start, you must remember that for each database and mailing list, each segment can be different – maybe you are a B2B business mostly sending to clients using Outlook, or perhaps you are an online retailer with webmail and mobile phone users. Always keep on testing and continuously learn about your audience – these are essential for successful email marketing.
THE TOP TEN EMAIL CLIENTS
Let's have a look at email opens analyzed by the email client share. According to the Litmus overview of email clients, the top ten in 2017 looked like this:
iPhone 28%
Gmail 26%
iPad 11%
Apple Mail 7%
Outlook 6%
Samsung Mail 5%
Outlook.com 4%
Google Android 3%
Yahoo! Mail 2%
Windows Live Mail 1%
We see many top places occupied by Apple – and that is not unusual – iPhone, iPad, and Apple Mail are all in the top five. However, in the top two places, only two percent separate Gmail from iPhone. Is this good or bad news? Up to you to decide (but we all know how complicated email development for Gmail is).
What else has happened in the email market client share last year? Well, according to Litmus, there is a new player in the top ten – Samsung Mail. As Samsung is probably one of the most popular Android manufacturers, it will be quite exciting to watch how it progresses. Moreover, if you add the Samsung Mail and Google Android email opens, you will get 8% attributed to Android. Subsequently, that will take Android right above Apple Mail to fourth place.
THE TRENDS OF EMAIL OPENS BY ENVIRONMENT
Thanks to data that Litmus shares with the public, we can analyze and determine various trends indicating specifics of the use of email marketing. The top three environments that we shall have a look at are mobile, desktop, and webmail.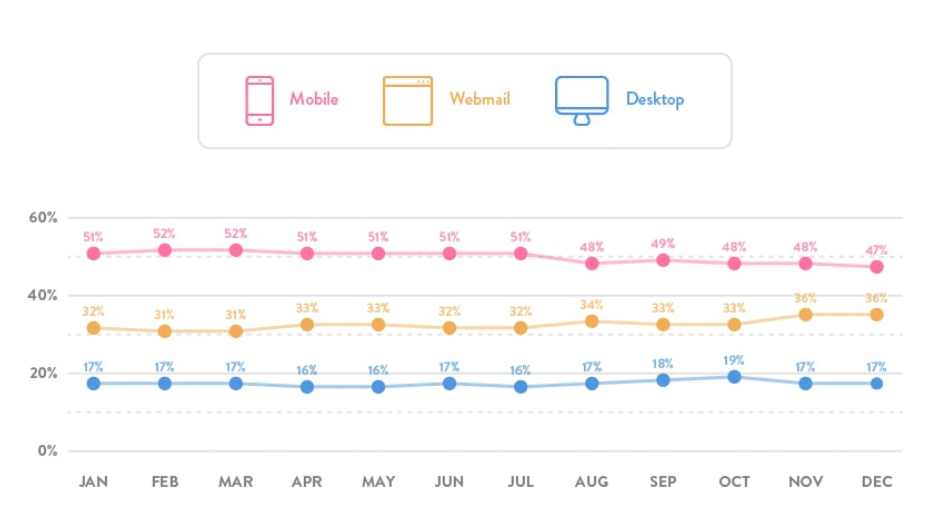 The number of emails opened on the desktop remains very steady – mostly staying around 17% throughout the year, peaking in October with 19%. It is an interesting statistic, especially for B2B businesses – it shows that the desktop is here to stay despite the mobile client market share is so strong. And, yes, according to Litmus's findings, it seems that Outlook is on the rise.
Inevitably, it will result in a more complicated coding process for your emails, but on the positive side, newer versions are replacing the old ones, giving email marketing developers a bit more breathing space.


WEBMAIL IS NOT YET FORGOTTEN
According to Litmus's research, the mobile environment in the email client market share is the most popular one. Many of us are used to checking our emails on the move without having to open our inboxes on our computers. No wonder, as it is so easy – a vast number of devices allow us to read our emails away from our desks.
However, the monthly breakdown reveals that the second half of the year has seen a drop in mobile opens. In turn, the webmail market share got a healthy increase. Litmus gurus believe that this particular drop could potentially be attributed to the fact that Apple started allowing to delete the pre-installed apps, such as iTunes store, calendar, notes, and, most importantly, Apple Mail (see the list here).
Campaign Monitor reminds us that Outlook.com should be considered as one of the main Webmail clients after Hotmail was rebranded into Outlook.com. No wonder email coding became even more complicated (especially the poor CSS support).
Remember that your results will vary according to your database segmentation, industry, location, client type, and even age. Many variables can predetermine the popularity of the email client type that you will see in your campaign results.

For example, if we take a sample campaign from our Smaily data, we will find that 28% of email opens happened in Webmail and 22% on a mobile device. So, in this case, the most popular place to open emails was a browser.
WHAT'S TO COME
Changes are in the air – and this year, we're definitely going to see some exciting fluctuations.
It is very likely that by the end of 2018, we will witness Gmail taking over the most popular email client Apple iPhone. Looking at August 2018 Litmus Email Client share data, we can now report equal market share between the top two email clients:
Also, we can see that Yahoo! Mail had a significant jump – becoming a top three email client this month. Can this be related to the announcement of the two new Yahoo mail versions?


We are keeping our eyes open and following all these changes as they might bring a lot of turbulence for email marketers.
Would you like to have a chat about how this might impact your business? Smaily can help you understand email marketing ins and outs, so get in touch with us.
PRO tip! If you're not a big fan of building your own email HTML, templates created with Smaily drag and drop editor are easy and intuitive to build, look great and work excellent in every major email client, out of the box. Just saying. 😉
To create successful email campaigns, you must continuously optimize your email marketing, including your strategy, templates, content, and deliverability. To find aspects that need improvement or more vigorous testing, you should get to know your audience better. Find out how to do it from our next blog post.
Make sure you check our blog regularly, and don't forget to subscribe to our emails. Or you may want to follow up on the last blog post on Visual Elements in Email Marketing: A Brief Overview if you've missed it.