The COVID-19 pandemic changed many things – and many businesses had to adapt to survive. According to Statista research, many institutions predict a recession and a negative revenue impact. However, e-commerce revenues are still expected to see some more growth. It means that now, more than ever, e-commerce businesses need to deliver value to their existing and future customers. While the customer experience in a traditional brick-and-mortar store is different from online, there is a lot you can do with the power of email marketing. Therefore today, let's take a look at 9 automated emails for e-commerce that your business should be able to send. 
1. Order Confirmation Emails
One of the most critical emails your e-commerce business should be able to send is the order confirmation. These emails are considered transactional, and they should be automated, real-time messages – customers expect to receive them as soon as the order is confirmed. Take a look at the Fitbit order confirmation email template – a branded, colorful email with all the necessary information: order number, items purchased, amount spent, and of course, the delivery address.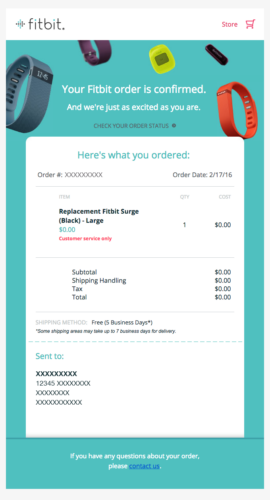 2. Welcome Emails
If you have an email opt-in added to your shopping cart check-out page or collect them through other subscription opportunities, make sure you automatically deploy a customer welcome email (or series of emails). The primary function of a welcome email is a transactional one – confirming a successful subscription. However, they also give you one of your first email marketing opportunities. Here's a great welcome email from Fleur & Bee: a warm greeting, a thank you message and even 20% off the next purchase.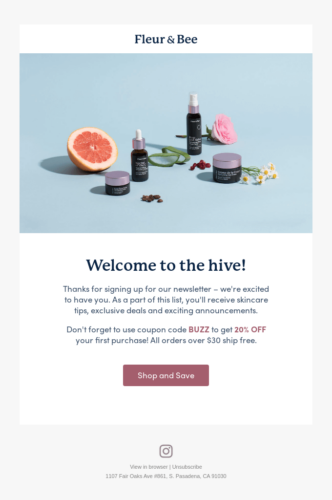 3. Shipping Notifications
While generally automated shipping notifications are considered transactional, these emails can be much more than just a message about a shipped order. They have a great open rate – representing something your customers are eagerly waiting for. Therefore, design these emails with care, brand them, and make your logo visible right away. A good email marketing platform will give you the tools to easily create beautiful newsletters and emails. Take a look at the Food52 email below – an ideally used opportunity for lead generation with the "refer a friend" feature and a potential credit to the customer.  

4. Abandoned Cart Emails
Unfortunately, not all shoppers complete their orders. Your e-commerce store must have the automated abandoned cart email (or series of emails) set up. There are lots of great techniques on how to try to reduce the impact of abandoned orders, aiming to minimize the lost revenue. We've got some great abandoned cart articles for you: the abandoned cart emails and their timing, the automated workflows, and segmentation ideas with great examples. Here's an interesting abandoned cart email from Bonobos – if you know your audience, their likes, and dislikes – use that in your emails, images, and content. Remember, the language in the example below might not fit all industries and all customer segments. Still, it represents a good way of building emails that carry your brand voice and as well as incentivize the customer to complete the order.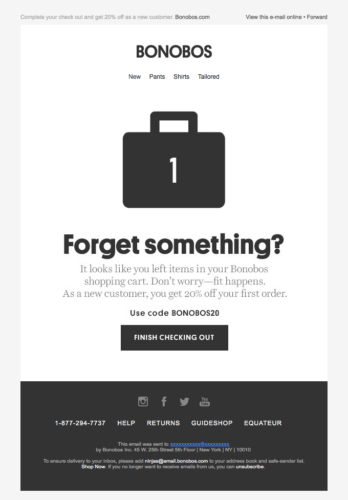 5. Post-purchase Follow-up & Reviews
Your e-commerce business should be automatically sending out post-purchase emails. Connect with your customers – show them that you care even after they complete their purchase. Also, use the opportunity to ask for a review. Here's a great feedback request example from Massdrop – a very clean email with a visible product rating feature.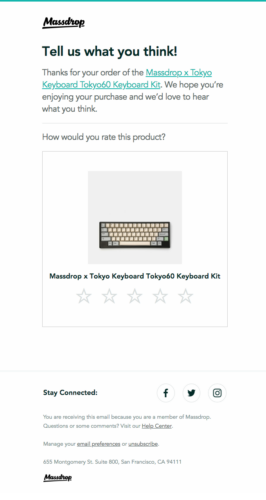 6. Refer-to-a-Friend Emails
Another automated email that you should set up for your e-commerce business is "refer a friend." That's a perfect way to generate new leads and convert them to customers! On many occasions, an incentive, such as credit or a freebie, works best to attract multiple referrals! Here's a great example from Postable (animated image surely catches attention!):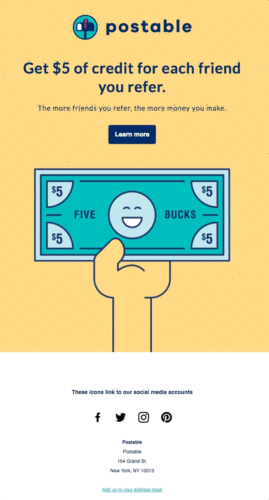 7. Win-back & Re-engagement Emails
Another automated e-commerce email that you should be sending is the win-back or re-engagement email. Build an email flow based on the customer purchase history, and create rules to deploy re-engagement emails to customers who haven't had a completed order in a while, for example, in the last 6 months. Smaily offers its users the possibility to create automated workflows with an endless amount of steps. That means you can make your workflow as easy or detailed as you wish. Here's an example for inspiration – a Skillshare email – a well-crafted "we've missed you" message with a win-back offer.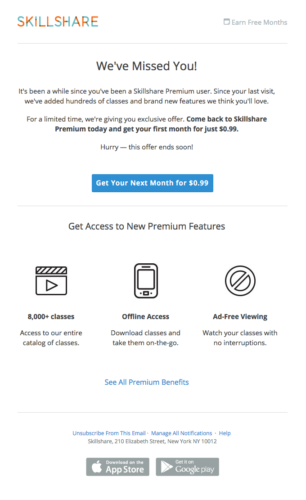 8. Birthday Emails
If you have customers' and/or their family members' birthdays in your database, ensure you are there to wish them a happy birthday. Many consumers expect to be treated or treat themselves on their birthdays, so use the opportunity to attract them to your e-store – build those automated emails. Here's a beautiful example from BarkBox – it celebrates a customer's pet's birthday – which shows excellent email targeting.

9. Promote Your Social Media Accounts
Last but not least – set up automated emails inviting your customers and prospects to follow your business on social media. The more channels you have as touchpoints with your customers, the better for your business! Grow your audience on many different platforms, and you can surely do that with email marketing help. Decide on the parameters for your automation. For example, determine if you want to be targeting only engaged customers or, in contrast, your first-time buyers. Timing is important – how long do you want to wait after, for instance, their first order to ask them to connect on social media? Here's an interesting example from Good American – they are indeed making their message visible!