Trade shows and events are popular marketing tactics used by B2B marketers to drive business. Alas, the pandemic has changed the B2B landscape. In-person meetings and face-to-face conversations are pretty limited or facilitated as virtual calls. Companies are now putting increasingly more effort into strengthening their digital marketing, especially email marketing. We've previously looked at why good quality, organic subscribers are essential in B2B email marketing. This time, let's explore how you can make your B2B email marketing even more successful. How can different B2B email types help you drive results?
Business-to-Business Emails: Find What Fits Your Business
The types of emails a business should develop will depend on the offered products or services, and the industry it's operating in. Some companies might see email marketing as a single monthly newsletter or one email marketing sales funnel. Still, there are many email types businesses can include in their marketing, customer retention, and acquisition strategies. Here are some examples of different kinds of emails companies could use for their B2B email marketing.
Welcome email
First and foremost, if your business is getting new subscribers, you should send them a welcome email (or a series of emails). Welcome emails aren't just for B2C marketing. They are handy for B2B email marketing too. Welcome your subscribers, and also use the opportunity to help them learn more about your business too. It's the first step in nurturing your new leads!
Webinar and event emails
Whether you're organizing a B2B webinar or an event (virtual or not), create targeted emails and automated workflows for them. Your subscribers' actions can trigger deployments of these emails – such as registration confirmations, speaker information emails, agenda confirmations, reminders, and many other emails. Here's a nice webinar email example from Teachable to inspire your B2B webinar emails: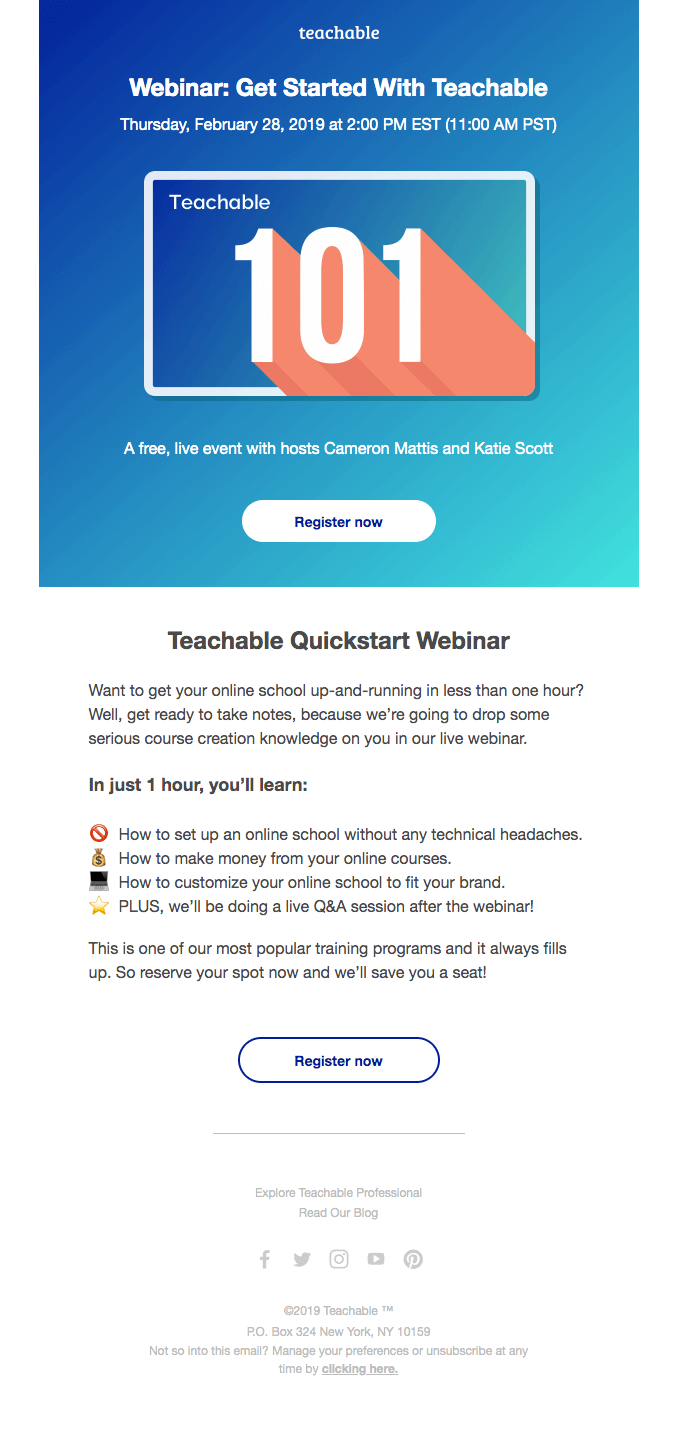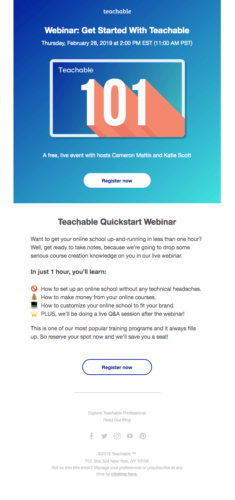 Teachable's email featured in Really Good Emails
New content announcement emails
B2B customers value good content. You should be sharing your B2B content across different digital channels, depending on where your audience is. Good content will generate engagement or web traffic and will help you find new business leads. Whichever medium you select to post your content to, don't forget to promote it to your email subscribers too.
Blog posts have now become a relatively standard method of distributing new business-to-business content. New blog post email notifications or blog round-up emails would be handy to an engaged and interested audience. Many B2B companies have also started to embrace new, different types of content: such as videos, educational whitepapers, and reports, or informative, visual, or interactive infographics. All kinds of B2B content can be promoted through your email channel too. We found a great example of a content-sharing email – The Slowdown promoting audio content:


The Slowdown's email featured in Really Good Emails
Product emails
Your email template library should have an email template dedicated to promoting your products or services. You can drive sales in numerous ways with your product emails, such as advertising a new product or service or highlighting specific benefits of an existing product. Product-related templates can feature different promotions or coupons to help boost sales. Remember, product emails can be personalized and targeted too!
Referral emails
Word-of-mouth recommendations and referrals are incredibly beneficial to B2B businesses. According to Influitive, 84% of business-to-business decision-makers begin their buying processes with a referral. Referrals can generate excellent leads with higher conversion rates, faster sales cycles, and better customer lifetime value. Therefore, as a B2B marketer, consider a referral program or at least send a referral email to your existing customers.
Surveys and feedback requests
To keep on improving your marketing efforts, your products, or services, you need to receive feedback from your customers. Good or bad, the feedback will help you optimize your marketing and sales strategies, even your products or services. Use your email marketing channel and ask for feedback, whether that's in a review form or a survey.
Newsletters
Newsletters are one of the most popular types of emails. They could be viewed as a type of content round-up email. You can promote different things – for example, highlight a blog post, a news article, share a voucher or feature a specific product. Newsletters have been around for many years in the B2B world, so if you don't have one, test it out and see how your audience engages with it.
Plan Your Email Designs: is Minimalist Design for You?
Many B2B companies are still keen on minimalist design or even mimicking plain-text emails. If such email templates are bringing you the best results – continue doing that. Of course, there are industries and types of businesses that should be following such email design approaches due to various regulations. Minimalist emails are beautiful, clean, and spacious but don't need to be all-white or plain-text imitations. Use your brand colors and your brand voice even in these email templates.
Colors and Contrasts
Use your offline marketing opportunities – if you have a physical store, you can try to gather opt-ins in-store. If you're participating in trade shows, don't forget to get email sign-ups there (OK, even virtual trade shows during the pandemic can help you gain subscribers!). Some B2B companies, depending on the type of business, can be more innovative with their email design. If you think colors and contrasts in your marketing emails can attract more attention and generate more engagement – conduct a few A/B tests and evaluate your results. Remember, emails are getting more sophisticated, and you can see more integrated animation in B2B emails as well. Here's a fantastic animated email from Adobe: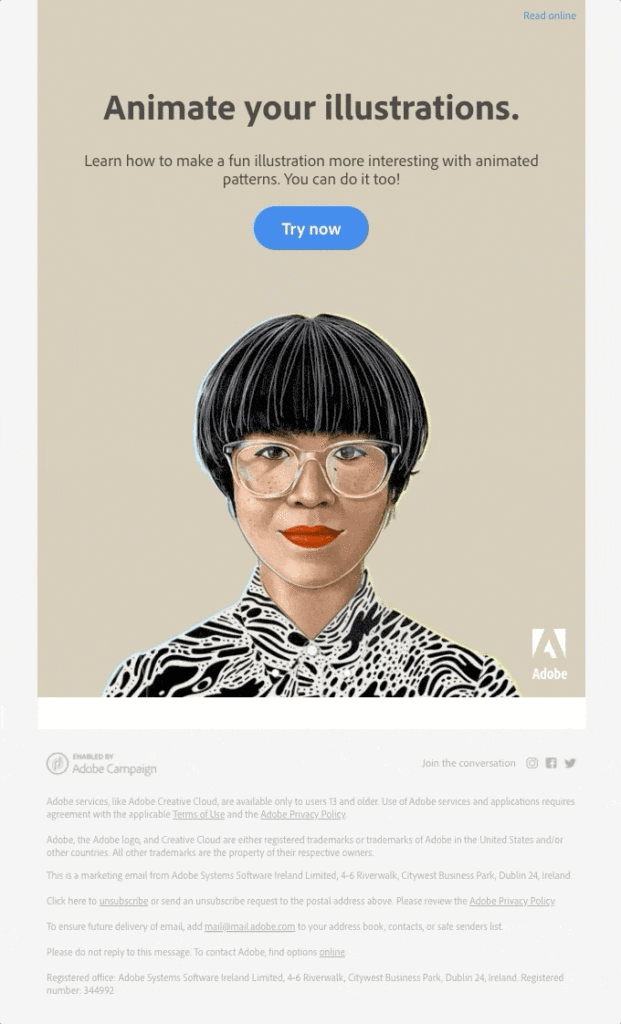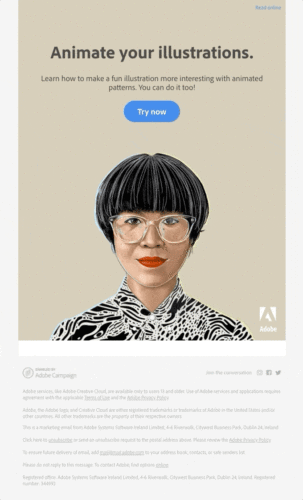 B2B Email Marketing: Go Beyond a Single Newsletter
There are various emails that you can use for your B2B marketing. They all have different functions, such as generating or nurturing leads, boosting sales, or even increasing your brand recognition. Expand your email marketing to encompass these different kinds of emails to engage with your B2B email subscribers.