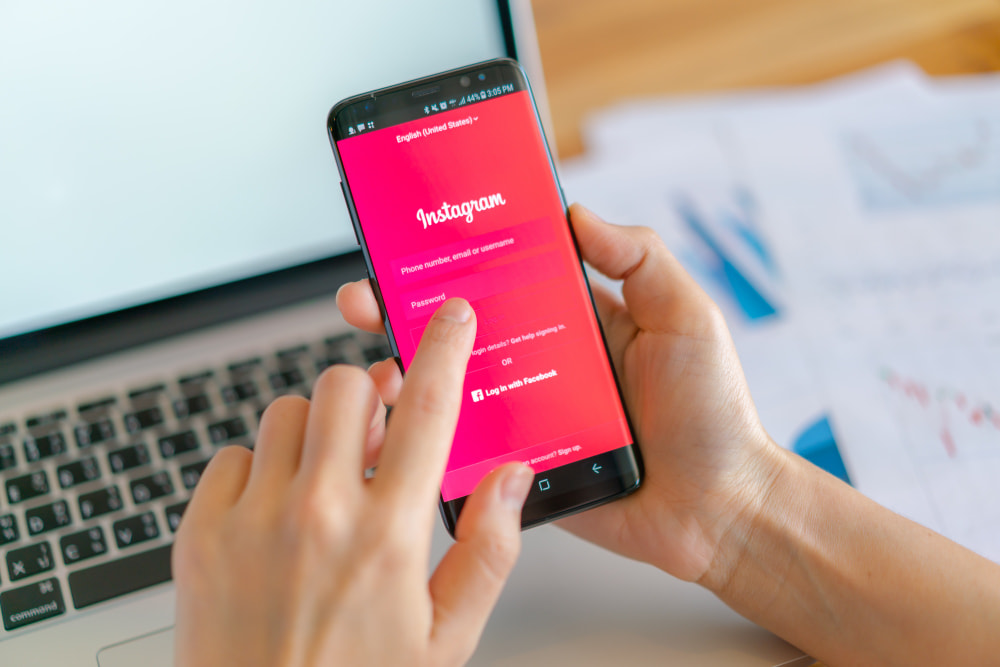 Instagram and email marketing are powerful tools to optimize your marketing efforts. Both platforms are effective for creating marketing campaigns that engage audiences and drive conversions. 
Instagram, especially, is perfect for growing a community of potential customers and driving targeted traffic to your business. Little wonder it's the top social media platform for marketers and their companies, according to a report. 

On the other hand, email marketing campaigns are effective for customer acquisition and retention, with a conversion rate of 8.17 percent. 
In other words, if you combine the two, you have a potent marketing tool that can give you the best marketing results. 
But how do you use Instagram and email marketing together? Read on for some email marketing Instagram tips.
1. Grow your email list with Instagram
Email lists allow you to easily contact your customer base and offer product discounts and promotions. They're also useful for customer support and loyalty program invitations. With these, you'll be able to build deeper relationships with loyal customers and drive sales. 
You can use Instagram to grow your email list. To do that, simply include an opt-in email link in your bio and a call to action. You can also run giveaways or offer exclusive services to encourage potential customers to join your list. 
Check out the caption of the post below from Kai Collective, for example. The brand makes it so clear that people joining their mailing list will have early access to shop for one of their most popular products. This shows the value of joining the email list and hence encourages more people to sign up.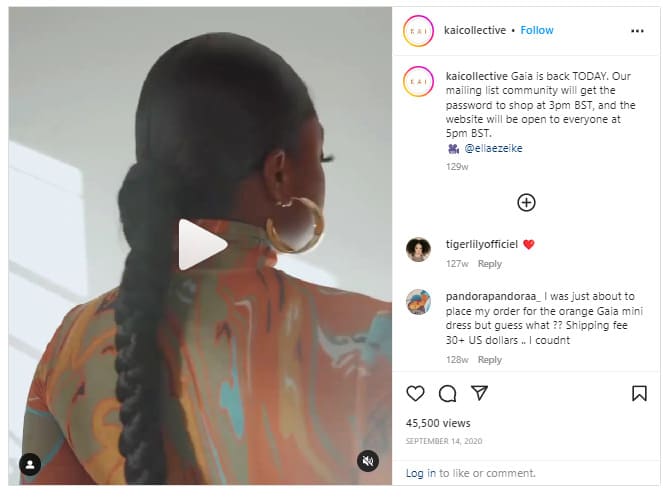 You should also leverage other Instagram content formats to grow your email list. Instagram Story, for instance, is great for drumming up interest to drive email sign-ups. 
For example, you can share an extract showing the kind of insights usually shared in your marketing emails via Instagram stories. You could also share some reviews or testimonials of how your email campaigns are benefiting subscribers. 
Doing that can generate interest that could drive more signups.
Including lead magnets like free trials and discount codes will also motivate Instagram users to sign up.
2. Use Instagram to promote your email content
Instagram is effective for marketers across all industries to increase brand awareness and customer engagement. Even if you don't have enough followers to generate buzz, there are strategies you can use to grow your Instagram following. 
You can leverage Instagram's reach and promote your email content there, too.
You don't need to include your entire marketing email content. Just give a sneak peek into your newsletter content, for example. This will pique followers' curiosity, which you can then leverage for sign-ups. 
Here's how Activa Insurance does this: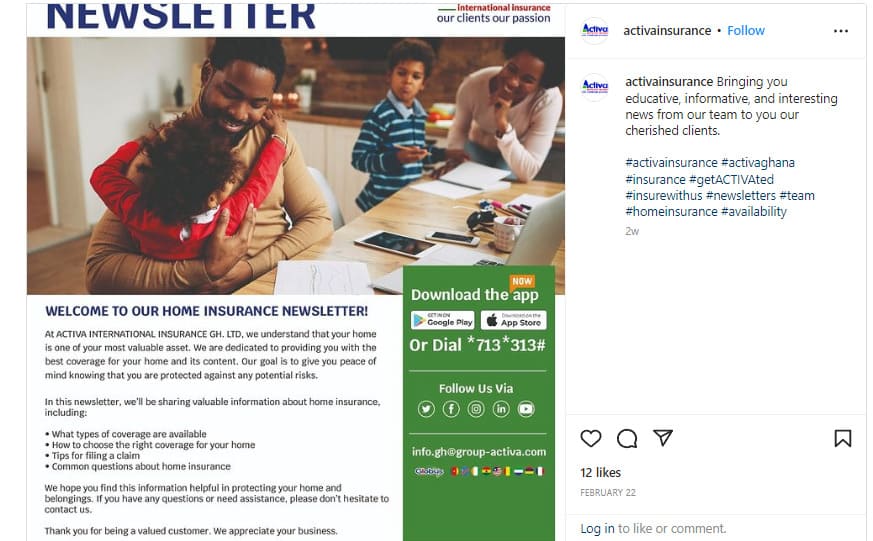 Pro tip: Ensure your content has the same look and feel across different marketing platforms.
This is critical to brand awareness and recognition. By keeping things consistent, it will be easy for your email subscribers to recognize your Instagram content. The result is that they are more likely to take your desired action. Your Instagram followers, who become your first-time subscribers, will also be able to recognize the emails that come from you. So they'll know these aren't spam emails they should delete. 
Keeping the landing page consistent with your marketing collateral design will help, too. 
3. Share user-generated content in your emails
User-generated content is a customer-led type of marketing. When you promote this form of social proof, customers are easily convinced to patronize your brand. 
So, share different forms of UGC from Instagram in your email. The UGC can show the various use cases and benefits of your brand's products. This way, you can increase the chances of your email subscriber buying from you (again).  
Check out this example from MeUndies: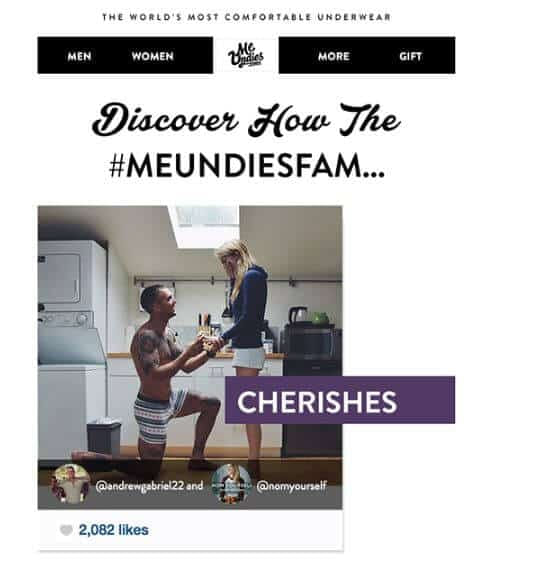 The Instagram UGC the brand shared with its email subscribers is effective for sales because it shows how the product looks to a real person. Besides, it has that humor factor that might just be enough to nudge subscribers down the sales funnel.
With these emails, you can also drive targeted traffic to your Instagram business page. All you need to do is link back to that Instagram post and urge email subscribers to click on the link. 
To get this UGC, run social media contests to get people to use your products and share their experiences. You still, however, need to ask them for permission to use the content they created. Just send them a private message and make your pitch. 
Sharing Instagram UGC via email is one of the most important email marketing Instagram tips. It gives you multiple marketing benefits. You can also use this strategy across different industries, from SaaS to B2B marketing campaigns.  
4. Boost your Instagram following with email
If followers sign up for your email list, they're probably already interested in your products. This means the chances of them following you on Instagram and interacting with your Instagram content are already high, right? So why not take advantage of that? After all, it's always good to have great content engagement on your social media platforms. 
Besides, Instagram is a great platform for interacting with potential customers. The platform has a more relaxing feel, and users already want to interact with brands there. Just look at the figures. Around 90 percent of people on Instagram follow businesses. You just need to make it easy for them to follow you.
When you manage to do this and nurture your relationships with them via engaging Instagram content, you increase your chances of turning them into paying customers.
So how can you use email to boost your Instagram following and engagement?
Simply ask email subscribers to follow you. You may do this when onboarding a new customer or sending newsletters to subscribers.
This is a simple yet effective technique used across all industries, including by nonprofit organizations. Below is a good example of a nonprofit's Instagram marketing strategy of using newsletters to promote their social accounts. 
Notice how the Trip Advisor Foundation asks their email recipients to follow them on socials, and they include social media buttons.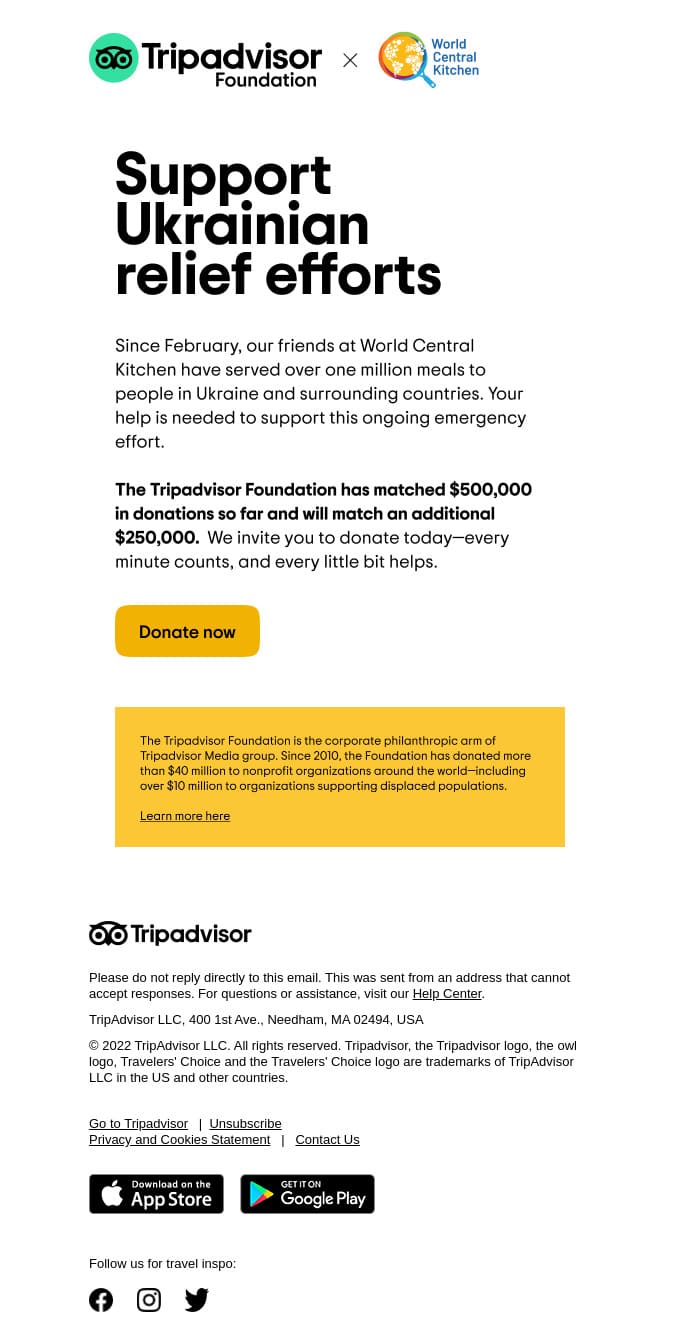 You have to make it easy for subscribers to follow you, though. So, add a call-to-action button in your email. When your subscribers click on the button, they should easily access your Instagram account through their own account and then just hit the Follow button.  
You can also get subscribers to follow you by announcing ongoing giveaways or offering discounts. Here's a great example from Forever 21: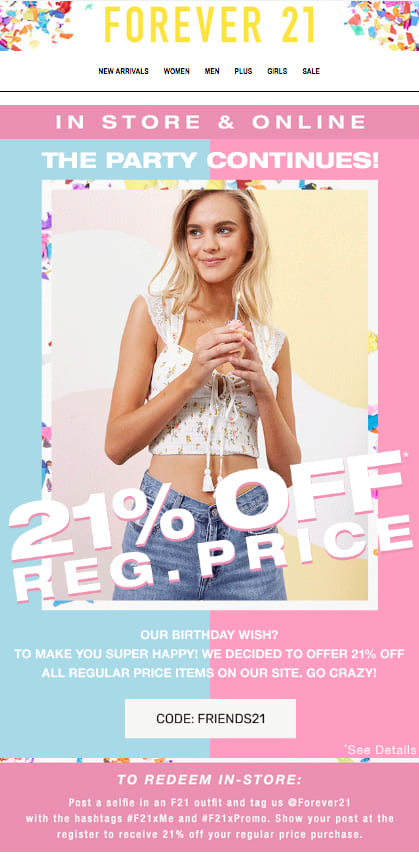 For email subscribers to avail of the discount in-store, they need to first post a selfie in a Forever 21 outfit. Then they need to tag Forever 21 with a hashtag. This is a genius way to get subscribers to see the Forever 21 Instagram account, hopefully, follow it, and engage with the brand's content.
You can also attract more followers by sharing Instagram milestones with your email list. An example of a milestone could be reaching a certain amount of followers. Here's a great example from Bluebella:
When the company reached 500,000 followers on Instagram, it shared the news with its email subscribers.
People want positivity. When you share your success, they will more likely want to be a part of it, too. So, in the end, they'll follow you on Instagram as well. 
If you opt for this strategy, though, don't forget to include an Instagram icon in your email. This will make it easy for subscribers to follow you on Instagram. Don't expect them to just look for you on the social media platform and click follow. 
5. Use Instagram to test your email content
You can leverage your Instagram audience to discover what type of content your subscribers will find engaging. The rationale is simple. Your Instagram followers and email subscribers follow and subscribe to you because they're both interested in your brand. It's highly likely they're both interested in the same content, too.
To test your email on Instagram, include a sneak peek of the email content you want to send and hit publish. Then use Instagram Insights to check the engagement rate of that Instagram post. If you get many likes and positive comments, that just means you can go ahead and send the email. Chances are, your subscribers will like that content, too. Of course, in this case, you must remember that for the Instagram post, you have to create a visually attractive and compatible design, and for the e-mail, you must create a catchy subject line that attracts subscribers to open it. 
Instagram offers polls and question features that can help you gather feedback from your audience on various topics. You can also use these features to ask your followers what type of content they would like to see. You can be more specific and ask directly what kind of content is expected from your newsletter.  This feedback can help you tailor content to your audience's preferences and interests.
Here's an example of an Instagram questionnaire: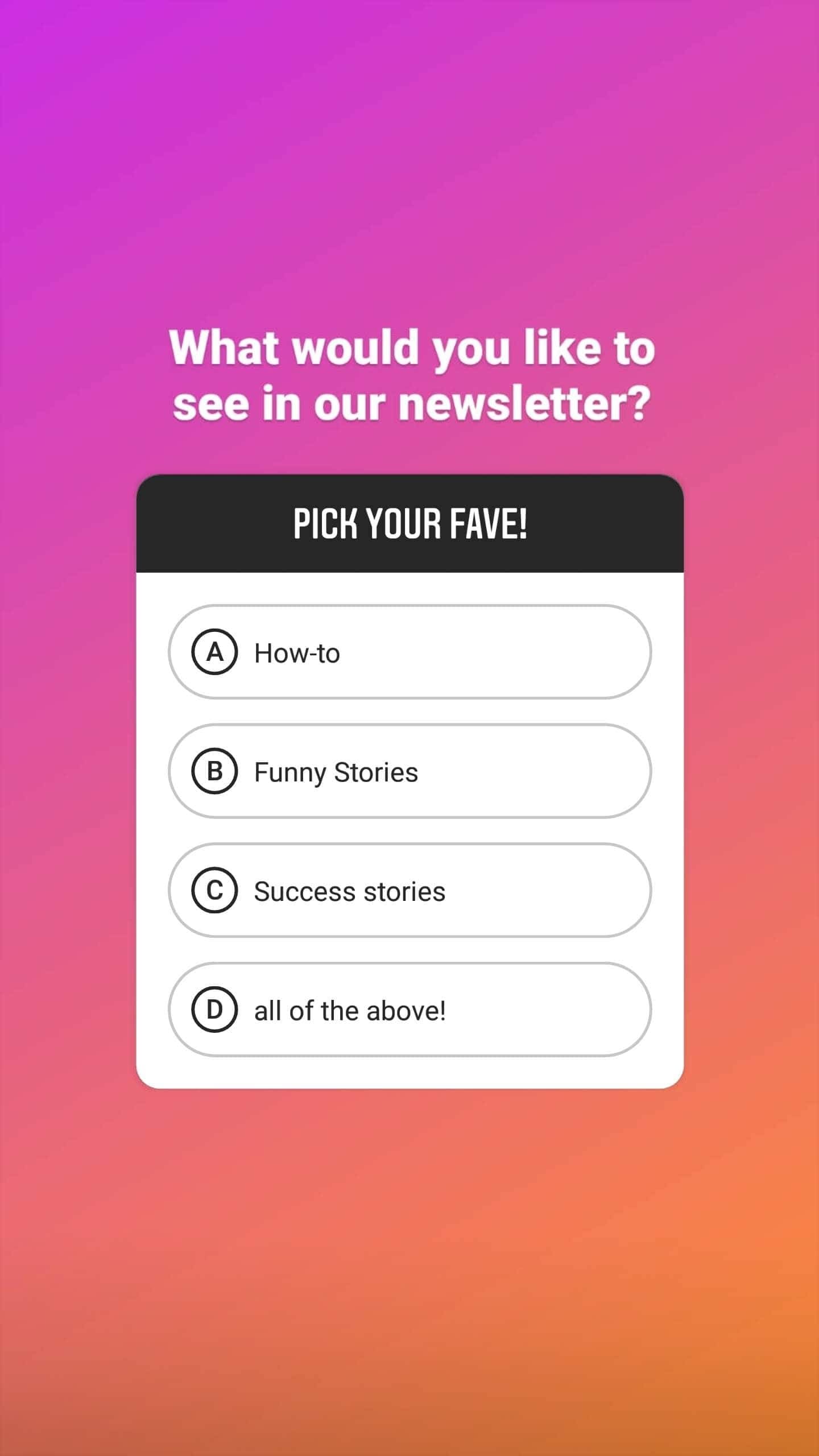 In other words, you can use Instagram to optimize your email marketing campaigns. This way, you increase your chances for conversions, too.
In Closing
Although email and Instagram are very different platforms, you can combine both for maximum impact. 
As you learned in this article, you can use Instagram to promote your email campaigns and grow your email list. You can also promote your Instagram UGC content via email. Boost your Instagram following via email and test your email content on the social media platform.
Ready to supercharge your content marketing strategy? Use these email marketing Instagram tips, and you'll reap the best results.
---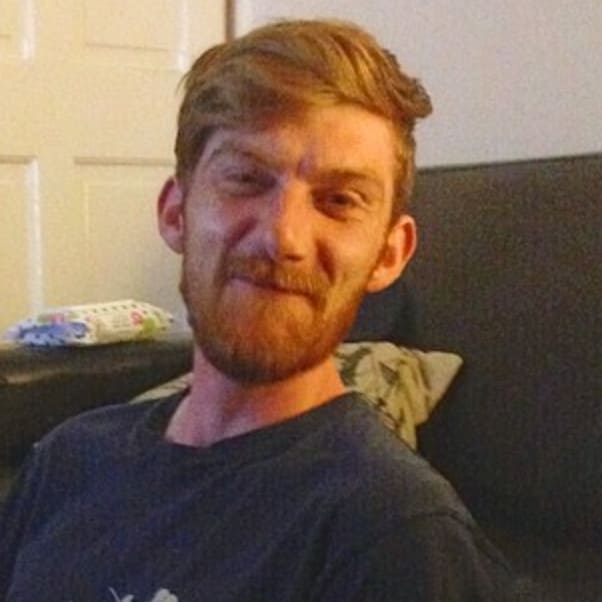 About the Author
Harry Flynn leads the digital marketing team at Twicsy, a site providing services to Instagram users. He enjoys travelling and relaxing with friends in his spare time.