All industries are trying to adapt to the pandemic, the new rules and guidelines. The changes are affecting brick-and-mortar businesses but also the digital, online space. COVID-19 and email marketing: what is happening, and how is email marketing being affected?
COVID-19 Emails
First of all, many companies have been sending COVID-19-related emails. As consumers, you've probably noticed an influx of such emails in your inbox, even from brands you haven't engaged with for a long time.
There are a lot of discussions about the value of such emails. Take a look at this chart from Statista – it shows that only 15% of respondents in the United States do not want to hear from brands at this time. Many appreciate the information.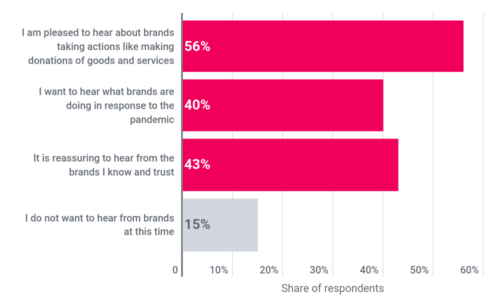 The golden rule is that, as marketers, you need to think before you send such emails to your database. If you are deploying to members, engaged shoppers, or subscribers, you should see an increase in your open rate because that is useful information for your customers. However, these emails should not be a subscriber re-engagement campaign.
Email Volume and Complaints
Some companies stopped marketing messages altogether; others canceled their existing campaigns and re-adjusted their marketing strategies and budgets. Marketing Charts report recent data from Validity showing that now 1 in 15 emails contain coronavirus-related content. Therefore, when you are considering your next email deployments, especially related to COVID-19, understand that your subscribers will be getting a lot of similar messages at the same time.
Marketing Charts have also indicated that COVID-19-related emails are less likely to be marked as spam, but they are generating more complaints in general. It is not surprising because many companies have been sending such updates to their entire databases – including the unengaged subscribers.
Remember, not only marketers are sending emails related to the current situation. Many spammers are sending malicious emails – we can label these as "coronavirus spam". Therefore make sure your updates contain valuable information and are not spammy.
Email Engagement: Deployment Days and Times
What about email engagement? The current situation has changed quite a few things in email marketing best practices, such as sending times. If earlier companies were aiming for the best sending days and times, for example, early Tuesday morning or deploying to customers during the commute or lunch hours. Now, as many businesses have shifted to remote work, it means that both B2B and B2C have lost the regularity of the best engagement times.
While at home, you can check your email at any time; there are no morning or evening commute times when many people regularly check their inboxes. However, it is very important to track the open times and dates now, as new patterns and trends might appear.
Email Engagement: Opens and Clicks
Things are changing, but email marketing is going strong. We even see a slight 1-2% increase in open rates. However, industry matters. If you're in the sector that was hit hard by the pandemic, for example, travel, your engagement might shift drastically.
However, e-commerce businesses report a definite increase in email engagement and in purchases. Understandable, as many consumers want to avoid – or cannot go to the stores; thus, they try to shop online. Also, there is a change in what they are searching for – everyone wants to make sure their stay at home is as comfortable as it can be – for both working from home and relaxing.
One thing to remember, your promotions need to be very carefully planned. Know your audience and how to approach them – some might want a more serious message, and others might like someone to try to brighten their days with a bit of humor.
What is Your Data Telling You?
Email marketing is helping a lot of businesses during these unstable times. While companies are changing their communication methods, channels, and strategies, consumers are adapting and changing too. Therefore, always analyze your results and think about how else you can make your email marketing campaigns and messages work better for you and your customers.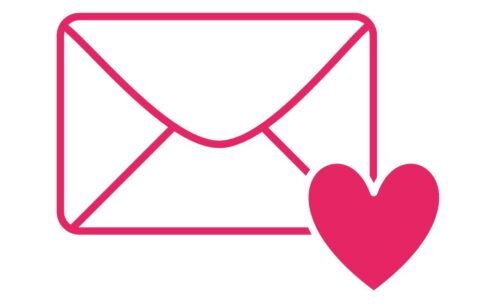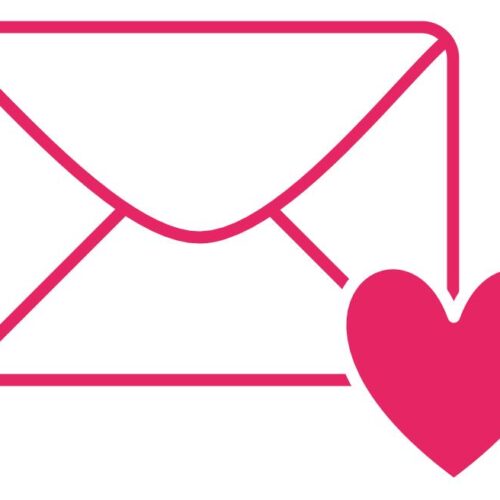 Blog post: How to Handle Coronavirus COVID-19 Related Email Communications?
Social media is becoming more and more important for companies. Therefore marketers try to develop an omnichannel strategic approach where all different mediums would work together and form multiple touchpoints with the companies. That's why our next blog post will take a look at how you can incorporate social media into your email marketing, specifically, social media bars in your email marketing templates.
Make sure you check our blog regularly, and don't forget to subscribe to our emails. Or you may want to follow up on the last blog post on How To Write Effective Emails: The Ultimate Guide For Beginners if you've missed it.