The COVID-19 pandemic is affecting all of us – our personal and work lives. The situation is changing rapidly, and there is a constant stream of news, changing guidance and advice from the public health authorities – such as quarantine, self-isolation, or social distancing. Many companies have to either stop their operations or activate their contingency plans, such as remote work. Thus, if your business is affected, you should consider informing your customers as well.
Company Updates About the COVID-19
First of all – now is the time to be serious and respectful. It isn't the time to make a quick profit – your customers might find it very inappropriate to continue to receive marketing messages as if nothing is happening.
If you are changing critical business processes or operations, for example, moving your company to working-from-home, you might want to approach your audience and inform them about the changes. What can you include in your email communications? Think about the following:
Explain the changes in your organisation and why they are happ

en

ing

 

What you are doing to ensure the safety of your customers and employees

Inform your customers of what measures you have in place to monitor the situation and adapt your business if necessary.
Respect Your Customers
Your communications should be calm – you don't want to spread any panic. Usually, the COVID-19 email updates are signed by a senior person within the business, for example, the owner. Make sure the subject line is clear and to the point.
Remember, these emails are not marketing emails; they are updates and notifications for your customers, to keep them informed. It means that you shouldn't use any marketing images or catchy graphics, think about these emails as personal communications to each of your customers.
Brand tone of voice needs to reflect the seriousness of the situation; however, don't make your email sound too complicated and difficult to read. Your email recipients must be able to quickly scan it and understand what you are trying to say. Let's look at some examples.
Here's a very reassuring email from Wizzair: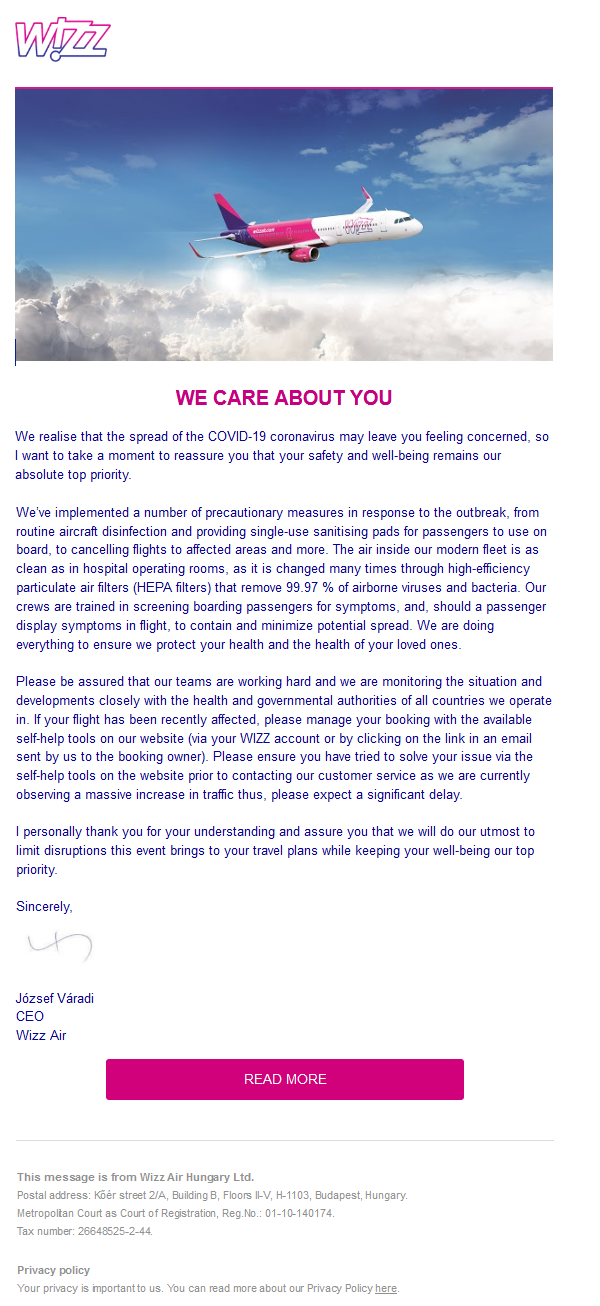 And here is an another one from ASDA: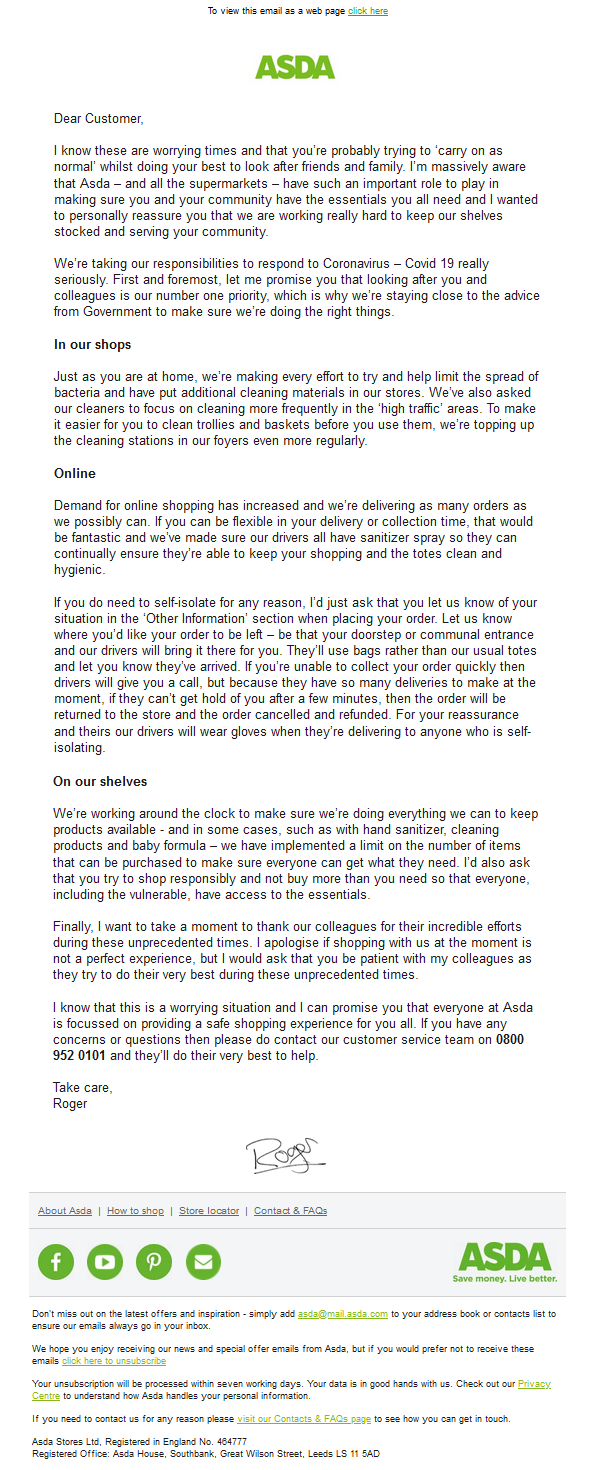 E-Commerce Stores
Companies that are still able to operate their business and offer their customers something that they would benefit from during this pandemic are continuing to send promotional emails. However, the approach should be that these communications are moderate reminders, rather than full-on marketing campaigns.
Firstly, put your customer-hat on and make sure this is really what your audience would like to hear and that your email communications are appropriate during this pandemic. Secondly, you should be sure you will be able to fulfil all that you say in your marketing communications.
Stay safe, everyone.
Have you ever received some marketing emails where the unsubscribe links are non-existent or virtually invisible? All that, it's just wrong. And illegal – remember that marketing emails have to have a clear, easy to read unsubscribe link so that your email recipients could decide to opt-out.
Read from our next blog post what to say and where to place the unsubscribe links in Emails.
Make sure you check our blog regularly and don't forget to subscribe to our emails. Or you may want to follow up the last blog post on Perfect Combination: Email Marketing and Social Media if you've missed it out.