Social media is becoming increasingly important for more and more companies. Marketers try to develop an omnichannel strategic approach where all different mediums work together and where customers have multiple touchpoints with the companies. That's why today we will take a look at how you can incorporate social media into your email marketing, specifically, social media bars in your email marketing templates.
Top of the Email For Instant Visibility
One of the most popular ways to highlight your social media accounts in your email campaigns is by adding social media buttons. If you decide you want to put them in your email header or pre-header, you're surely going to get people noticing those social media icons.
Take a look at Wizz Air's email. They have selected to promote their FaceBook, Twitter, Instagram, YouTube, and LinkedIn account at the top of their template.

Footer For A Gentle Reminder
Another frequently used place for social media buttons is the email footer. Having them at the bottom of your email doesn't remove the attention from the message you want your subscribers to focus on. However, it still reinforces your presence in different social media spaces. Here's a beautiful example from Clark's email:

Take a look at this email footer from The Firebox. They do a fantastic job making their emails visually appealing to the subscriber. They are very interactive and engaging. However, this time, we really want to highlight their social media buttons – the style of these colorful icons is very in-line with the overall design of their emails.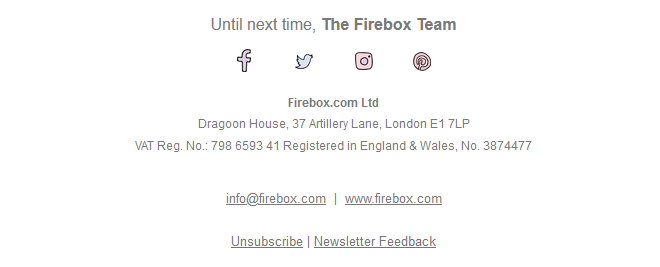 Don't Be Generic – Customize the Icons
Remember, you can always customize the buttons. For example, if you're running a campaign that is highlighting something very specific, such as a giveaway or a competition, why not link to that particular post in your social media channels instead of using an account profile link?
You should also think about which social media channels you want to be displayed in your email. We started to notice that many companies are adding App Store icons alongside their social media buttons. The social media bar is a perfect spot for that. For example, the email from Wish.com is promoting their apps on both Google Play and the App Store:

Also, you might notice that they've added the Messenger icon alongside the Facebook one, and this isn't what you would usually see in the majority of emails with social media bars.
Another great example is from Domino's – social media buttons with icons for downloading Domino's apps are also seamlessly integrated into the social media footer section.

Take a look at Currys PC World email – they have noticeable buttons for their apps too, and they are designed to match the rest of the email style. You can also see that they have not added an icon for Instagram but decided to use Pinterest instead.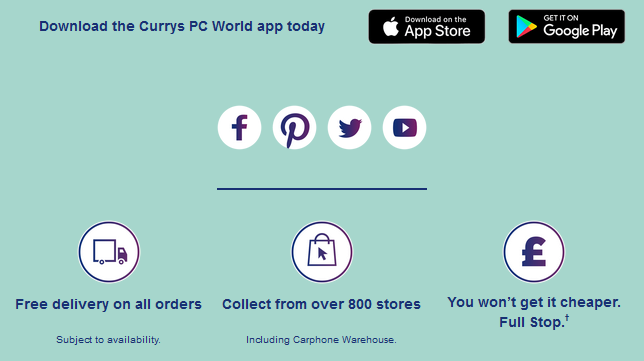 Jet2holidays is using this bar to highlight their apps as well. Even though this section is at the bottom of the email, the sizes of the buttons and the fonts are much larger than we usually come across in many promotional emails. They definitely stand out! Take a look: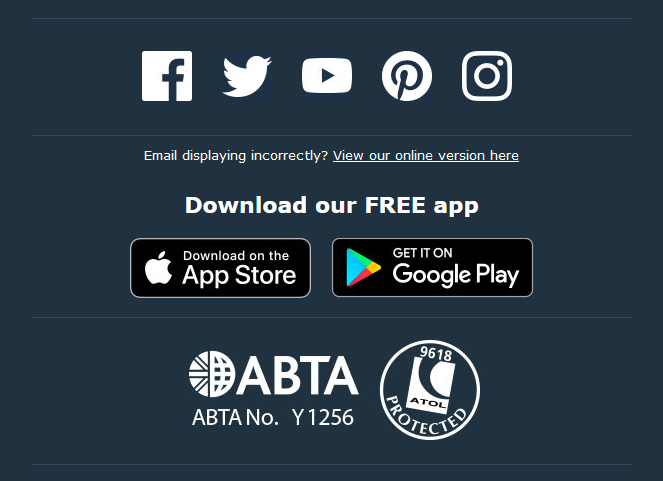 Try Out #Hashtag
If you're building your social media presence, or if you already have a strong following across different social media channels, why not promote your own hashtag? We found some great examples of how hashtags are placed in social media bars.
Take a look at the email from The Works Stores. When you scroll down the template, just above the footer, there's a well-planned section for social media and other company-related information. And this includes the hashtag. Very easily noticeable and right above the social media buttons. Nice and colorful, like the rest of the email.
La Redoute has also added its hashtag to its email template. While much more subtle in style (if we compare it to the example above), still very well designed, spaced out, and also placed above the social media icons. A great way to try to promote their social media presence.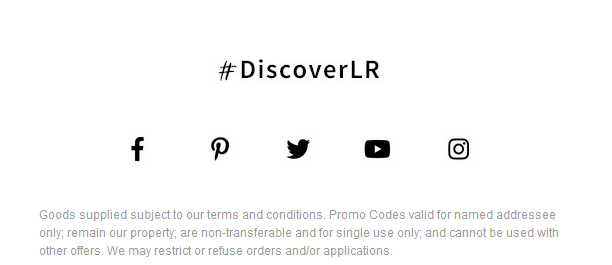 Try Adding a Social Media Bar in Smaily Drag&Drop Template Editor
We've shown you some great examples of social media buttons in email marketing templates. We encourage you to go ahead and try to add them yourself – if you haven't already done that. And we have made it very easy for Smaily users too!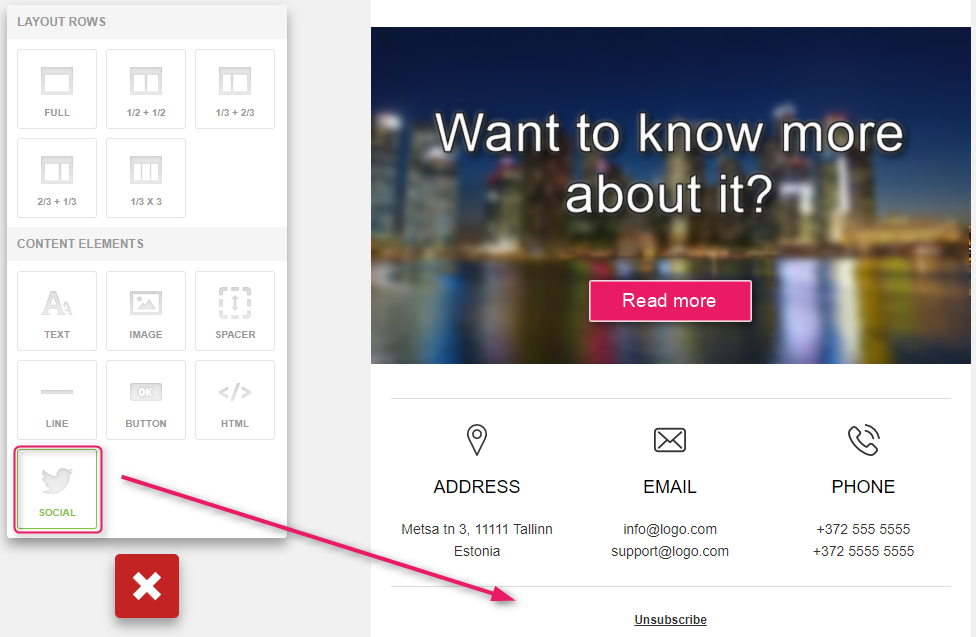 Add the block, customize, and deploy those beautiful emails!
Digital Marketing is an extremely dynamic industry that changes at a high speed. You need to keep your mind open to new methods and techniques. Therefore we will discuss some email marketing trends for 2020 in our next blog post.
Make sure you check our blog regularly, and don't forget to subscribe to our emails. Or you may want to follow up on the last blog post on COVID-19 and Email Marketing: What's Happening if you've missed it.