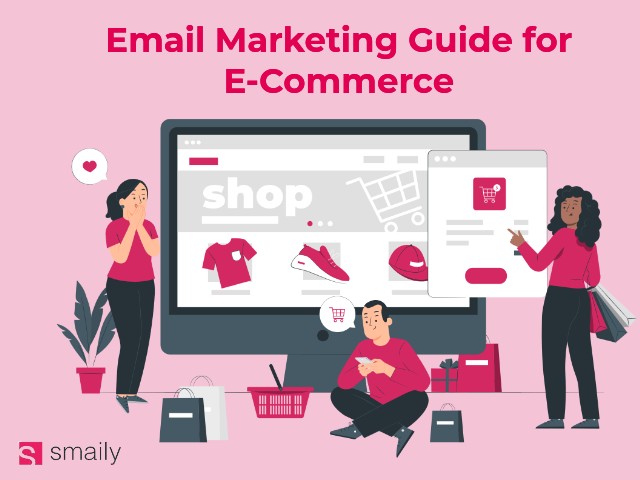 One of the primary advantages of running an eCommerce site is the ability to build your email list. It is the type of data that no one else has, and it gives you a competitive advantage by allowing you to build relationships and keep your customers engaged. With the rise of online stores, your eCommerce email marketing strategy can be critical to the growth of your business.
According to industry statistics, the email open rate benchmark is 21%, with 2.56% of them clicking on the website. What's exciting and essential in eCommerce marketing is that 55% of emails are opened on mobile devices, making mobile responsiveness one of the essential factors in determining email success.
With that in place, you don't have to settle for the standard, do you? So here's a comprehensive eCommerce email marketing guide to help you succeed.
Table of Contents
What is the definition of eCommerce email marketing?

Why are eCommerce email campaigns so crucial to success?

eCommerce email types that you can send

Elemental components of an eCommerce email 

eCommerce email marketing best practices

The most effective eCommerce email marketing tools
What is the definition of eCommerce email marketing?
Email marketing is one of the most valuable tools available today, particularly for eCommerce businesses, because it allows you to connect with customers in a personalized manner at a much lower cost.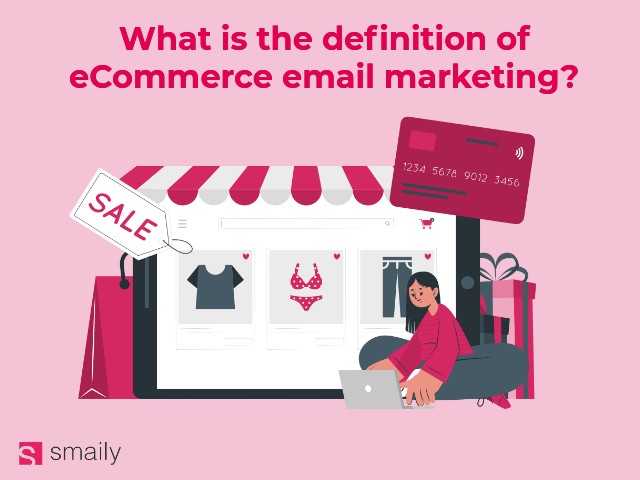 As the name implies, eCommerce marketing is a powerful marketing strategy that relies on emails to promote the products and services of an online store to potential and existing customers. Emails are a popular form of online communication because they are practical, efficient, affordable, and profitable.
eCommerce email marketing can be as simple as sending an email to a customer who added items to their cart but did not complete a purchase or as complex as connecting multiple campaigns to increase sales. It is entirely up to you how you use your email marketing campaigns. It is determined by your company's goals, marketing objectives, target audience, business growth, etc. The bottom line is that email marketing is all about fostering and building trust to establish a solid, long-term relationship with customers, and it works wonders.
Your emails impact how your customers perceive your brand when they shop at your store – whether online or in person. Thus, your email marketing strategy must engage your customers and keep them on their toes. Otherwise, with tons of emails bombarding you daily from various businesses, you risk losing customers to your competitors.
There are numerous ways to use digital marketing strategies to generate sales for your online store, ranging from PPC advertisements and generating backlinks to promotional emails and newsletters. On the other hand, emails are a more cost-effective and targeted way to reach your customers as direct communication from the brand. Furthermore, you can quickly obtain a comprehensive picture of your email marketing performance, make adjustments, and thus improve efficacy.
Some key metrics to monitor for eCommerce email marketing campaigns:
Delivery rate

Open rate

Conversion rate

Bounce rate

Click-through rate

Subscribe rate

Unsubscribe rate
E-commerce business growth must streamline comprehensive email marketing campaigns in alignment with goals, KPIs, and performance metrics. Although social media assets are required to scale your business, email marketing is the best digital marketing tool for contributing to customer acquisition.
This is because email marketing can be used to improve brand awareness, first impressions, and user hooks. However, there are a few things you can do to avoid being labeled as "spam":
Not purchasing email lists

Email collection via opt-in forms

Including an unsubscribe link

Creating audience subsets

Avoiding the use of spammy phrases

Quality content dissemination
Since we've covered what eCommerce email marketing is, why it's essential, and the critical metrics for tracking and monitoring email marketing campaigns, let's move on to the eCommerce email marketing practices, types, and essential elements to consider when designing an email to boost conversion and sales.
Why are eCommerce email campaigns so crucial to success?
The following statistics are likely to explain why email marketing is critical for achieving eCommerce success:
Every day, 99% of email users check their inboxes.

Over 80% of retailers consider email marketing one of the most cost-effective customer retention methods.

59% of consumers believe marketing emails impact their purchasing decisions.
Email marketing not only increases brand awareness and credibility but also aids in the retention of customers.
Email types that you can send in eCommerce
Are you wondering what kinds of emails an eCommerce store can send? Check out our list to get started.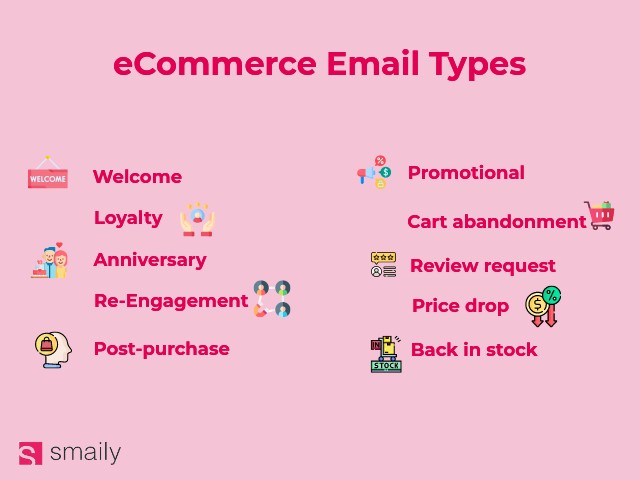 1. Welcome emails
A welcome email is the first step in developing a long-term customer relationship. It could be a make-or-break moment, so ensure your email is purpose-driven, excites the user, and prompts action. You're doing it wrong if your welcome email is nothing more than a signup confirmation.
To begin with, the primary goal of these messages should be to show new subscribers what your business is all about and what business proposal it has – because this is the moment you have more attention from a user than you will ever have again.
While a simple, clean, and easy-to-read email template is an excellent place to start, we'd like to see brands go above and beyond by rewarding new users for signing up.
2. Loyalty emails
Since customer loyalty does not develop overnight or through a single campaign, creating frequent well-targeted email campaigns to nurture your existing and new subscribers to earn customer loyalty isn't a bad idea. It raises the lifetime value of the customer.
You've probably heard of premium membership programs. These are the most common loyalty programs brands use to entice users to sign up for an exclusive email list that gives them early access to special deals, product releases, and invitations to special events.
3. Anniversary emails
Who doesn't want to feel unique?
When a company remembers your birthday or anniversary, it elevates to a whole new level. Customer interaction and trust are effectively increased by personalized wishes to the target audience that includes coupons, discounts, rewards, and special offers.
Ask for the date of birth when someone signs up for your email list without providing any other details. You can encourage customers to make purchases based not only on the price but also on shared values, the client's engagement, and the overall brand experience by providing incentives based on prior interactions.
4. Re-Engagement emails
In e-commerce and email marketing, we also encounter "disengaged subscribers" and customers who have not visited your store, purchased from you, or even opened your emails for a long time. They know your brand and products/services but.
However, they are usually a friendlier audience than strangers. Re-engagement prompts with irresistible offers are an effective way to get them back on track.
Whether a discount offer or a prize competition, ensure your incentive is prominently displayed. Just a thought: personalize it to make the customer feel special and wanted. No one can ever let go of that!
To remind them of their previous relationship with your brand, use phrases like "We miss you!" or "Please come back!"
5. Post-purchase emails
Investing in a new customer requires significantly more effort and money than retaining an existing one. As a result, returning customers is an excellent way to increase a company's ROI.
One of the main benefits of a post-purchase campaign is that it makes it easier to maintain contact with your customers. Emails offer a practical follow-up alternative to inconvenient phone calls, which also take up a lot of your valuable time and interrupt people's busy schedules.
Any customer's first purchase is the foundation of the relationship between the retailer and the customer. That is why you should send post-purchase emails to first-time buyers to nurture and convert them into loyal customers.
Post-purchase emails are used to solicit customer feedback and promote additional products and services that your customers may be interested in.
6. Promotional emails
We all get a lot of promotional emails every day.
In my experience as a consumer, most of these messages are often less strategic and systematic. For example, we receive hundreds of boring promotional email cliches every month, the majority of which we never open. This is now a disaster. These campaigns require careful consideration.
Promotional emails are typically used to turn email subscribers into customers and current customers into brand advocates as opposed to transactional emails that inform customers about their order status or account information.
These emails are typically used by brands to advertise their goods, services, deals, and campaigns. You ought to focus more attention on these campaigns because of this as well.
7. Cart abandonment emails
Cart abandonment rates range between 60% and 80% on average. However, using an abandoned cart email to follow up with shoppers is one of the most popular ways to recoup lost revenue.
Abandoned cart emails are highly conversion-oriented messages that compel recipients to act. These types of emails are critical for holiday-themed emails such as Christmas email campaigns or marketing campaigns before Midsummer celebrations.
8. Review request emails
Reviews and testimonials are a great way to increase customer trust, especially with those who are hesitant to make a purchase. They get a little bit closer to the top of the sales funnel as a result.
83% of people find new products based on customer reviews, and In America, 4 out of 5 customers read reviews before making a purchase. Testimonials help establish a brand reputation, add a lot of credibility to your business, and provide the type of social proof required to influence consumer behavior.
Reviews provide helpful information about your product or service and convey the message that your company cares about its customers. As a result, customer feedback emails can help establish a relationship between your brand and the customer.
9. Price drop emails
Pricing has a significant impact on all eCommerce transactions' success. To develop pricing that motivates purchases, a successful marketing strategy requires the seller to have a thorough understanding of the competition as well as the decision-making processes of potential customers.
Why can't we use the fact that a product's price is still a key selling point in eCommerce to increase sales?
Price drop alerts let customers know when non-sale discounts are available for their preferred goods. Everyone who has expressed interest in the product is informed by the triggered email that it has become less expensive.
The underlying idea is straightforward. Customers who have chosen to receive your marketing emails have their browsing history collected and saved. Your eCommerce system automatically sends the email when you change the price.
10. Back-in-stock emails
Your products may run out of stock for various reasons, including increased demand during particular holidays and seasons like Halloween, summer vacationsThanksgiving, Christmas, and New Year's. Customers who expect to be able to buy what they want when they want it may find this effect to be very frustrating.
Stock shortages may cause long-term harm. Along with losing the sale, you risk damaging your relationship with the customer if they choose to do business with the rival. ‍
However, marketers can use a product that is out of stock to engage customers in productive ways.
Back-in-stock emails offer a chance to compensate for lost sales, keep clients interested in your brand, and ultimately delight customers by giving them the goods they want.
Elements essential for an eCommerce email 

1. On-site Conversion
The success of your email marketing will be directly impacted by how well you optimize your website for email capture. It's also very important to know how to set up your website properly.
It's great to have a lot of website traffic and to set up automated back-end email sequences, but it's useless if visitors to your website never return. Try working with a verified SEO consultant to increase traffic and email signups.
A key component of eCommerce email marketing is on-site conversion optimization. What you can do to set up your website for efficient email capture is as follows:
On your homepage, include an email capture form

Put your form in the foreground and above the fold

Utilize social proof to increase registrations

Draw attention to your value proposition
2. Message
Messaging is one of the most important components of an email. The email is useless if the messaging is irrelevant to the audience or does not support the marketing objectives.
Your messaging must persuade customers to open your emails, respond to your calls to action, read your content, and shop at your online store. What's the point if it doesn't?
When it comes to your messaging, there are several factors to take into account. Some of these factors have to do with the technical aspects of email marketing, while others have to do with customer engagement.
What you can do to enhance the messaging:
Be mindful of unsubscribe rules and stay away from common spam words.

Optimize your email by adding eye-catching emojis and subject lines to increase open rates and engage the user.

Split-testing your copy, limiting the number of calls to action, using illustrative links, listing segmentation for more precise targeting, and behavior-based personalization of the offer are good strategies.
3. Personalization
More than adding a "First Name" tag to your email broadcasts constitutes personalization.
It can help your eCommerce business stand out in your customers' inboxes, boosting open rates and click-through rates and ultimately building your sales. It strengthens your customer relationship and demonstrates your concern for their preferences and interests.
Personalization is regarded by 33% of marketers as the most crucial future capability to develop because of how crucial it is.
Effective ways to add personalization to your emails:
Product recommendations: Suggest a related item that your customer is probably going to buy

Automate emails based on triggers based on user behavior using page-specific automation

Send pertinent communications to specific users using intelligent list segmentation and contact scoring
4. Design
Because custom HTML emails are so common, appealing design is a requirement for successful eCommerce email marketing campaigns.
Customers look forward to a fantastic inbox experience, stunning graphics, and captivating visuals in the form of infographics, Gifs, charts, and graphs such as pie charts, donut charts, or Sankey diagrams. Here are some pointers for making your emails look better.:
Branding (such as

logo design

, template, etc.) and

colors that stand out

Device responsiveness and optimization

Consistent and pertinent calls to action

Intelligently arranged content and copy

Engrossing visual components
Email marketing best practices for eCommerce
Let's examine the best practices for eCommerce email marketing so you can enhance your email marketing plan.
Ensure your email design templates are fully responsive to be read on any device. You can choose from a collection of fully optimized, editable email templates provided by Smaily. Ensure that the links are simple to follow.
By running A/B tests, you can better understand your customers. You will learn about your clients' needs to improve the effectiveness and sales-drivenness of your email campaigns.

Demographic segmentation

is a proven way to increase your open rates, click-through rates, and, ultimately – your sales. 

One of the most efficient email marketing strategies for an eCommerce business to encourage customer loyalty and build your brand image is to send exclusive and additional discount offers or reward points.
Inform your customers of significant events like sales, holiday discounts, end-of-season specials, hot deals, etc., to entice them to visit your website.
Send user-specific, highly personalized, behavior-triggered emails. Emails requesting reviews, confirming orders, and shipment status are a few examples of this type of email.
Create a referral program to expand your customer base and foster enduring relationships. It's an excellent opportunity for you to promote your brand because people frequently believe what their friends and peers recommend.
The most effective eCommerce email marketing tools
Smaily
Smaily is a comprehensive email marketing tool created specifically to assist businesses in carrying out their digital marketing campaigns with the least amount of work and the most significant amount of output. Using Smaily, you can get the most email marketing features for the lowest possible price.
It facilitates the conversion of website visitors into buyers. You can create personalized and automated email campaigns to provide them with sales updates, announce new products, or share any other news you may have to share through fully responsive and optimized ready-to-use templates for every business need.
The program is simple to use and intuitive. Hundreds of templates are already pre-loaded in the drag-and-drop builder, enabling you to quickly and easily create forms, emails, and landing pages.
Hubspot
Hubspot is a tool that is easy to integrate with Smaily and lets you manage social media, blogs, and CRM in addition to email marketing. Like Smaily, you can easily monitor your email deliverability rates. Additionally, you can save an unlimited number of contacts and only pay for the ones you use for marketing purposes.
Clearout
Clearout is an email validation tool that helps you maintain email list hygiene, which is an important aspect of any successful email marketing campaign. Email marketing databases naturally decay by about 22.5% every year. A bad email database can result in low email deliverability, high bounce rates, bad sender reputation, and even domain blacklisting or account suspension. Thus, email validation is an important aspect before sending any campaigns to your subscribers.
Conclusion
Your email marketing strategy is critical to staying in touch with customers and ensuring they have a positive experience with your company. If they do, they are far more likely to return and become loyal customers who buy repeatedly. 
Begin developing your eCommerce email strategy immediately to create effective promotional and transactional email campaigns that increase sales and help your business grow. Do you want to learn more about how eCommerce email marketing can help you 3x your sales? We have a fantastic blog for you "Email Marketing For eCommerce – 10 Perfect Strategies To 3x Your Sales"
Want to know more? The next article in this series will be "The Ultimate Email Marketing Guide for D2C & E-commerce Brands". Stay tuned!
---
About the author

Bharat Baghel is a Digital Marketing Expert and also a SAAS content marketer. He loves to talk about SEO, content creation, and Digital marketing tactics. In his free time, he likes to read and stay updated on digital marketing trends and travel to remote places on his bike. You can always reach out to Bharat on LinkedIn.