Subject lines, pre-headers, email content, and even footers – they all have their roles to play in marketing emails. Today, we want to take a look at the top 3 tips for email subject lines for 2020.
#1: Subject Line Length Can Impact Your Open Rate
There are lots of devices that your email could land in. Let's take Android as an example – there are so many different devices that are Android-powered. Check out this lengthy Wikipedia list to help you imagine! Now add all the Android versions, Apple devices, and a variety of apps people use to access their inboxes, and… it's not an easy job to make your email work well across all of them.
And that will not change with all the different mobile phones and tablets being released yearly. Therefore, the first subject line tip that has stayed current these past few years is to count those subject line characters. Make your subject lines more mobile-friendly.
There have been several studies released showing that shorter subject lines get more opens. And that's a global trend – whether you're in the USA, Germany or Estonia – people tend to notice shorter subject lines.
Let's take Italy as an example. According to Statista, in 2018, the most opened subject lines had:
10-20 characters (35.5% open rate)
20-30 characters (33.4% open rate)
30-40 characters (30.2% open rate).
The open rates gradually decrease as the subject line lengths increase.
Not sure if short subject lines can look good? Yes, they can – here are some examples:

One other thing to add – there are always exceptions to the rules. You might operate in a very specific industry segment, especially B2B, where YOUR contacts have particular requirements for your subject lines. They might want you to include specific words, phrases, or keywords – to help your subscribers create filters or apply other rules to your emails more easily. Always try to listen to your clients' feedback.
#2: Subject Line Personalization – Beyond the First Name
By now, many companies have started to embrace personalization – but, at this point, it usually represents the title/first/last name in the subject line.
However, on the positive side, more and more marketers are starting to feel somewhat confident with personalization techniques; thus, in 2020, we should start seeing more personalized subject lines, hopefully going beyond the *first-name* merge field.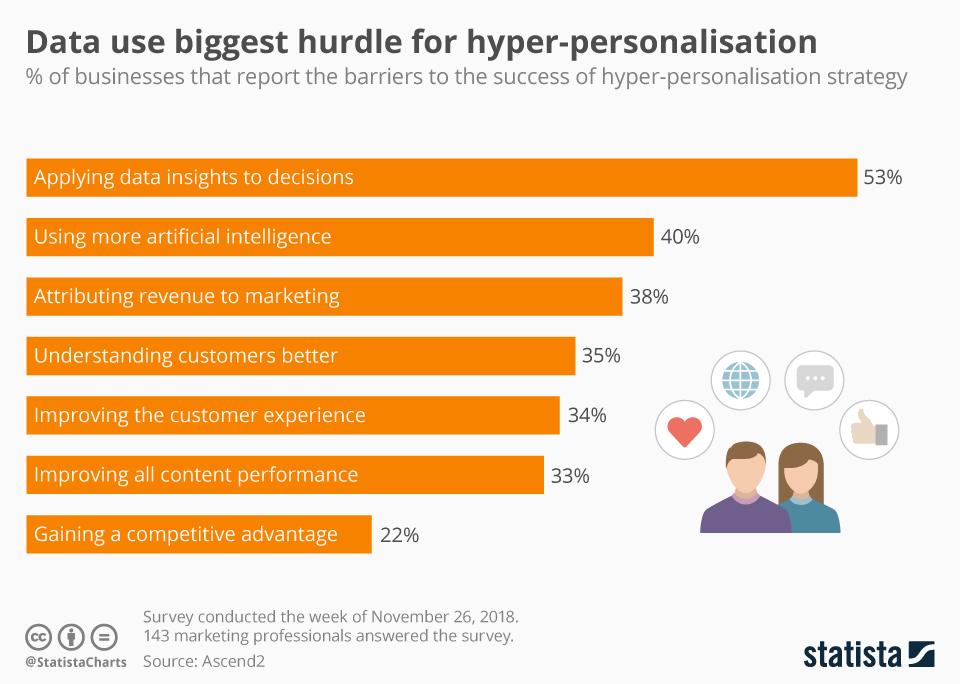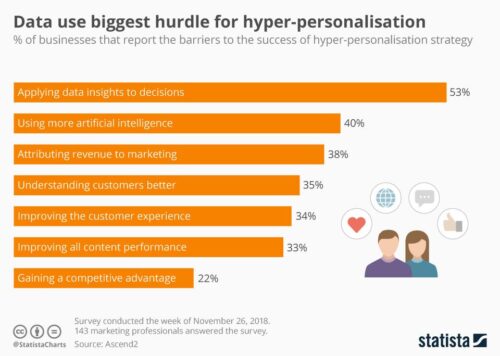 According to Statista, back in 2018, companies saw data usage as the biggest obstacle for hyper-personalization, but as increasingly more businesses understand the value that their databases and clean data hold, more will discover the possibilities of personalization:
Not sure how else to personalize the subject lines? Here are some quick suggestions:
location
purchase history
e-shop browsing data
abandoned cart information
devices used to open your emails.
#3: Subject Line Creativity – Fight for Attention
2019 brought lots of creativity in the subject lines. While some marketers fight for attention by adding emojis to their subject lines, others look for catchy sayings, words or phrases. Here are some examples:

In 2020, we'll most likely see more and more marketers put their creative hats on when thinking about subject lines. We all want our emails to be noticed in the usual inbox clutter.
But that said, always remember that while you're trying to get attention with super-creative subject lines, you need to prioritize clarity first. You don't want to use an out-of-the-box subject line that has nothing to do with your email content. That would most certainly cause disappointment – and could lead to unsubscribes or even abuse complaints. Be creative but also to the point!
What to keep in mind:
People tend to notice shorter subject lines.
You can personalize the subject line in various ways.
Next time, we'll learn about pre-headers in emails – another important email part that is getting increasingly more attention (well-deserved!). Make sure you check our blog regularly, and don't forget to subscribe to our emails. Or you may want to follow up on our last blog post on how to Attract Attention in Email Marketing – 9 Commandments for Newsletter Creators – if you've missed it.