When building your company's brand, you should think about creative assets that will showcase your brand. However, you must also communicate what's behind the images: the meaning, the symbol, the promise. Your brand needs to be consistent to make it easier for your current and potential customers to recognise you. Your marketing campaigns might take you to various different channels, but the aim is still the same – consistency. That's why today, we'd like to talk about brand consistency in email marketing.
Why is brand important? There are many benefits to having a strong brand. But, in short, you want to have your brand become an identifier of your business. And, when it's done right, your brand will help you acquire new customers, convert and retain them cheaper and faster.
Branding matters. And not just for big businesses. It's essential for small and medium-sized companies too. Consistent branding can help you stand out in your industry, in your marketplace – be recognisable. It can increase customer loyalty and give you more returning customers.
Branding in Your Email Marketing Campaigns
Let's go through some brand consistency tips for your marketing emails. There certainly are things you can do to make your brand look and feel more consistent.
A logo is basically your company's visual trademark. Therefore, no matter what type of email template you build, you should always include your logo. In the email templates, logos are usually placed in the header of the email. Some companies like to include a small logo image in the footer. Here's an excellent example from a company called REI – their logo is nicely incorporated into the header of the email. It looks seamless and also very visible.
Occasionally companies would develop a custom corporate font to be used throughout their offline and online marketing campaigns. Unfortunately, there is little support for custom fonts in the email marketing world, so make sure there is an alternative font selected for your email campaigns. Once you have chosen it, don't alternate between different fonts.
Institute for Color research shows that people make subconscious decisions within 90 seconds of the initial view (of a product, person, environment). What's important here is that between 62% and 90% of that assessment is actually based on color alone.

Your brand needs to have established brand colors. Use them throughout your marketing campaigns – including your email marketing. If you need to bring additional colors, make sure they fit your primary brand colors. University of Loyola, Maryland, study found that color increases brand recognition by up to 80%!
The brand voice should be consistent too. It represents your brand's "personality", and it should reflect the way you talk to your customers. Is your brand voice informative or more casual? Or maybe your language is very professional, full of industry jargon? It's your company's voice, so it should stay the same in all your marketing campaigns.
Your brand guidelines should establish some protocols on the types of images you can use, whether they are your own created graphics or stock imagery. Think what is appropriate to your brand, what style you need to use. For example, does your brand fits with modern, colourful photographs or black and white ones? Make sure you are following the same guidelines when you're building your marketing emails.
Consistency in design will help your readers build associations with your brand and in turn, boost brand recognition and potentially even brand loyalty. You can find some excellent examples featured in Really Good Emails, and we'd like to highlight a few email campaigns from a company called Casper. 
See how they kept consistent design through several email campaigns? Imagery is connected, the colours are consistent. They've done a great job maintaining brand consistency. Look at the headlines, they're so clean and, you guessed it, consistent.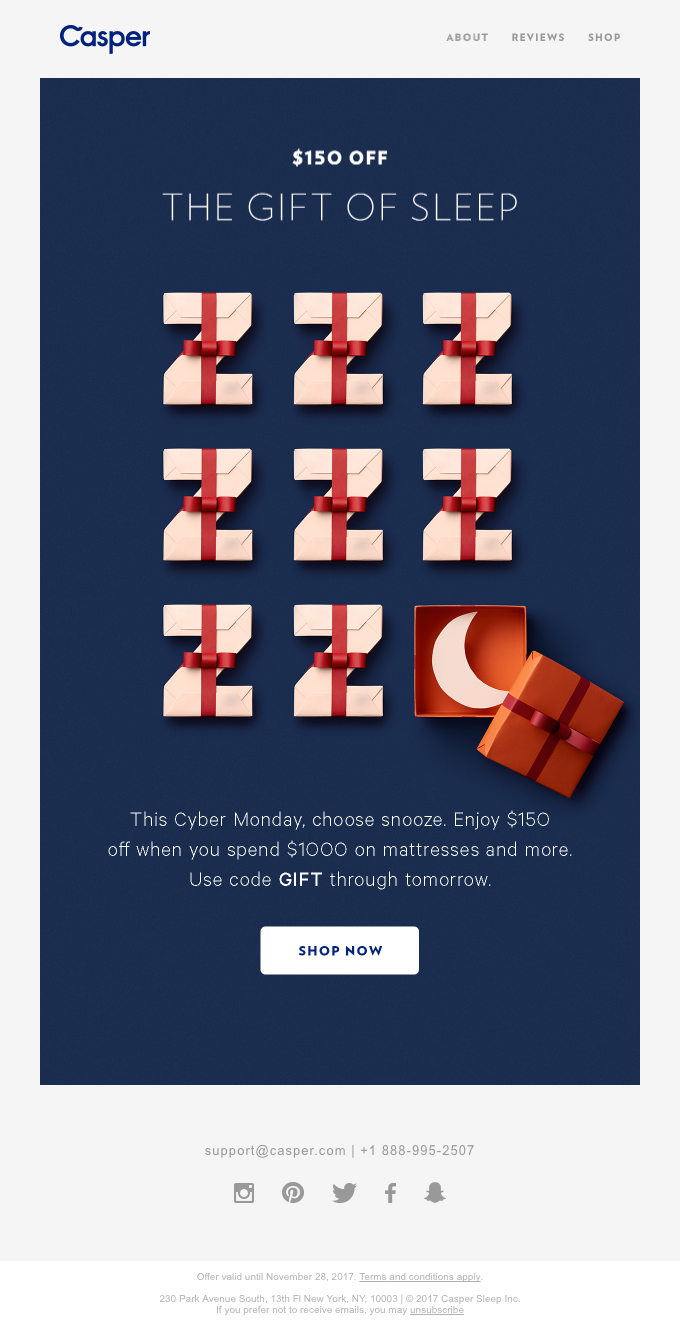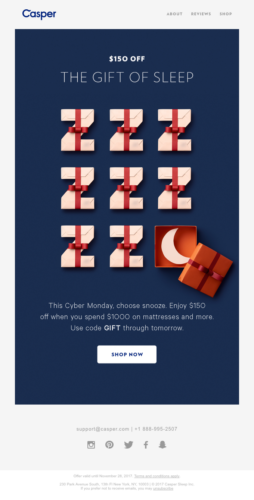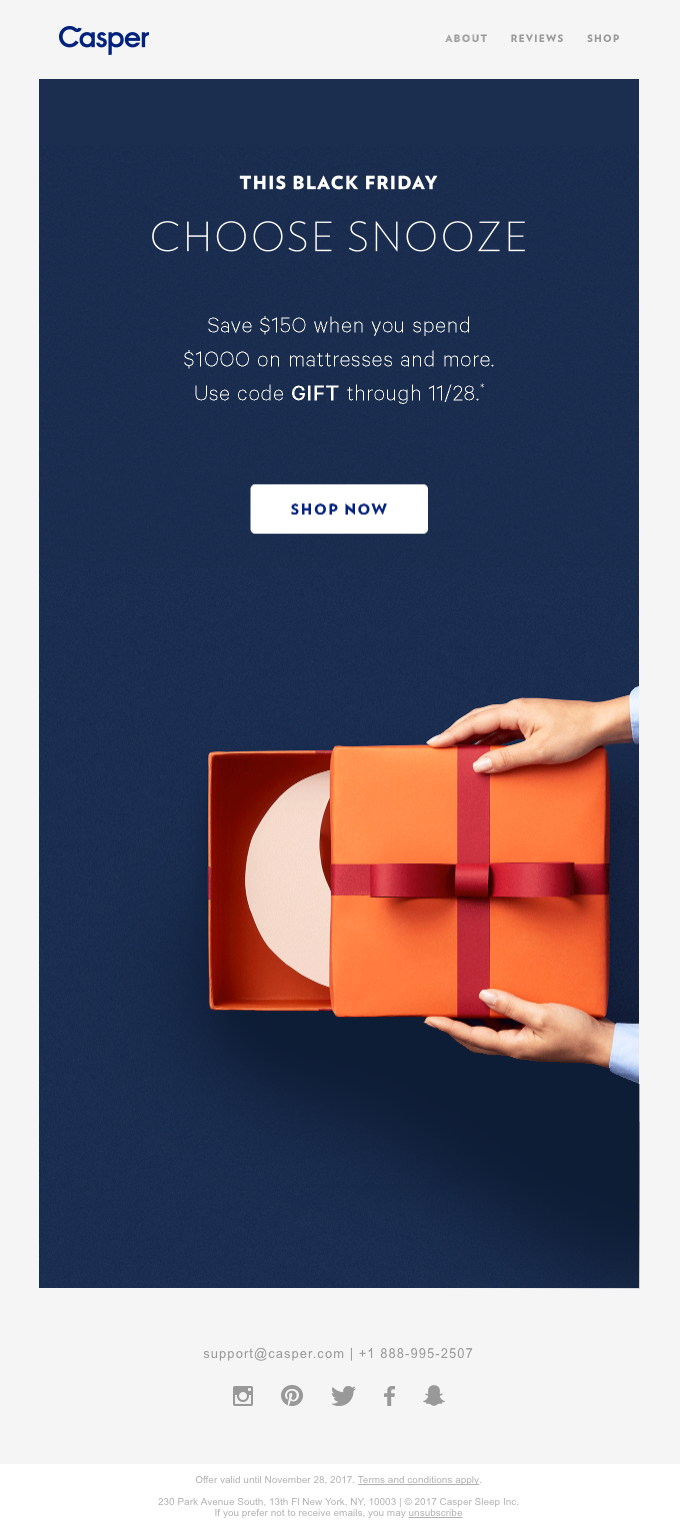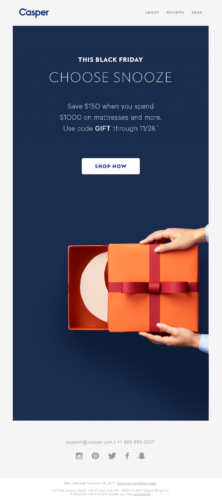 In the example above, you've seen how the headlines are kept consistent in different email campaigns. And here's another tip for you – decide how you want to approach your headlines. Do you capitalise everything or maybe just capitalise the first letter of each word? It doesn't look professional if the headline style keeps changing with every email.
Frequency is something to be planned too. Consider how often you want to send your emails – is it once a month or once a week? Or maybe you're planning to send a daily update? Remember, consistency is important. Once you set your frequency, your email recipients will develop a habit of seeing your email in the inbox. 
Use Your Email Marketing to Strengthen Your Brand
Brand consistency is something you can and should ensure in your email marketing campaigns. Your email recipients will recognise you easier, and they'll start building associations with your company. A strong brand will help you get new customers as well as retain existing ones. Your email recipients will spot your email messages in their inboxes quicker. It's only natural that they will be more likely to open them if they are familiar with your brand. Use the tips we've given you and make your branding in your emails more consistent to help your business thrive!