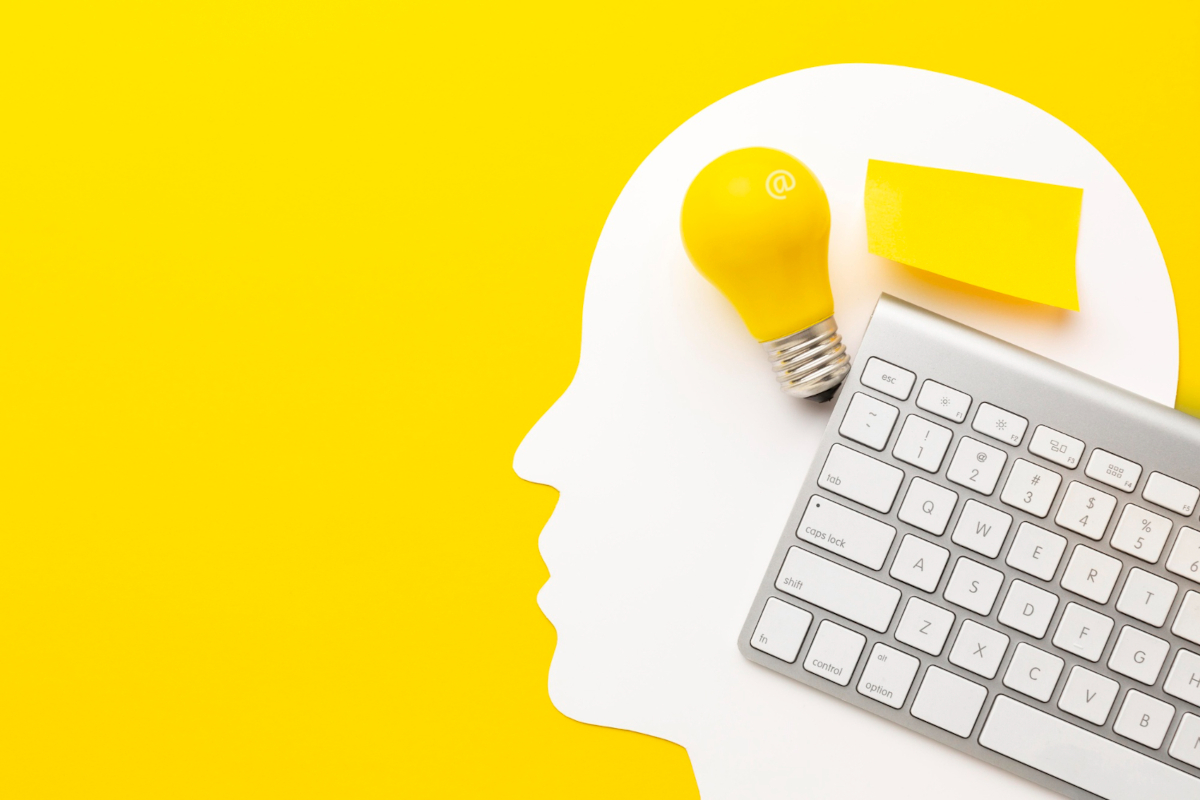 There are those who say, "Sales outreach is dead." I'm here to tell you that's far from the truth. If you run a copywriting business, it's one of the best ways to find new clients. In a way, it's also a testament to your true copywriting skills. 99% of email users check their inbox every day. Some of them will click (and reply to) your email, provided you follow these steps in this article. Read on to learn how to use email marketing for a copywriting business. 
1. Hone in on Your Ideal Client
When starting a copywriting business, you have the power of choice. This is a blessing and a curse.
On the one hand, you get to choose who you work with.

Conversely, finding the best clients in a sea of potential options is overwhelming.
The key here is to narrow your focus. Ask yourself:
Who usually needs my services?

What types of businesses or industries do I excel at writing for?

What common firmographic attributes do they seem to have?

What are the common pain points my ideal clients face?
If you're reaching out to a bunch of similar potential clients, you'll have a lot easier time getting them to bite (and eventually doing valuable work for them).
2. Figure Out Where to Find Those Clients
Just like there are tons of options for potential clients to work with, there are endless places to find them.
LinkedIn

is a great place to start. It's the world's largest professional network, with nearly 1 billion members. Search for your ideal clients using keywords, job titles, and company names.

X (Twitter)

is a solid route to take if you're a copywriter working with young SaaS founders or digital product businesses. You can also find plenty of agency owners on the platform.

Industry-specific forums

and communities can also be a great place to find work. For example, if you specialize in writing marketing copy for healthcare businesses, join some online communities where those people hang out, too.

Cold email prospecting tools

like Hunter.io or VoilaNorbert can help you find the email addresses of potential clients quickly and easily.

A Google search rabbit hole

can help you uncover potential businesses/business owners you've never heard of or thought of. 
Social media and forums are the best because you can be 100% sure your prospects are active. These are the people who participate in their business day in and day out, so their chances of responding are a lot higher.
3. Do your Homework
You won't get far with sales outreach or cold email outreach if you don't approach it with intention. There are thousands of people out there. Don't waste your time sending random e-blasts into oblivion.
Here's an example of generic cold sales outreach: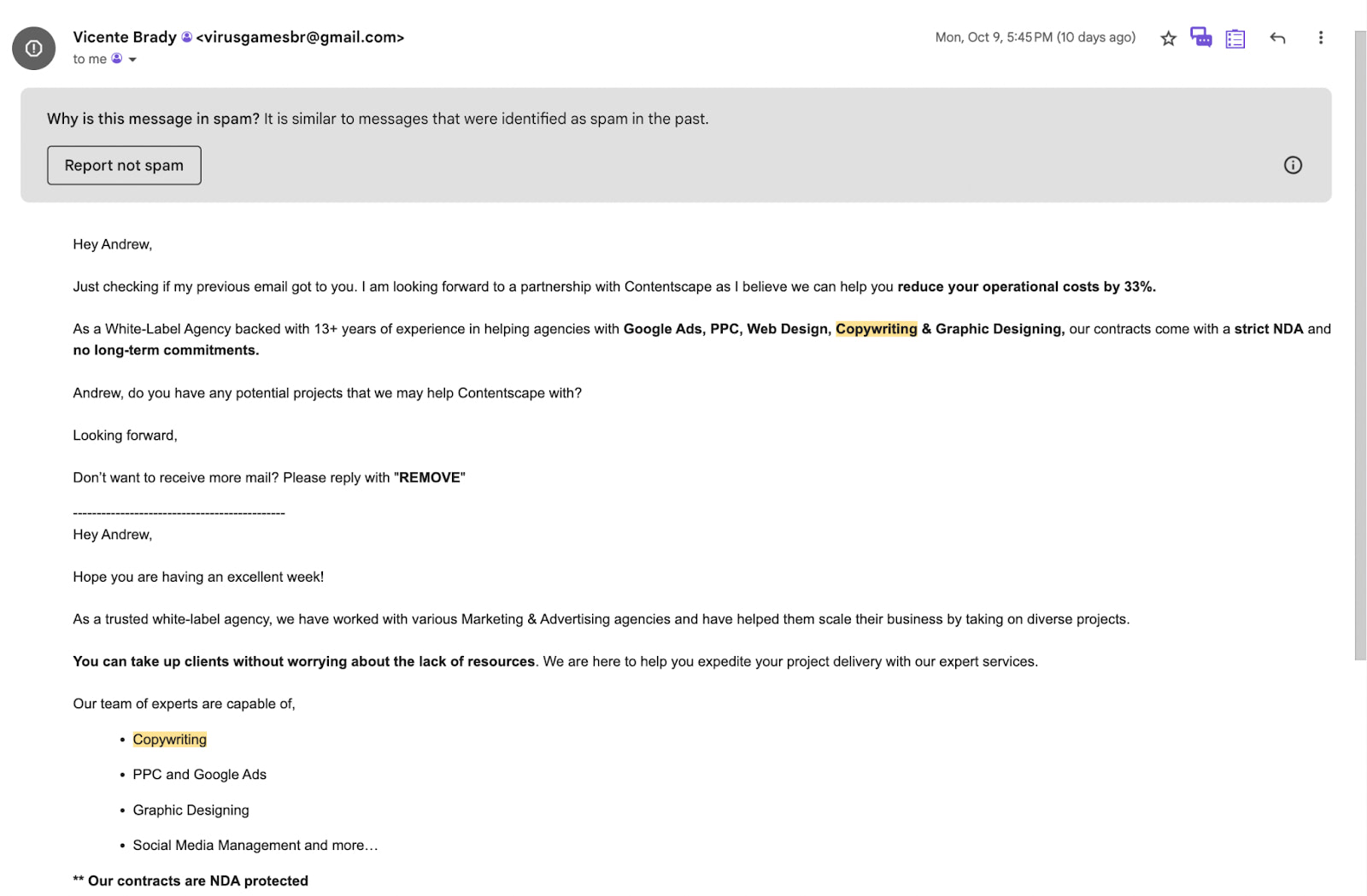 Messages like this always find their way into the spam folder because they're, well, spammy (and lame).
The message isn't personalized.

The sender clearly doesn't understand the business they're reaching out to.

They don't offer any value — they're looking for a quick sale.
It's completely disingenuous!
You don't need to spend 30 minutes learning every prospect's life story. But you do have to do your homework. It's a two-way street.
The good news is that it's normally as simple as a LinkedIn search. Let's say someone wanted to reach out to Tanel from our Smaily team.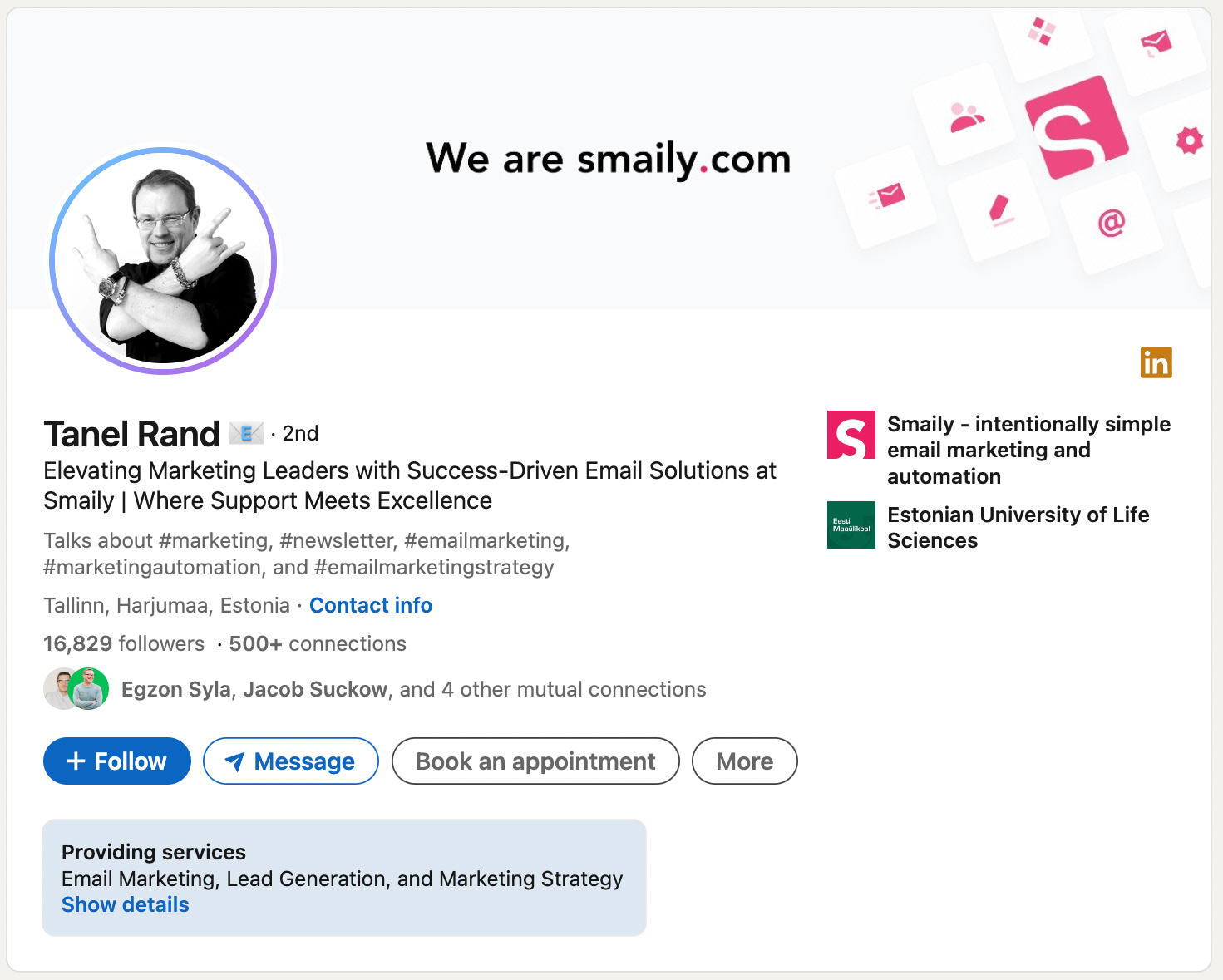 Without even scrolling his LinkedIn profile, you'd I know he's…
an email marketing fanatic;

runs an email marketing SaaS from Estonia;

posts

about it.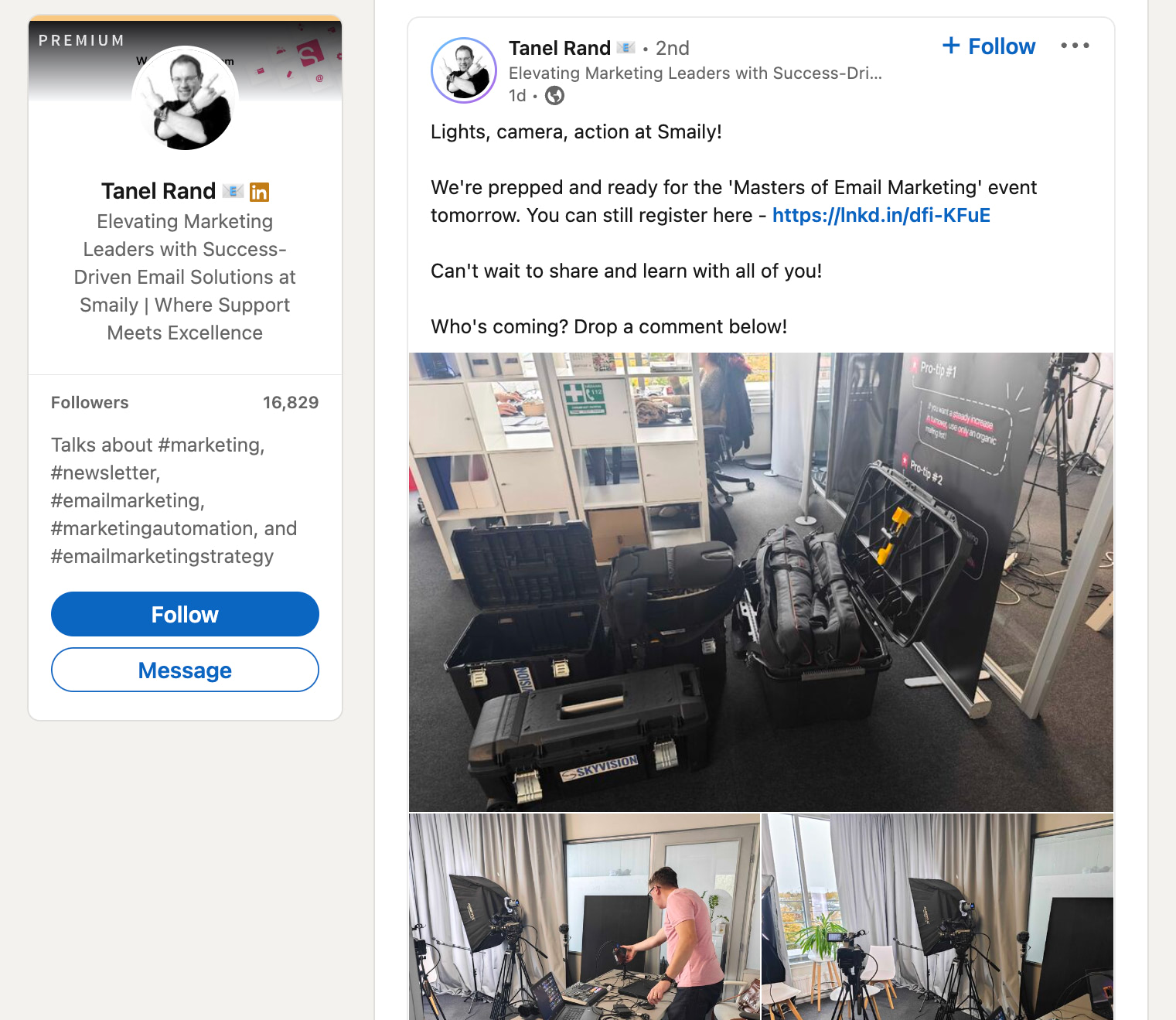 After one scroll, you can click on his content and see what he talks about — the events he attends, email marketing tips, etc. So, you'll learn what kind of language he uses and what he might respond to.
If you're a copywriter in a SaaS/digital marketing niche, you can tailor your language and send something clever. You'll get more conversions from people like Tanel that way.
4. Understand the Importance of a Subject Line.
Your open rate depends on it. We published an article on unconventional subject line tips a few months back, but here are some of the most important considerations:
Keep it SHORT.

3-6 words.

81% of emails

are opened on a smartphone, and you want your prospect to actually see the whole thing. 

Keep it SIMPLE.

You don't need anything fancy schmancy to get their attention. You're a copywriter who is interested in working with them. So, be upfront with that. 

Don't 'trick' them into opening your message.

For example, don't use "RE:" to make it seem like you've been in touch before.  

Be conversational.

One of the worst things about the email we showed you above was how robotic it sounded. If ChatGPT can write your email, we bet it can write your copy, too. 

Emojis in emails sometimes help.

They're fun and friendly (and tell your prospect you're a human).
You can be creative or direct with your subject line. But, most importantly, don't fret too hard. It's just a few words. You can (and will) test and refine it over time.
Here are a few ideas to get the creative juices flowing:
"Interested copywriter (and part-time wizard)"

"Let me cook (and write your emails)"

"Look: I made your landing page better."

"Your newsletter is missing something…"

Or, you could keep it simple with something like "Content at Company X."
5. Lead With Value
You have to work under the assumption that everyone's too busy to deal with you (because they are).
Just saying, "Hi, I'm selling copywriting services," doesn't work because your clients aren't waking up and hoping you'll pitch them. You have to be interesting, valuable, or both. 
Here's an example of a successful freelance copywriter who personalized her sales outreach to the max: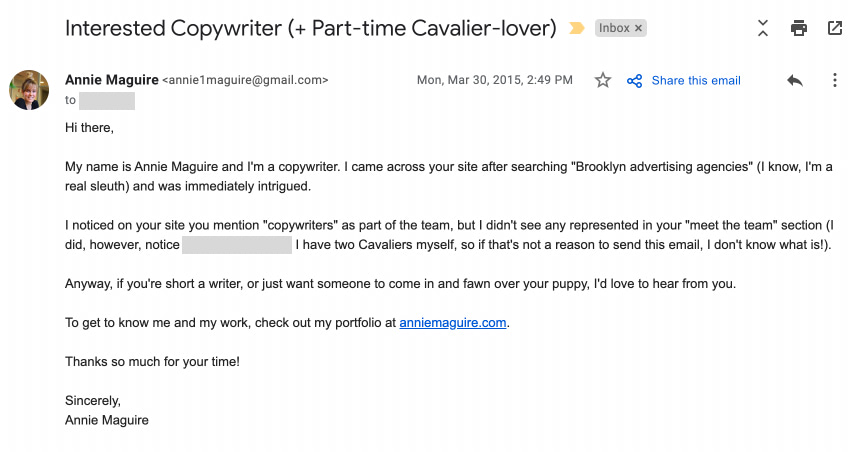 The subject line is simple and attention-grabbing. And the body text drives it home.
It shows she:
did her research;

has a useful skill set;

is friendly and unique.
Basically, she took 5 minutes out of her day to learn about her prospect before reaching out. And she let her personality shine through.
You could also approach potential clients and partners by leading with value. The same copywriter above executed this perfectly by connecting with a web designer.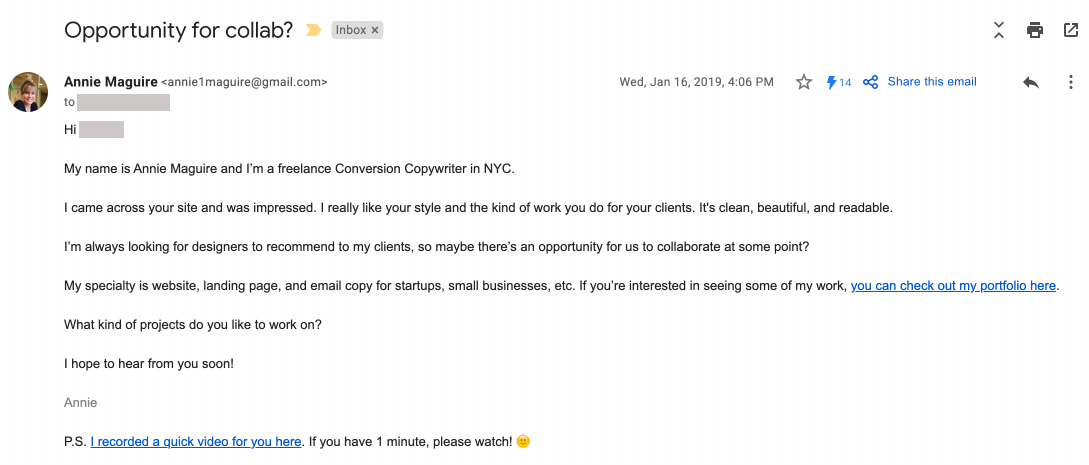 Word-of-mouth is huge for copywriting business owners, so building partnerships over cold email is also part of the game.
If you're targeting potential clients with this strategy, though, you could still take a page out of her book.
The 'P.S.' section will 100% get read, even if the recipient skims over the body.

Recording a video is a nice way to personalize things.

Instead of recording a video, you could fix some copy on their site.
Email Marketing for a Copywriting Business: Final Thoughts
You really don't have to reinvent the wheel here.
Look up people in your niche.

Write a thoughtful, personalized message that shows you actually care about working with them.

Over time, try different subject lines or email openings to see what works best for you.

It's still a numbers game. Dozens of people will ignore you. If they don't respond to the first email, send a second one (and maybe even a third).
Mastering email marketing for a copywriting business takes time and patience. But if you're willing to put in the effort, it's still the best way to get clients for your copywriting business.