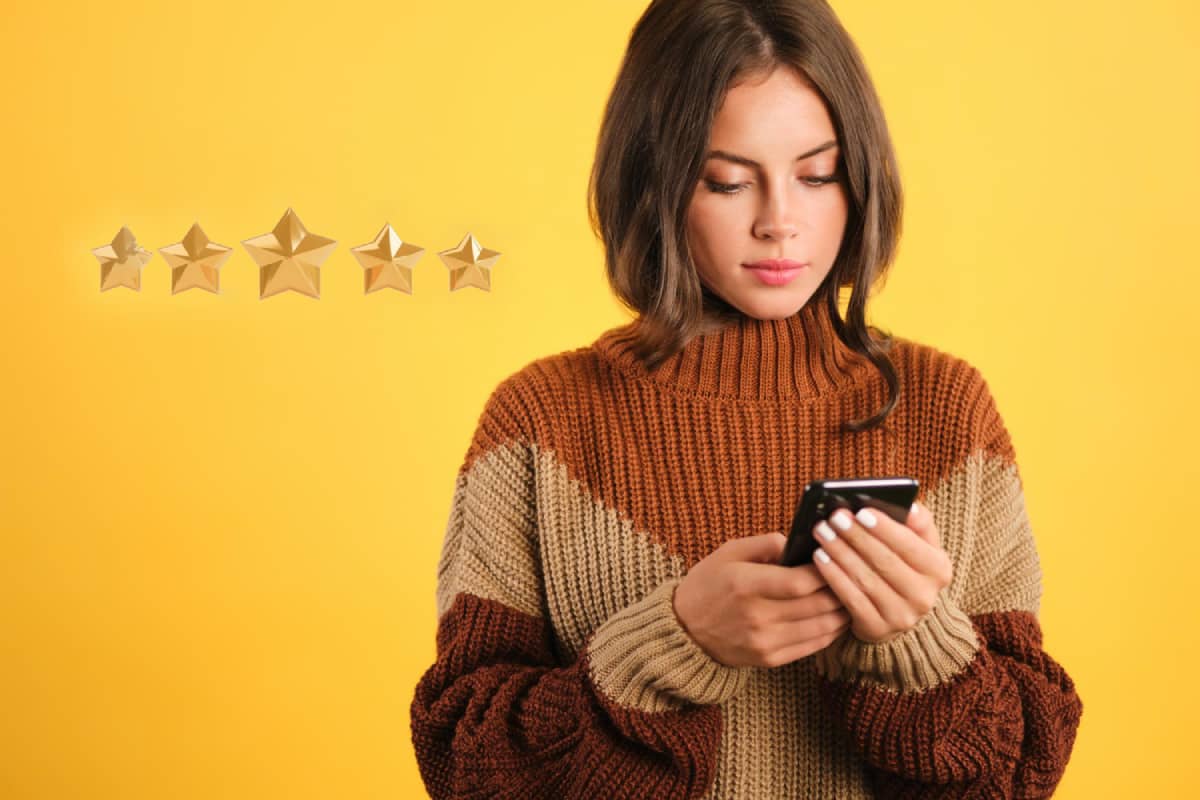 Did you know that marketing experts rate leads generated from word-of-mouth a 4.18/5 in terms of quality? Today's savvy buyers rely on different online communities and recommendations before purchasing. So, word-of-mouth marketing can be a powerful medium if done right. It generates organic discussion around your brand, creates social proof, and helps you extend your market reach. 
From social media to event marketing, there are several ways of generating word-of-mouth (WOM). But a good old email marketing campaign can drive better recommendations among all those trendy methods. Personalized emails make customers feel valuable by sharing offers, vouchers, and other engaging and relatable content. It also helps you connect with your audience and nudges them to become your brand advocates. 
But why does word-of-mouth work? And what email strategies will elevate it and drive sales? Let's find out.
The psychology behind word-of-mouth
Even before social media, friends and families have shared product and brand recommendations for years — from food to footwear. Customer advocacy has grown in recent years because of technology to help boost it and measure its success. 
Human beings are inherently social animals. No matter how introverted someone is, the need for human connection is hard-wired in us. The psychology behind the WOM effect is not only financial; it is rooted in our need to belong. It even contributes 13% of sales and $6 trillion in global sales. Why do people give advice? Because of the intrinsic nature of helping others out. The source of word-of-mouth stems from the human traits of altruism and empathy. 
Word-of-mouth builds customer loyalty. When a brand delivers excellent service, consumers will likely share their experience with others. People relate to their experience and find it more credible as the endorsement comes from an existing customer. When customers enjoy your product, they want others to experience that, too. It gives them a sense of belonging to a community, facing the same pain points and working towards solving them. 
Companies can leverage this tendency to create organic discussions about their brand. The strategy needs to be both creative and practical. You don't want to overwhelm your customers with your initiatives. However, you must give enough effort to make them remember your brand. The first prerequisite to generating positive word-of-mouth is delivering exceptional products and customer service. The key here is to make them feel valued. Incorporating word-of-mouth initiatives in your email marketing is also a great way to build lasting customer bonds. 
Email strategies for word-of-mouth marketing
Social media are the first choice to generate word-of-mouth marketing. But instead of designing a new plan, you can use your existing email subscribers to become brand advocates. Below, we'll highlight some practical email strategies to enhance your word-of-mouth strategy. 
1. Segment your email list
To enhance your brand's word-of-mouth through emails, build a mailing list. Customers need personalization. So, while you build your email list, discard the one size fits all approach. 
Remember, the key to good word-of-mouth marketing is making your customer feel important. You can't pursue different leads with the same email template. Here, segmenting your list according to your customer's desires, expectations, and interest is key. It will keep your campaign targeted and simplify the measurement of the outcomes. By targeting only the relevant contacts, you avoid overwhelming your customer base, giving them a positive experience to boast about. You can identify your most loyal and satisfied customers who have left positive reviews, provided feedback, or engaged with your brand on social media. Then, create a list with them and promote special offers that nudge them towards sharing your brand publicly.
For example, Guru directly urges its existing users to share their product with their team to increase their user base.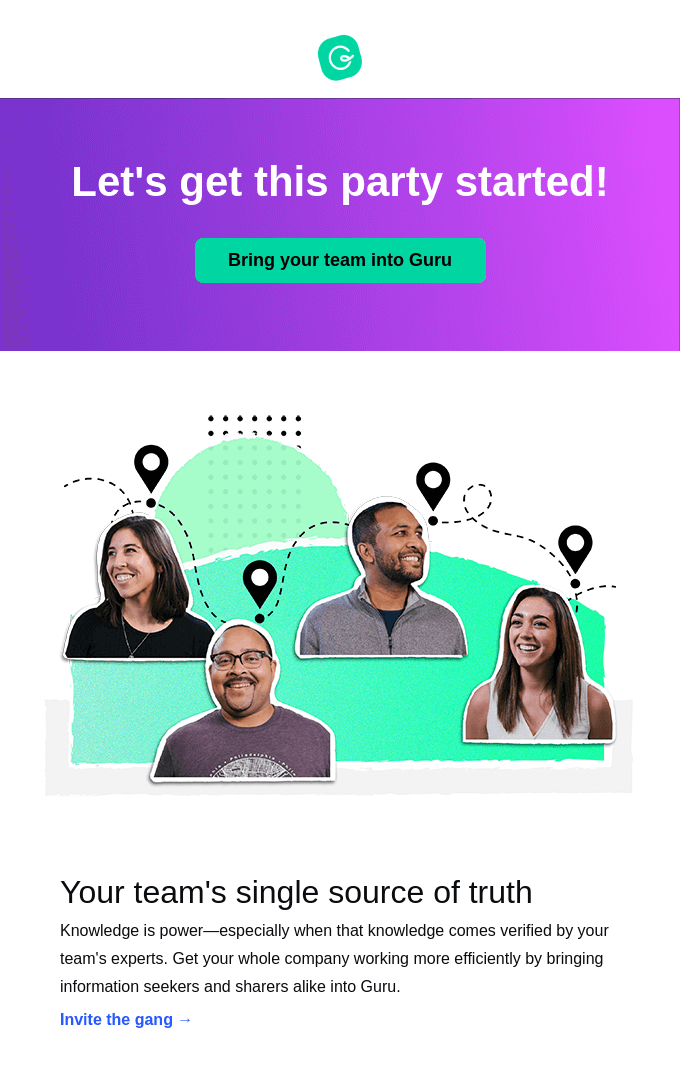 2. Create referral incentives
While crucial, having a great product and delivering exceptional service is not enough to convert your customers into brand advocates. You must incentivize their efforts for the best results. 
When a customer gets rewarded for referring your brand to peers, they value your efforts and are more inclined to advocate for you in the long run. Moreover, an effective referral program creates a ripple effect for your word-of-mouth marketing, where every new customer will be interested in referring your product to others. 
But to make this referral email work, you must include a high-converting subject line. You will only have a fraction of a second to pursue the customer to open the email before they skip it. A catchy headline will grab their interest and ensure they click on it. Don't beat around the bush too much. Keep it brief and present what's in it for your customers. The reward can be a small discount, a voucher, or an exclusive and personalized offer.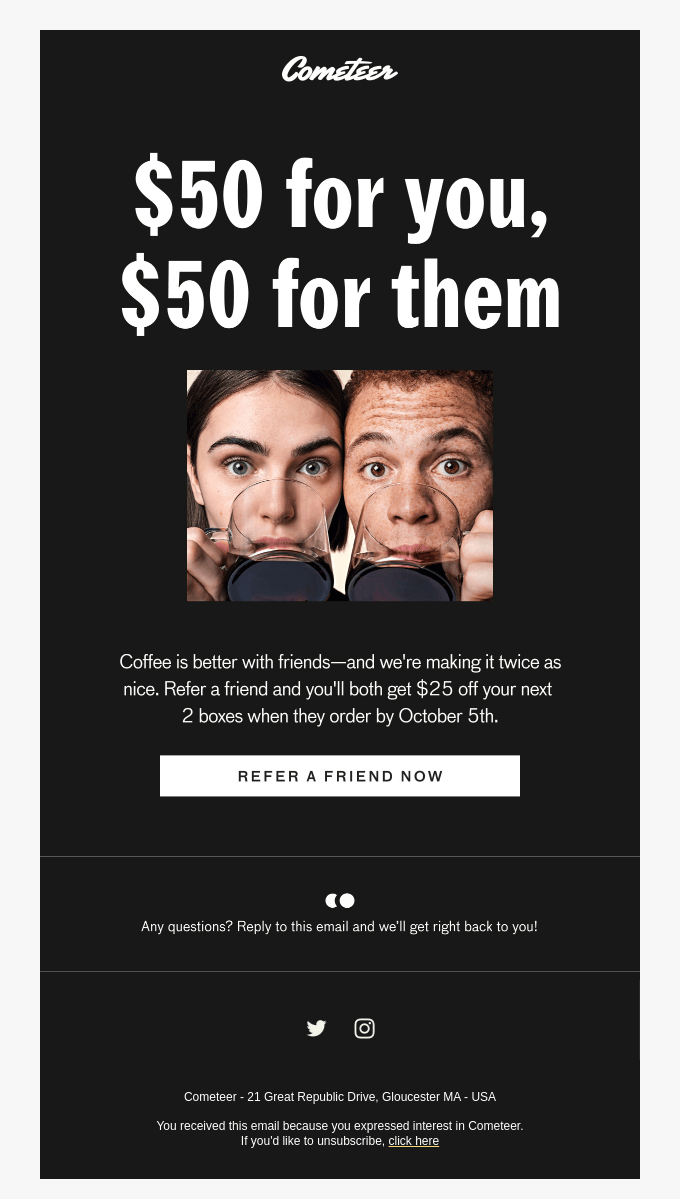 For example, Cometeer, a coffee brand, celebrated International Coffee Day by sharing referral emails with a $50 voucher for the brand advocate and another $50 voucher for the referred contact. 
For better results, marketers can also opt for automated referral emails to draw inspiration from the brands that have seamlessly integrated referral incentives into their business model. This will ensure the email reaches the customers regularly and drive the best outcome. 
3. Ask for testimonials 
Showcasing testimonials is an excellent method of word-of-mouth marketing. The best way. It authentically showcases your brand's customer advocacy. Track your happy customers through social listening and email them to ask for a testimonial. Monitor top review sites to identify your loyal customers. Chances are they will say yes. 
To increase the likelihood of them saying yes, remember this:
Make the process easy

Be specific in your request

Personalize your email

Offer an incentive 

Follow up
If you plan to produce video testimonials, ensure you include details like the timeline, the production structure, etc. Pre-addressing possible questions makes it easier for them to say yes. 
However, emphasize that giving a testimonial is voluntary and they shouldn't feel pressured to participate. You can ask for a testimonial in a brief but persuasive email with a clear and catchy CTA button like Graza. 

4. Send shareable emails
Only 21% of customers state they received memorable emails from brands. Your email must stand out in a cluttered inbox to turn customers into advocates. It also has to bring out some emotional response from your customer and be powerful enough for them to share it with friends and family. 
A significant number of customers say that brand emails are often very forgettable. This doesn't add any value to your word-of-mouth marketing. 
To make your emails memorable and share-worthy: 
Make them aesthetically pleasing. 

Choose relevant themes and templates that convey the email subject. 

You can share a relevant meme with a catchy description and strong CTA that encourages interaction. 

You can also share stats on their journey as a customer, game links, or e-books to increase engagement.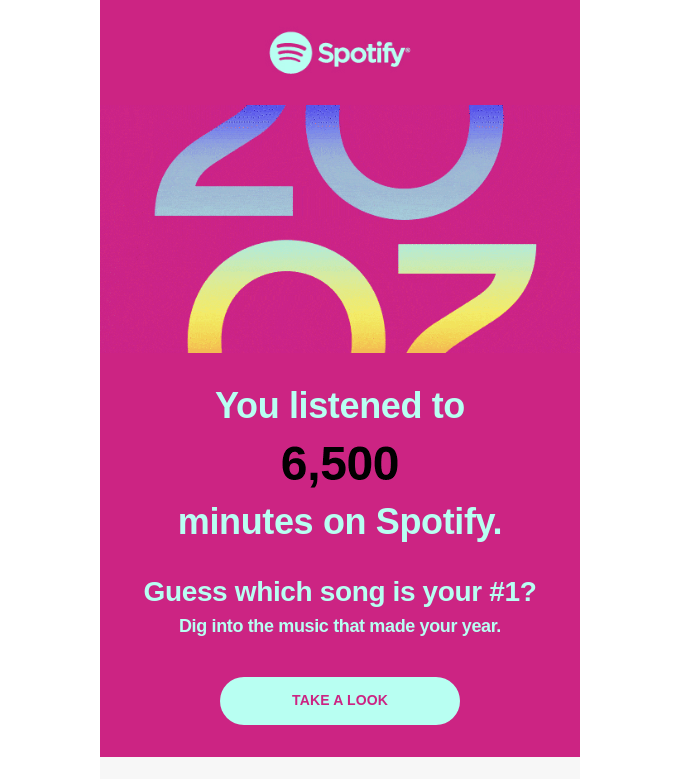 For example, Spotify sends shareable emails with colorful visuals, engaging statistics, and CTAs that lead customers to the app. Users can dig into their musical journey on Spotify and share it with their friends. 
5. Provide quality experiences
Be it word-of-mouth marketing or traditional advertisements, nothing will work with poor customer service. How you treat your customers and how helpful you are in solving their issues decides their loyalty to your brand. 
If you run an e-commerce business, consider sending brand swag to loyal customers or interesting offers like Rara's offer seen below.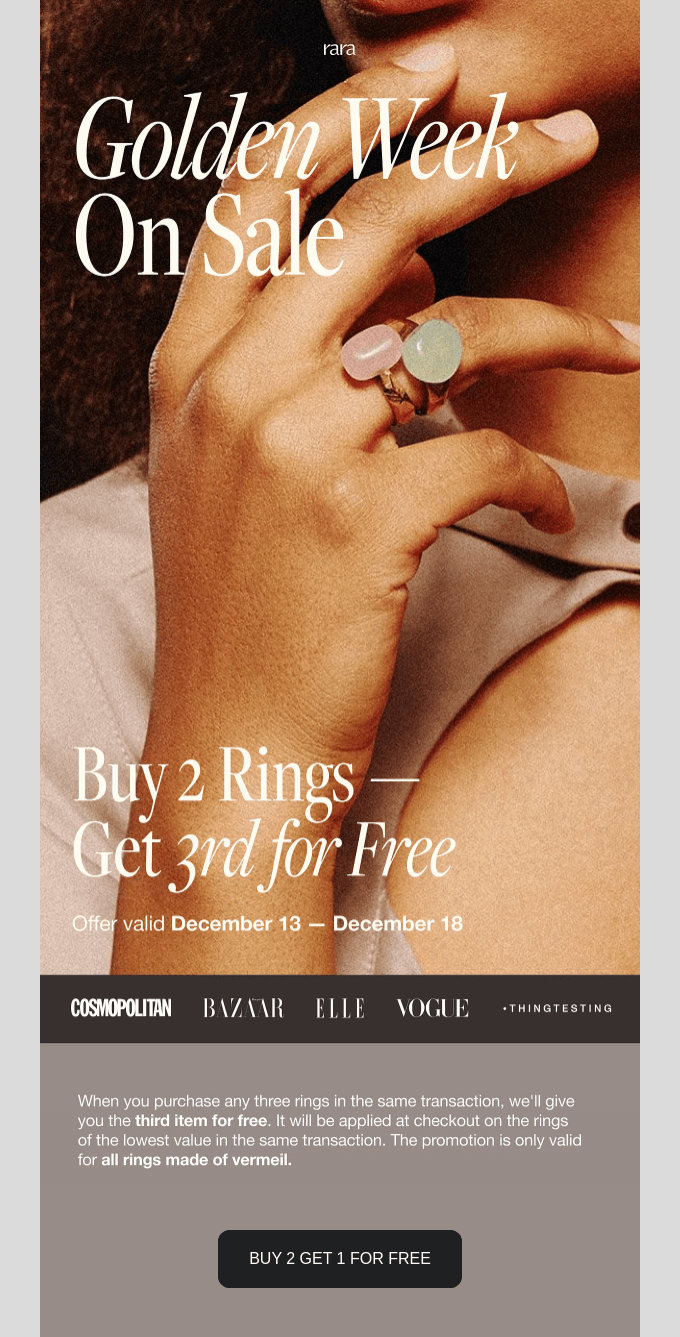 You will encourage them to discuss it with their peers through re-engagement email campaigns, enhancing word-of-mouth. 
Another great way of providing great customer service and ensuring word-of-mouth marketing is quick deliveries. Take a cue from Apple and provide speedy service that ensures endorsements.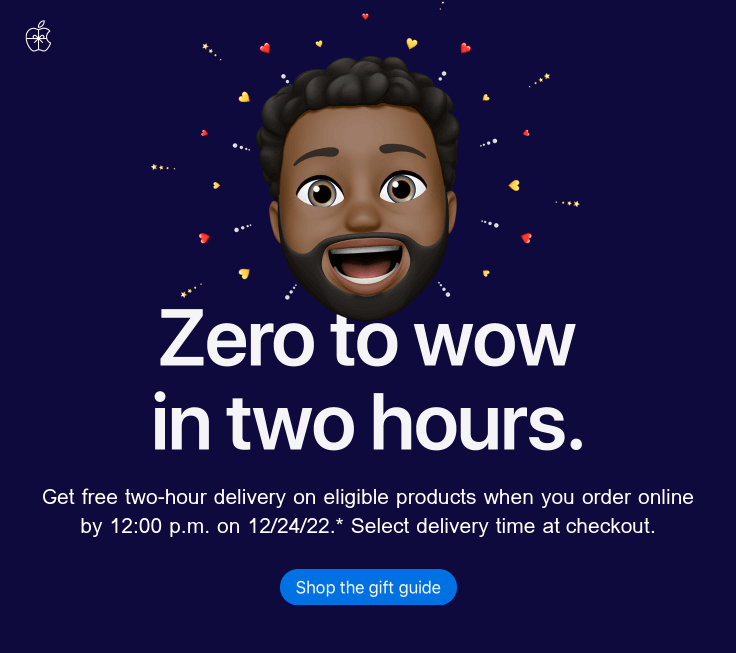 6. Create social media integration email campaigns
A blend of social media and email marketing can generate word-of-mouth. By combining Instagram and email campaigns, you build a loyal follower base. You can encourage existing customers to join your social media through persuasive emails. Also, add social buttons at the end of your emails to incite action. To incentivize them, you can promote giveaways in your emails. 
For example, Snif hosted an Instagram giveaway and promoted it through emails to increase followers and drive digital conversations around their brand.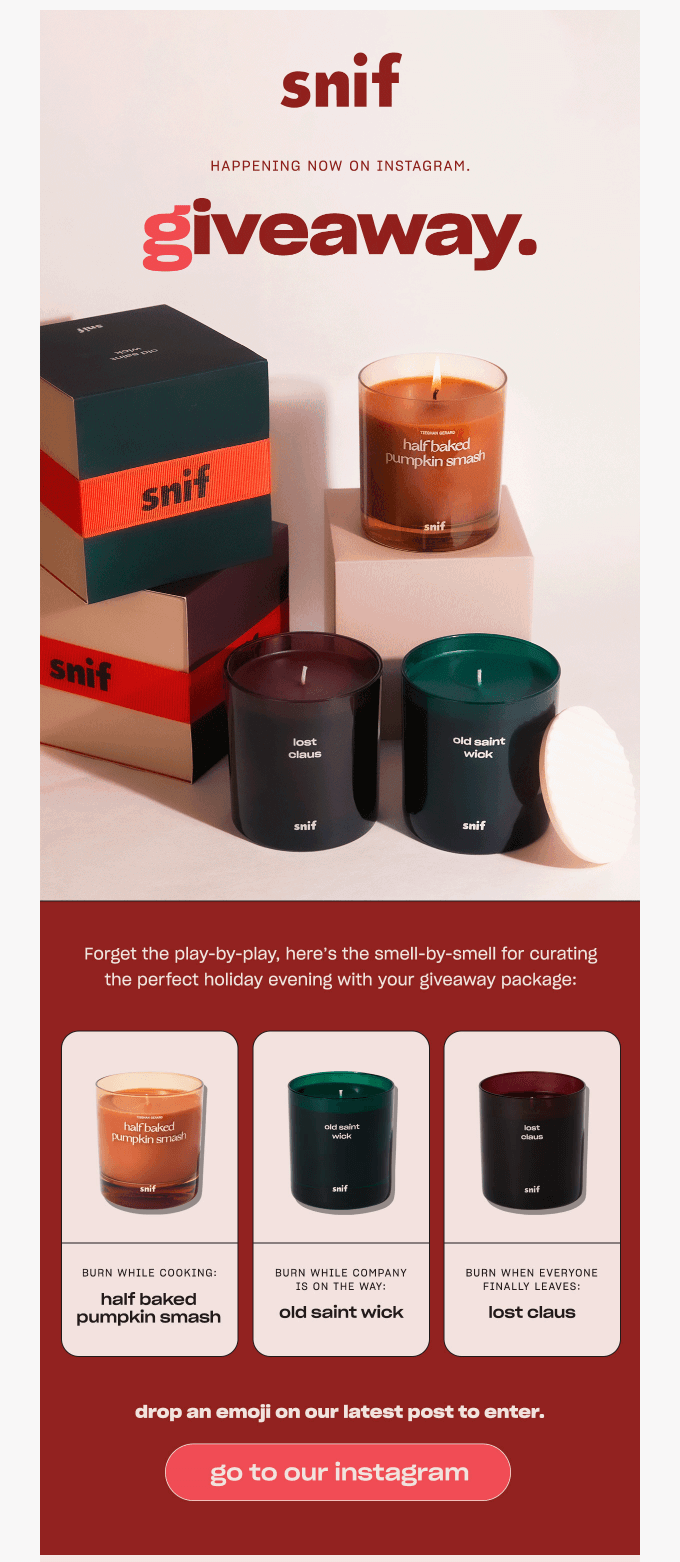 Alternatively, you can send a dedicated email to build your social media community like Tens.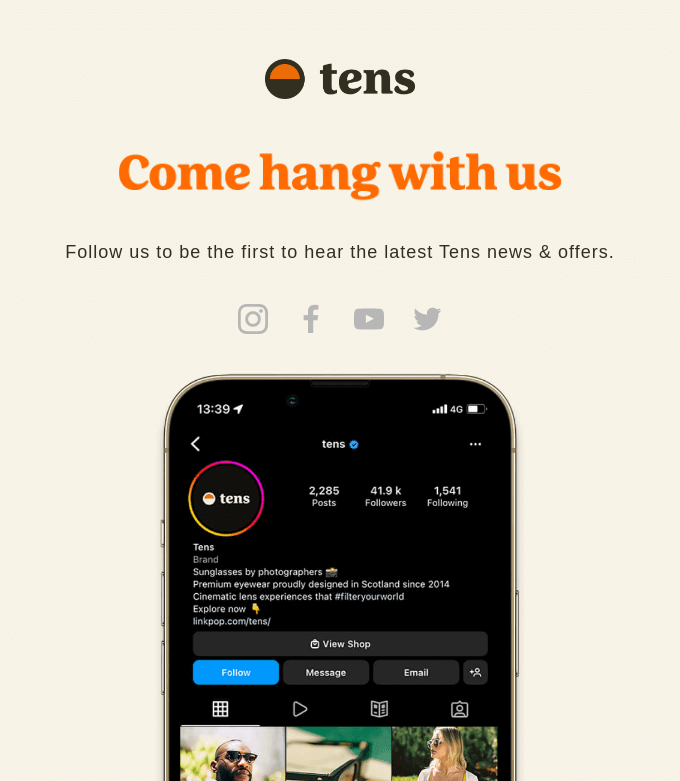 Other great ways to improve word-of-mouth marketing via email and social media integration include:
Using social proof: Include social media shoutouts in your promotional emails.

Offer exclusivity: Whether through content or promotions – offer exclusivity to your email list. Then nudge them to follow you on social media. Next, run campaigns that encourage social sharing to build word-of-mouth.
7. Measure the campaign performance
Set a standard procedure to measure the success of email marketing in creating word-of-mouth. This will help you make necessary improvements and drive better results. 
After running an email campaign, track metrics like referral rate, review rate, number of customers agreeing to testimonials, etc. Benchmark them against your goal and see where you need to implement change. 
Conclusion 
Creating brand advocates is a crucial goal for any marketer, but it doesn't happen solely through pleasant experiences or social media connections. 
While those are important factors, marketers must tap into every tool to create a loyal customer base. Email marketing can be a powerful tool to cultivate brand advocates since there's no algorithm to tamper with customer growth. Ensure your approach is gimmick-free. You can only turn your customers into advocates with your email marketing efforts.
---
About the Author

Mehdi Hussen is a SaaS marketing and organic growth consultant. He helps SaaS businesses drive organic growth and customer acquisition through SEO and data-driven content marketing strategies. Mehdi spends his spare time musing about startup growth strategies, personal productivity, and remote work. Connect with him through Twitter or LinkedIn.