Email marketing is quite stressful – once you deploy the email, there is no turning back. You cannot recall it. You test, and you proofread. However, sometimes broken links, placeholder images, incorrect spelling or autocorrected words, wrong dates, or even contact lists slip through the cracks and get deployed with your live email. Mistakes happen even to the best of us. So, what should you do when you spot a mistake in your marketing email?
Apology and Correction Emails: Timing Matters
Depending on the severity of the error, you might consider sending an apology email. Surely you wouldn't send another email for a harmless mistake, such a random, non-offensive spelling mistake. However, more critical errors, such as wrong dates, wrong promotion, or incorrect segmentation, would require you to deploy an apology or a correction email.
Timing matters. Obviously, mistakes should be corrected as soon as possible. You should aim to reach the recipients with the right information shortly after the incorrect email has been sent out. For example, if you have sent a wrong promotional code or even advertised incorrect price information – you shouldn't delay.
Reference Your Correction in the Subject Line
After you have fixed the error and have decided to deploy an apology or correction email, think about updating your subject line.
There are some useful phrases that you can add to your subject line – you want your recipients to notice the correct version of the email.
Consider these helpful words or phrases:
A typo!
Corrected link / date / email (reference the error)
Correction
Due to technical difficulties
Here's the correct information
I apologize / we apologize for the mistake
Oops!
Oops! Link / images (other errors) fixed
Oops! We made a mistake
Our mistake!
Sorry for the confusion
That was a mistake!
Uh oh! A mistake!
Updates and corrections
We are really sorry
We have corrected the problem!
We have fixed the issue
We may have sent you an email with the wrong subject line
Whoops!
You just received an email that we didn't mean to send you
Try to Keep It Short
In general, you should aim to keep your correction email short, apologize for the mistake, and highlight the correct information. You want it to be easily noticeable and understandable. There are several ways you can do that. You can be polite and reference a technical issue (if it was a technical issue). For example, you could say something like this:
"Our system had a technical error that might have caused you to receive an incorrect email from us. We have identified and corrected the issue. Apologies for the confusion. Please see amended details."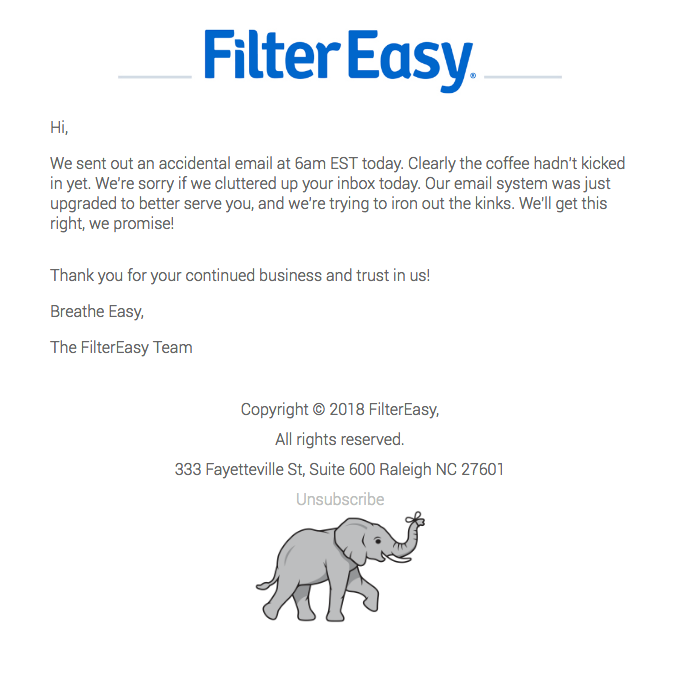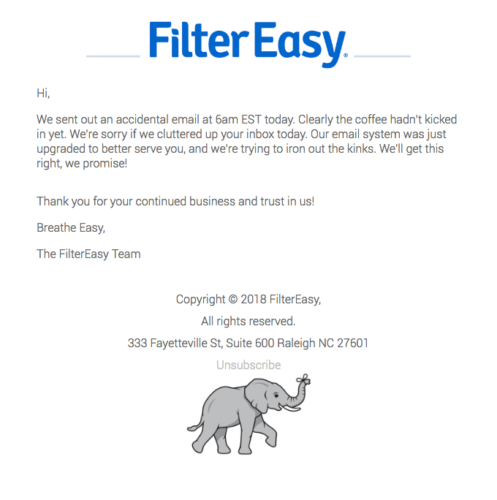 If You Can – Make Them Smile
Another great way to send out a corrected version is by using humor (where and when appropriate!). Remember, making a joke will not work for all audiences and all industries, and again. It also depends on the type of mistake. However, in general, funny apology emails or subject lines can lighten the mood. We have found some good examples for you!
Take a look at FilterEasy email – short and to the point and well-used humor! The subject line they used for their email was this: "Oops: Someone Hadn't Had Their Coffee Yet This Morning".
Take a look at this creative email from Extensis – also found on the Really Good Emails platform.
Personalization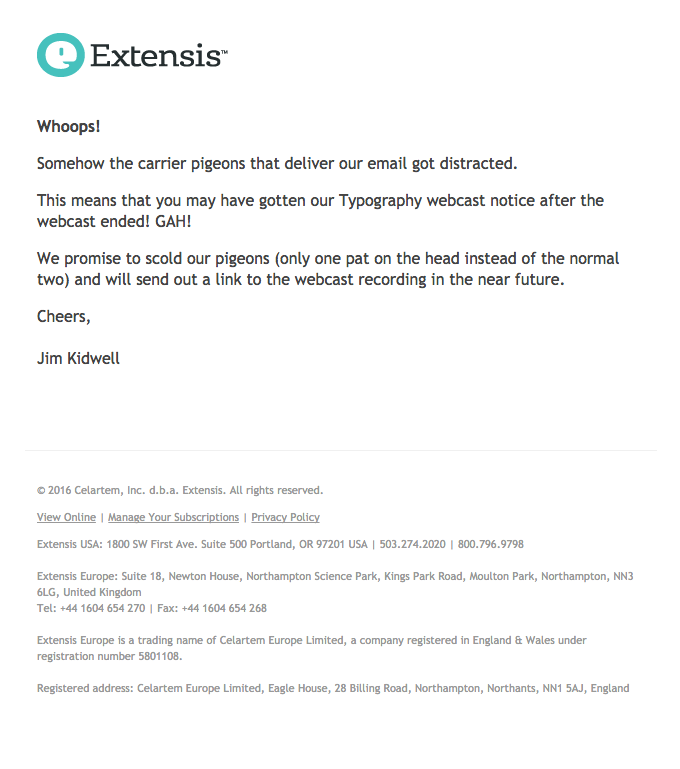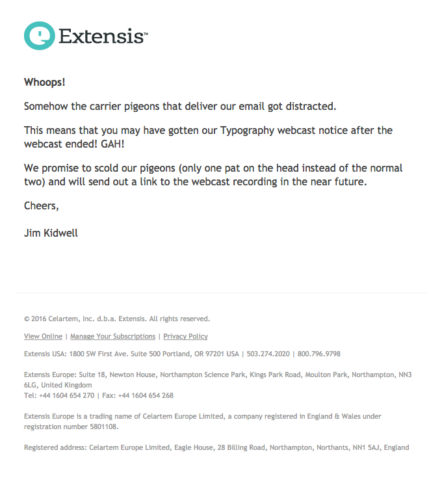 If you can make your apology/correction email personal – do it! If you have good clean data, use personalized salutations. If you have account managers dealing with your customers, these types of emails can come from a familiar name too. You can use your brand name as the sender name, but in the email sign-off, test adding an actual name. Ensure that people can reply to correction emails – you don't want to use an unmonitored inbox!
Mistakes Happen!
All these good examples show that marketing mistakes happen, and it's not the end of the world! There are many ways to build a good apology email – it all depends on who your email recipients are, your brand voice, your industry, products, or services. In the end, we are all human, and we understand that sometimes mistakes happen!
What to keep in Mind:
Make your apology or correction personal.
Keep it short.
One of the most challenging email marketing aspects is probably dealing with unsubscribes. In the next blog post, we will talk more about unsubscribes and unsubscribe pages.
Make sure you check our blog regularly, and don't forget to subscribe to our emails. Or you may want to follow up on the last blog post 7 Reasons Why Targeted Emails Are Many Times More Effective Than Social Marketing if you've missed it out.