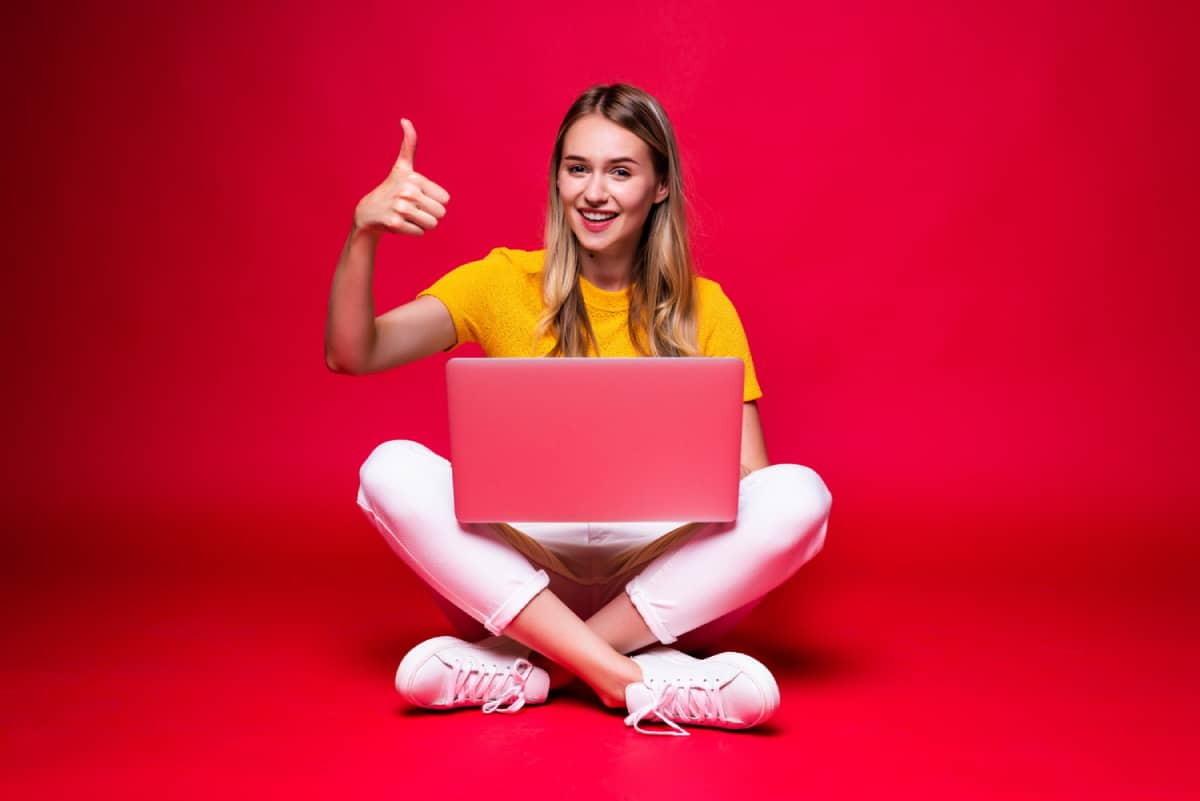 As an email marketer, you're always looking for better ways to engage your subscribers. And there are countless tricks and strategies you can leverage. But there's one that maybe you haven't considered yet: Using Schema markup.
Although Schema markup is typically used to add structured data to websites, it can help your emails to stand out in your subscribers' inboxes as well. However, there's a limitation: Email schema markup will only work on Gmail. But, with over 1.8 billion Gmail users out there, it may still be worth a try.
In this post, we'll explain how schema markup can help you boost your email marketing efforts without getting too technical. 
We'll share:
What is schema.org markup

How Schema markup is used for email marketing

The pros & cons of using schema markup for email marketing

How to implement schema markup to engage your subscribers
Ready? Let's dive in!
What Is Schema.org Markup?
Schema.org is a collaborative, open-source project that just provides a common vocabulary for writing structured data across the web.
Schema.org markup helps marketers to add structured data to their website's content. This data helps search engines like Google to better understand a website's content and display relevant information straight from the Search Engine Result Pages (or SERPs). For instance, cooking websites commonly use Schema.org markup to show key data about their recipes on the SERPs.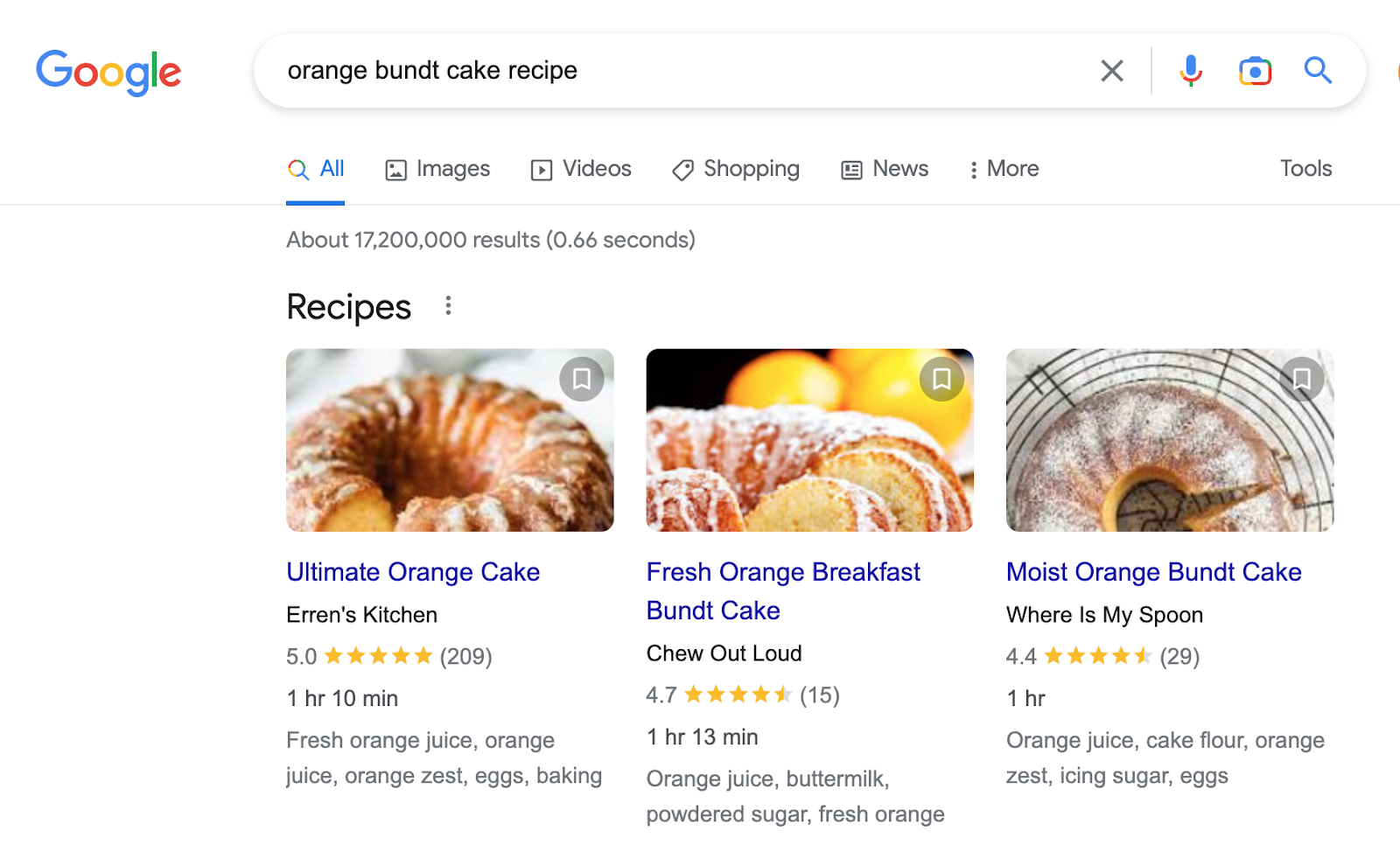 However, you can also use Schema markup to add interactive email content.
How to Use Schema Markup for Email Marketing
You can use schema markup to add elements to your emails that help users to visualize key data and take action. 
You can see these types of elements on:
Reservation confirmation emails

Purchase confirmation emails

Promotional messages
Simply put, Schema markup is code that you add to your emails so that Gmail interprets them as specific promotions or provides certain structured data. 
But aside from highlighting key information, you can use email schema markup to embed "quick action" CTAs in your emails. Even though it doesn't guarantee that you'll convert more subscribers, this type of highlighted, direct CTA can offer them a frictionless way to convert. And that's always a plus. 
Overall, you can use email Schema markup to:
Add Gmail actions to your messages

Add Gmail highlights to your messages

Make the most out of the Gmail Promotion tab

Use your email to provide personalized answers on Search

Add confirmation cards

Invite recipients to Google calendar events
Let's take a closer look! 
Gmail Actions 
Using Schema markup, you can give users the option to click on a CTA straight from your email's subject line. These CTAs are great for:
Confirming reservations

Registering for events

Redeeming gift cards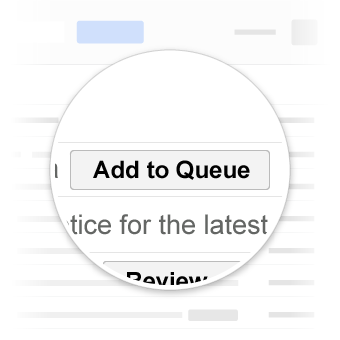 Gmail Highlight
You can use Schema markup to highlight the most important information within your email. Google uses it for travel reservations, restaurant reservations, and even order confirmations.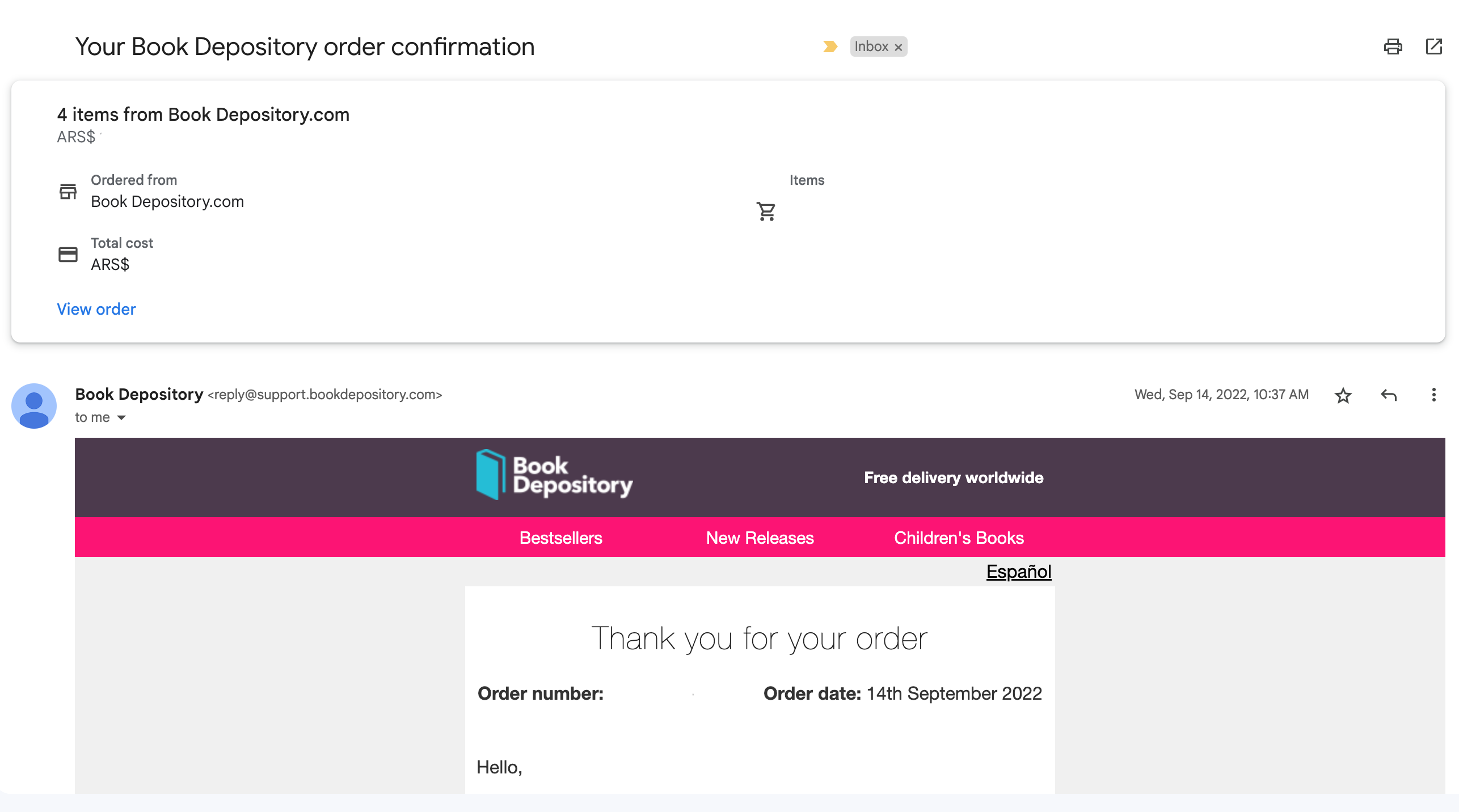 Make the Most Out of the Promotions Tab
Landing in the Promotions tab is usually taken as bad news by marketers. But did you know that the Gmail Promotion tab supports annotations? These Schema annotations can be used to add key data (and even images!) to an email's subject line. 

In fact, according to Google, leading companies like Domino's, Ubisoft, and Pinterest are using annotations to boost their email conversions.
Confirmation Cards
Whenever you email about a reservation or event using structured data, Google reminds the recipient without them setting a reminder.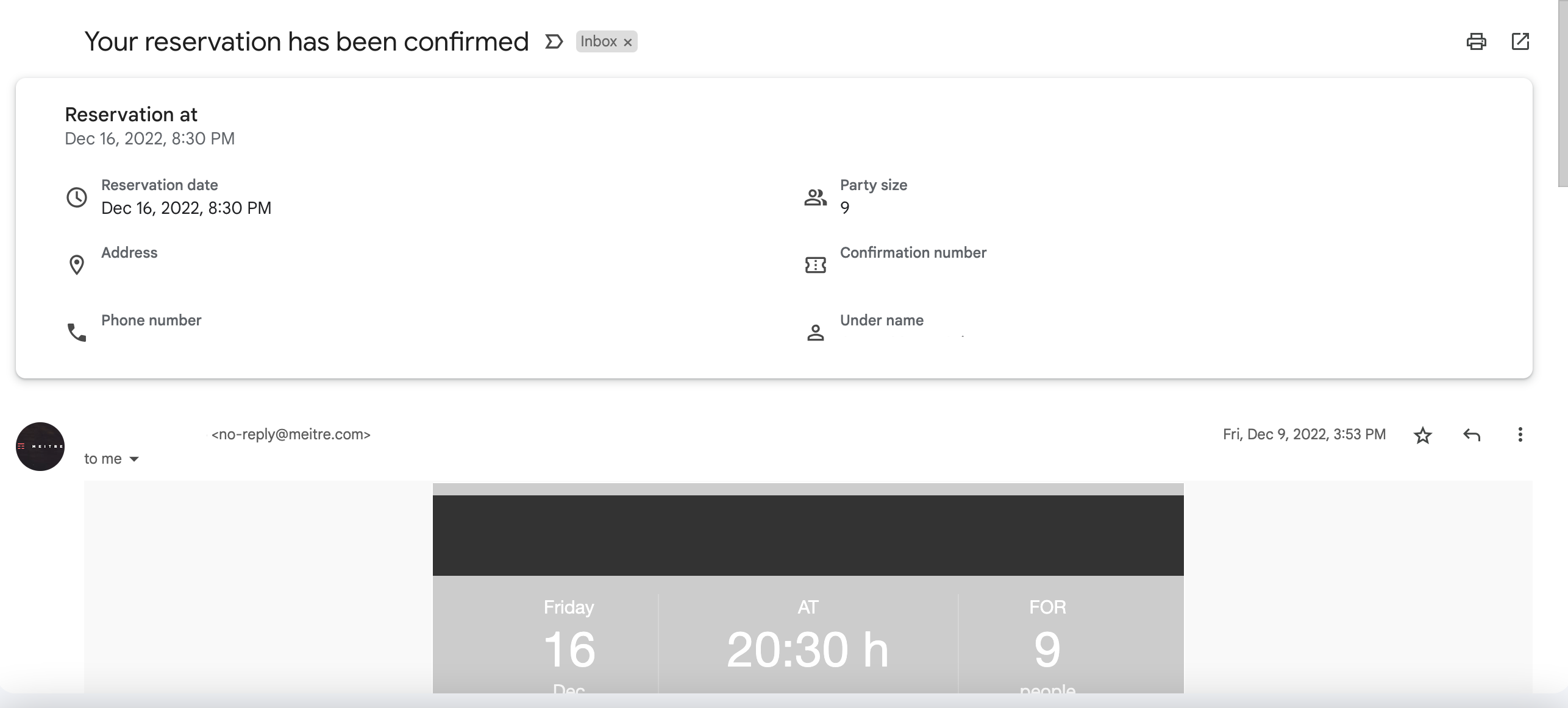 Google Calendar
Emails classified as bookings, events, or trips will be inserted into the recipient's Google calendar automatically.
Bear in mind there's no magic email markup. If you're targeting the wrong people with the wrong message, no amount of markup will help you see results. 
If that's your case, you may want to re-evaluate the foundations of your email marketing strategy. 
The Pros & Cons of Using Schema Markup for Email Marketing
Wondering if you should start implementing Schema markup on your emails?
In this section, we'll compare some pros and cons.
The Pros of Using Schema.org Markup for Emails
Implementing Schema.org markup is great for:
Optimizing your transactional & promotional emails

Boosting your email conversions
Let's take a closer look.
A Better Experience
When you use Schema markup on your emails, you're helping your recipients to find the information they need quickly.
That's why it's great for reservations and bookings. No one likes to have to fish for a booking confirmation code or an address in their busy inbox.
By adding Schema.org markup to your emails, you're making a small but impactful change in your recipients' experience.
Higher Engagement
According to Google, some brands have seen an increase of over 30% in email engagement from using Schema markup. And it's easy to figure out why. By giving your recipients access to key information about your offering, you're making it easier for them to convert. Plus, knowing the basics of your offering before opening your email puts them fully in control of their experience. 
The Cons of Using Schema.org Markup for Emails
Despite its positive impact, using Schema.org markup for emails may not give you the benefits you expect.
Before jumping on board, consider that:
Email schema is only available on Gmail

It adds developer reliance to your email marketing workflow
Email Schema is Only Available on Gmail
Email Schema markup is only available on Gmail. So even if you spend time & budget optimizing your emails with Schema markup, it won't benefit all your email subscribers equally. 
Alternatively, strategies like adding video content to your emails will have an impact regardless of your recipients' email provider.
It Adds Developer Reliance to Your Email Marketing Workflow
Unless you're using an email platform that allows you to work with Schema markup without code, you'll probably need a developer's help to implement it.
This will probably add back-and-forth, time, and costs to your email marketing workflow.
Now you know what Schema markup for email is all about. So you must be wondering how to start implementing it. In the next section, we'll share everything you need to know to get started.
How to Add Schema.org Markup to Your Emails
Have you decided that email Schema markup is worth a try? Great!
Here's a step-by-step guide to help you get started:
1. Register With Google
Register with Google, so you're authorized to use Schema on your emails.  
You should already have a large volume of daily emails and an extremely low spam rate. Make sure your sending address is static, something like team@sales.com.
From your desired email address, send a real-use email (one that reaches real users) to the address schema.whitelisting+sample@gmail.com.
You will then need to fill out the Gmail Schema whitelisting request form.
Finally, when Google accepts you on their whitelist, you can start adding schema markup to your emails.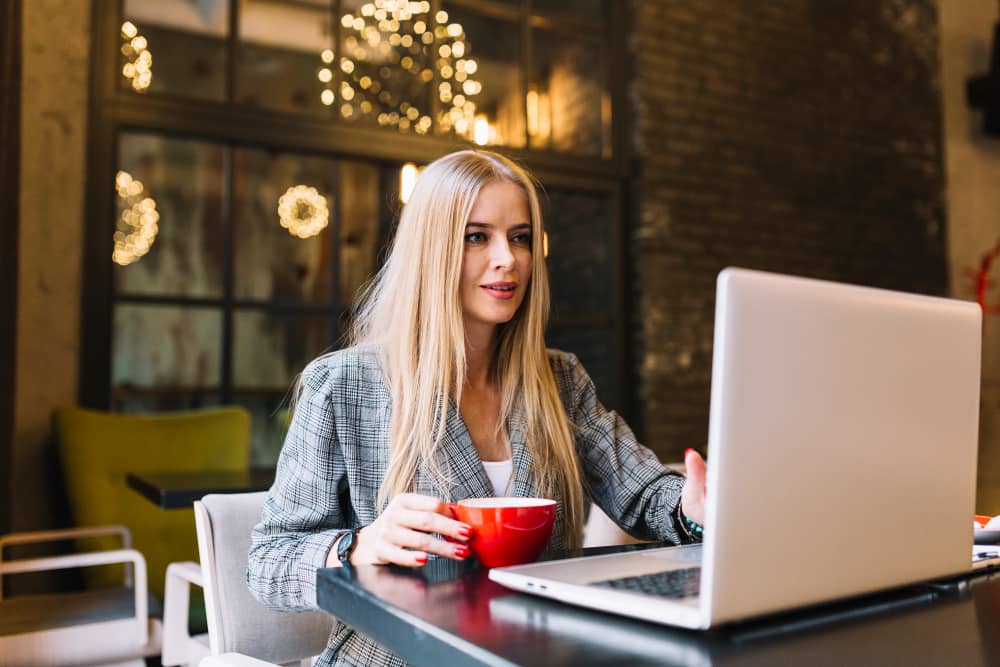 2. Structure Your Schema Markup
You can structure your email markup with Google's free Email Markup Helper tool.
Here's how to use it:
Select the "Email" tab and choose the type of data that describes your email (an event reservation, a flight reservation, etcetera).

Paste in your email's HTML code. 

Click

Start Tagging

and highlight the areas of your email you want to turn into structured data.

If necessary, add any missing tags.

Check the code and remove any tags that the Helper may have generated by mistake.

Finally, click on

Generate HTML

to create the file you'll use for your email.
3. Validate Your Schema
Finally, check your code with an email markup validator. We recommend Google's own validator.
Key Takeaways
In this post, we explored the benefits and limitations of using Schema markup for email marketing. 
While it's still limited to Gmail users, and its implementation workflow may be a little cumbersome, using Schema markup can boost your email's impact and improve how your recipient experiences your brand. 
The principles behind email Schema markup apply to all great email marketing. Be relevant, make conversion frictionless, and provide as much value as possible.