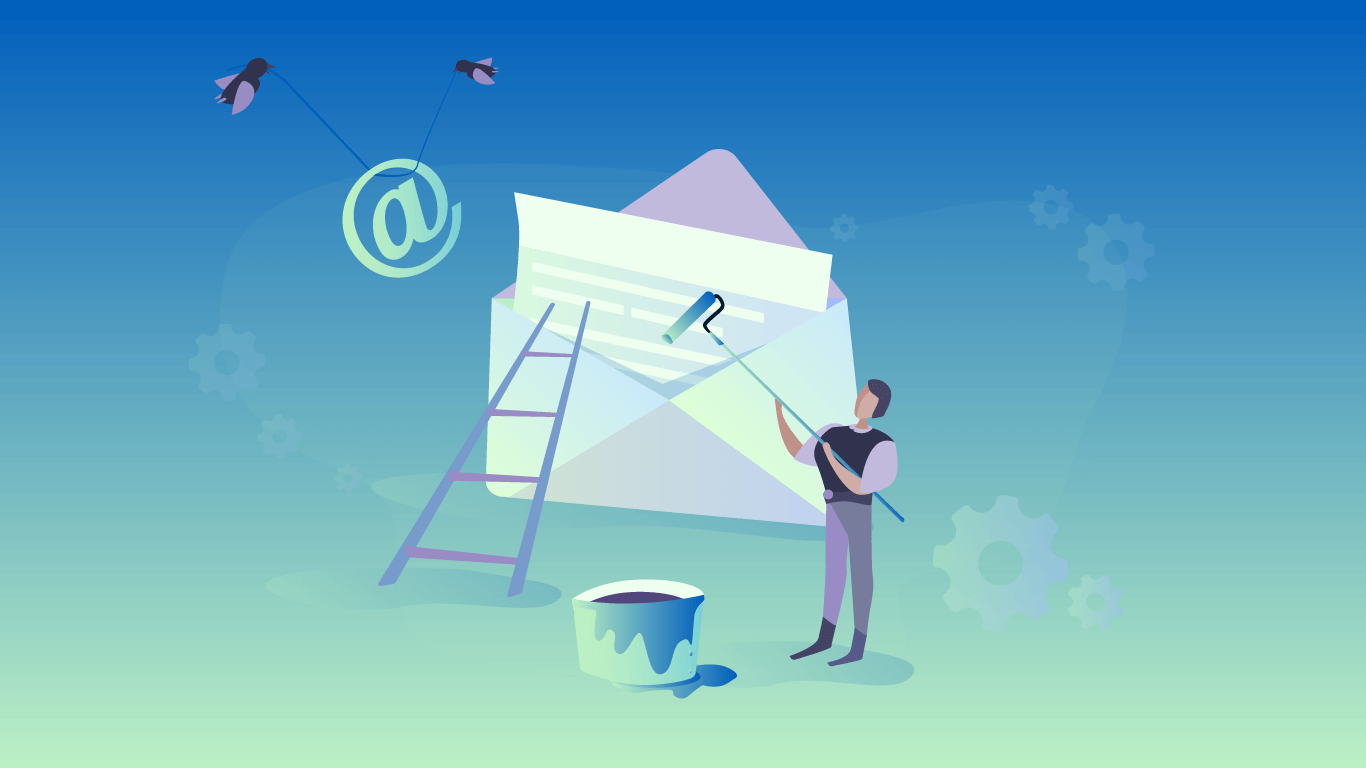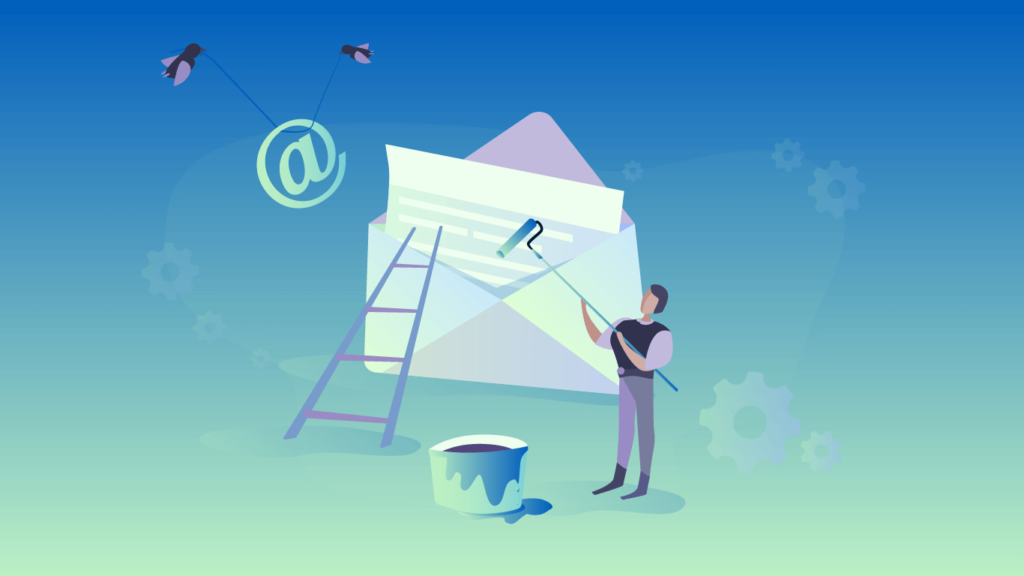 Do you know that an email signature is a much-needed thing to promote your business?
It's more than your name and phone number. Your email signature is part of your corporate identity and tells your email recipients a short story about you. 
In a survey investigating 700 emails, only 52% included email signature out of which 75% just contain some contact information. Information related to social media accounts was hardly mentioned with Twitter as the most popular (7%) followed by Facebook (3%) and LinkedIn (2%) (Marketing Land). 
No matter if you write a transactional email or marketing email, an email signature is important. In addition to including necessary information, it is equally important to ensure that your email signature is visually appealing and contain elements that can persuade a person to reach out to you.
Get inspired with these ten elegant & professional email signature ideas
Here are my top recommendations for composing a great email signature.
1. Use the 'keep it simple' strategy
We all have heard the saying 'less is more'. This is quite true in the case of choosing an email signature format. A basic format should contain all the necessary information, but it still looks clean and tidy.
On the flip side, if it contains too much text or design, then the reader will be distracted and overwhelmed. Moreover, there are a lot of companies that require employees and managers to use a simple and uniform email signature for sending business-related emails. 
Avoid multiple fonts, sizes, and colors. It shouldn't be like in this example: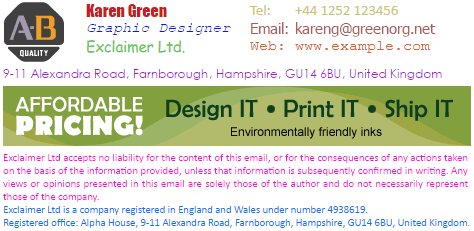 2. Use colors to stand out
Without a doubt, colors allow us to express our feelings, emotions, and who we are. When creating an email signature, the coolest way to grab recipient attention is to use some color psychology. It makes your signature noticeable instantly.  
But here's a thing. Adding too many colors can make your email signature look childish. Usually, colors commonly speak for themselves.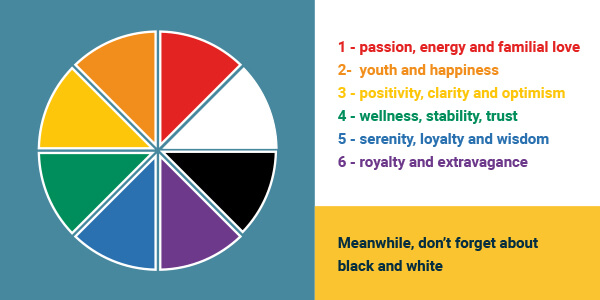 Use these guidelines while playing with colors:
Stick with a single or maximum of two colors that complement each other.

Don't use colors that clash (like orange and purple).

Use subdued tones if you're in a sophisticated field like banking, but use brighter colors if you're in a creative field. 

Make sure that the colors in your email signature fit with your website, business card, social media profile etc. 
See below a good example of how yellow and black make a great combination. 


3. Use the classic black and white theme
A glitzy email signature isn't appropriate for many industries and brands. Using bright colors in some cases is even against the corporate policy. 
But, it doesn't mean that your email signature cannot look eye-catching and appealing. The evergreen black and white combination can be just as tempting as the one that is filled with color. The key is to use the right font, design, and making effective use of space.
I personally love email signatures in the dark mode, so I am discussing it here as an example. The black and white combo appears more formal and professional.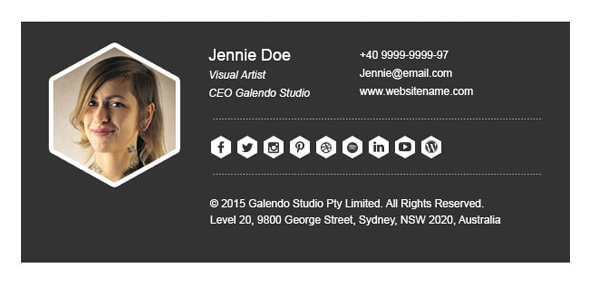 A good practice is to include your image in your email signature. An email signature with the image of a sender looks more authentic. Don't use full-body images. 

Here's some major points to consider.
Your image should be professional (e.g. no puppies, selfies, or cropped photos).

Make sure you are professionally attired in your photo, and your hair is properly groomed. 

Use a neutral or plain white backdrop for your photos because it adds a professional appearance. However, I realized that a slightly dark background could add drama to your photo background. 
See the example below:

5. Insert a logo if you have one
You can add your logo in your email signature as well. It can help you with your personal branding. 
If you work for an organization, you may want to add a logo of your brand.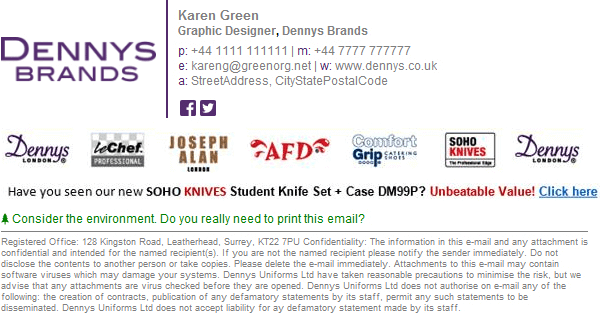 6. Add social media profile links
A large number of your audience and business professionals are on social media. It's becoming increasingly important to show your digital audience that you are social and easily available over the web.

Integrating social media accounts with your email signature builds your credibility. With every email, you are actually sending people the opportunity to connect with you on social networks and know more about your brand.
It's important to add your relevant professional social media accounts. If you are not sure, review your accounts and remove any unprofessional posts that you've added in the past. 
The people receiving your emails are also your potential or actual customers. In fact, email marketing can directly support your sales. 
It totally makes sense to include links to any recent promotions, special discounts, and sales events. A call-to-action is a line that prompts the audience to take a specific action. 
You can include an auto-calendar link in your email signature so that your clients can book a meeting at their convenience. Some other examples of famous call-to-action are book a demo, request a demo, download the e-book etc. 


Remember that the action you want them to take could be about anything. According to an expert Crowd Writer, adding a link to your latest blog post or video can drive traffic to your site. Make sure that your links are relevant to your recipients and deliver them some kind of value.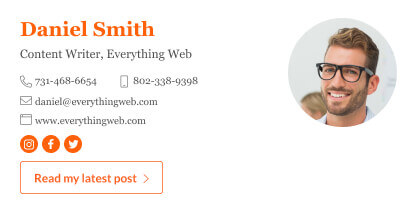 A lot of people add quotes and controversial sayings in their email signature. I personally don't recommend adding them to your email signature for some reasons. 
Firstly, they add zero value to your email signature. Secondly, your recipient may not agree with a certain quote, and in the worst-case scenario, it can even offend them. This can affect their response, and you may end up losing profitable customers. 
Here's a very bad example.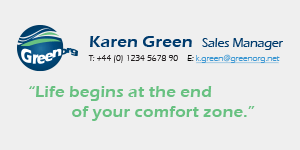 However, if you still want to add a quote, make sure that it is aligned with your company's core values.
You can try numerous techniques to give your email signature businesses feel. 
You can add a confidentiality statement as per your company request.

Standardize corporate communication by limiting the use of certain colors.

Your organization may prefer to add the company's social media accounts on your signature instead of your personal accounts.

Add the location of your office. 
10. Use a builder if you are a beginner
Just like you ask online experts to write my dissertation for me, you can also take help from email signature generator platforms and create a perfect and customized email signature without spending hours on learning HTML skills and coding knowledge.
On the flip side, you can use this time on other productive activities such as developing your B2B email marketing plan or upgrading your performance management system.
An email signature is extremely important for business and professionals. A professionally created email signature not only conveys your desired information, but it also captures the reader's attention and creates a long-lasting impact. With these ten amazing tips and techniques, you don't need to remember what to add and what not to add in your email signature. 
Author bio: Claudia Jeffrey is currently employed as a Sr. Research Analyst & Digital Evangelist at Dissertation Assistance, the best online platform for students. Her strength lies in creating appealing headlines for tech and business-related articles, blogs, and video content. He loves to help new start-ups with her expert opinions.