Email marketing has great ROI as long as you've got an effective strategy. If your audience is no longer clicking through to your marketing newsletters or otherwise engaging, you've got a problem. Unfortunately, it's all too common. Audiences want content that grabs their attention and motivates them to look further.
In order to be sure that your email marketing content resonates, you have to focus on two things. First, your email content must be on point. Then, you've got to build on that with engaging newsletter content. Here are seven great content ideas that focus on both of these goals.
1. Embed a Poll or Survey Into Your Email
Polls and surveys are quick and easy tools that you can use to create great engagement. They are cost-effective, a great tool for collecting marketing data, and they can really boost your email click-throughs.
Use a survey or poll in an email, and watch what happens. Readers can engage with your poll directly in your email and see the results on your site. Alternatively, you can link to a survey in your email to drive traffic to your site.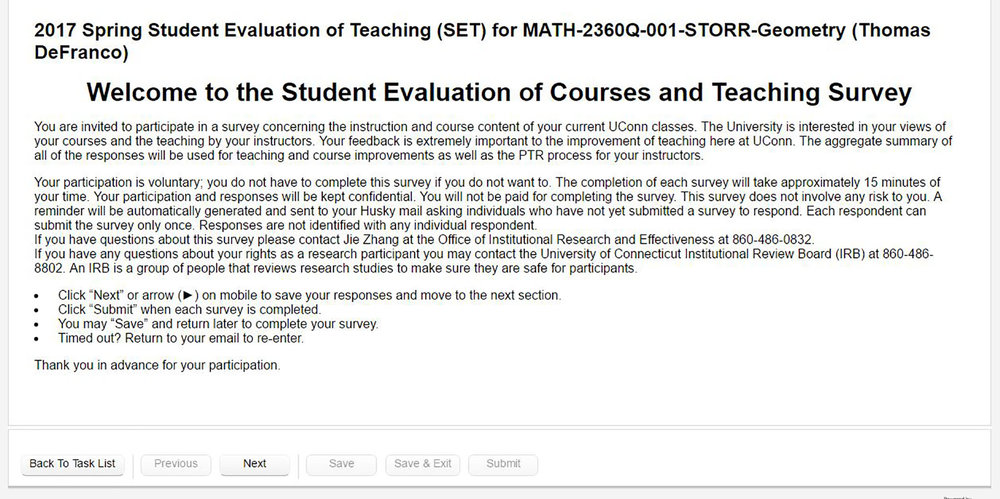 2. Put a Spotlight on Your Team in Your Newsletter
There's no denying the value of behind-the-scenes content. It humanizes your brand by making your team more relatable. Your email marketing newsletter is the perfect place for this kind of content. After all, your newsletter is the place where your audience expects to see content that they don't see elsewhere. They want content that digs a bit deeper and that peers behind the curtain.
Here are some ways that you can give readers a glimpse of your team:
Share a Q&A transcript with one of your team leaders.
Give a team member an opportunity to guest blog.
Publish photos of employee get-togethers.
Write a profile of a charity or initiative that your employees support.
Consider making behind-the-scenes content a regular feature. If your audience knows it has this kind of content to look forward to, they'll be more likely to engage.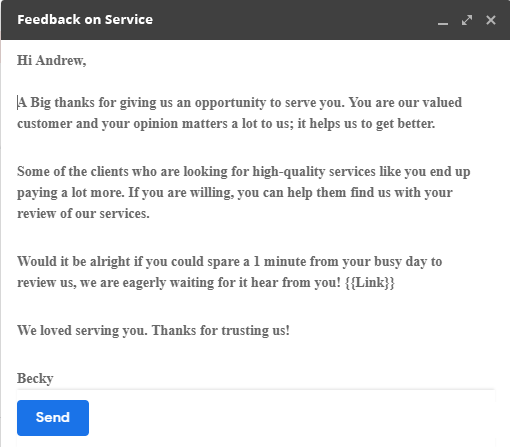 3. Share a Customer Service Case Study
How do you share relevant content about a common problem among your customers and highlight your customer service skills? Build a customer service case study!
Start with a problem or concern that's impacting a large number of your customers. Next, solve that problem, and take detailed notes on the process. Later, you can take that information and create a detailed case study. When you're done, the case study will be an instructional tool for other audience members. It will also serve as an example of your team's helpful expertise.
4. Take a Less is More Approach to Improve Click-Through Rates
You may be tempted to stuff your emails with multiple offers and calls to action. Unfortunately, this doesn't always have the results you intend. Instead of motivating your reader to find at least one link worth clicking, these emails seem cluttered and overwhelming.
The result is that your audience deletes or ignores the content of your email altogether. Instead, your email should be relatively brief and focused on one or two major points. Even better, push your best content to the top of your email to improve engagement.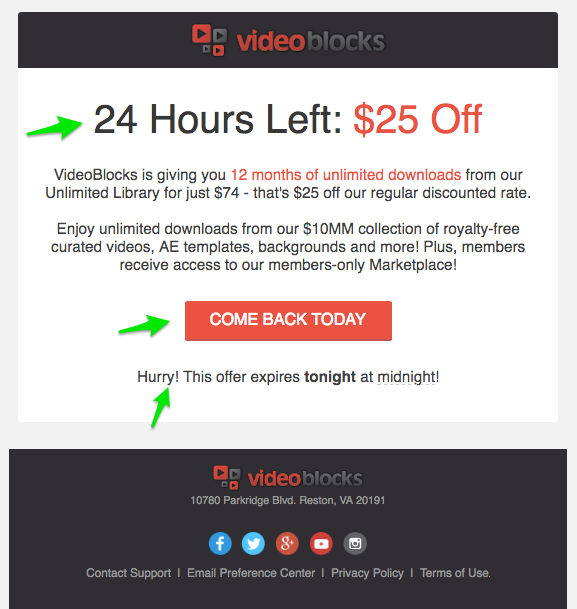 5. Create a Sense of Urgency
Fear of missing out is an influential sales tool. By creating a sense of urgency in your emails, you motivate readers to 'act now'. You can do this by indicating scarcity, setting time or quantity limits, or using words that focus on time limits.
Next, follow that up with a simple and brief email copy. This cuts to the chase and allows you to focus your readers' attention on the urgency you want them to experience.
6. Don't Forget Discounts And Sales
Yes, your subscribers want educational, entertaining, and informative content. You should give them product demonstration videos, thought leadership posts, and other engaging content. At the same time, it's important to remember that your subscribers also sign up because they're interested in your products and services.
Don't shy away from promotional content. Your audience wants to know about:
Discounts they can use.
New products.
Upcoming sales events.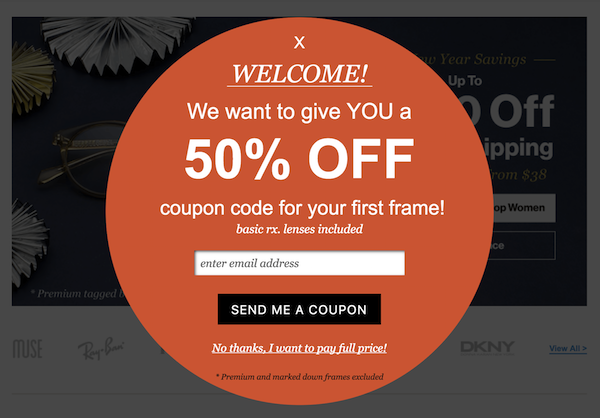 Keep in mind that the 80/20 rule of content marketing isn't canon. It's best used as a guideline. Depending on the nature of your business, you may really need to spend 80% of your time engaging your audience in order to earn their attention when it comes to promoting your products. In other cases, your audience may prefer that you cut through all the noise and get right down to pitching your latest offer. Here's something important to remember. Not every target audience is interested in building a relationship with your brand.
7. Leverage Data Everywhere You Can
Your email marketing content should be entertaining, informative, and engaging. It must also be driven by data. The proof is the difference between content that motivates people to answer your call to action and content that gets a cursory glance.
To be clear, that doesn't mean your content must be dry and academic. There's certainly flexibility when it comes to defining data as it applies to content marketing. You don't need a scientific study or hard numbers behind every claim you make, but you should have a way to support your claims. You can do this by using:
Links to reputable articles
Statistics
Case Studies
Customer Testimonials
Social Proof
You can make the most impact when your content combines data with storytelling.
What do You Think?
You can get great results from an email marketing campaign. The trick is to continue keeping your audience's interest by presenting them with engaging content. You can use the seven ideas here to accomplish that goal.
What about your email campaigns? How do you keep your content fresh and interesting?
Author Bio: Erica Sunarjo is a translator with over five years of work experience. Currently, she is a content marketing specialist at The Word Point. She likes to discuss topics related to translation services, content localization, and digital marketing. Apart from work, she enjoys reading books, riding horses, and scuba diving.
What to keep in mind:
Keep your Email content on point.
And build engaging newsletter content.
Undermining the power of email is one of the biggest marketing mistakes a business owner or marketer can make. In the next blog post we will discuss why Targeted Emails are way more effective than Social Marketing.
Make sure you check our blog regularly, and don't forget to subscribe to our emails. Or you may want to follow up on the last blog post on Small and Medium Enterprises: Marketing Statistics if you've missed it.