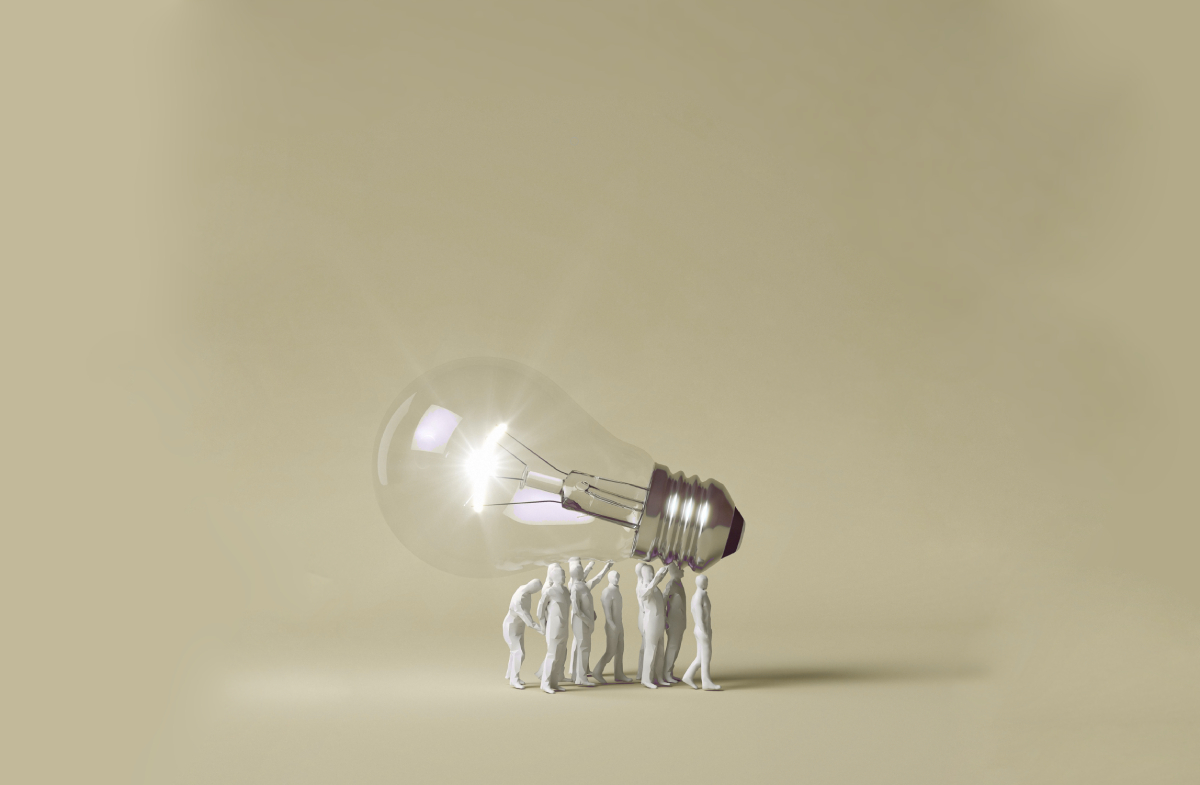 A newsletter is one of the most effective content types in marketing. It's an email periodically sent to mail promotional offers, broadcast company news, nurture prospects and leads, and even engage employees with an internal newsletter.
CMI tells us that nearly 3 out of 4 marketers use email newsletters to distribute content, and Litmus Resource Center says, on average, email drives an ROI of $36 for every $1 spent. That's impressive, right?
But creating an effective newsletter that reflects the brand's values, fosters relationships, and positively impacts email metrics is easier said than done. So, how can marketers create effective newsletters?
While there are many best practices that yield significant results, we're going to talk about one of the most underrated practices: cross-functional team collaboration.
What is a cross-team collaboration, and why it's important?
Cross-team collaboration, or cross-functional team collaboration, refers to working together across various teams within an organization to achieve a common goal. This involves getting buy-ins from the stakeholders and communication and coordination between departments. 
The goal of cross-team collaboration is to leverage the strengths and expertise of different teams to improve overall performance and productivity.
Below, we'll bring out a few reasons cross-collaboration of teams is essential for creating winning newsletters.
Repeat after us "silo mentality is the enemy of innovation."
Especially with a growing focus on remote and hybrid teams, it's table stakes to break boundaries and encourage cross-team collaboration. Collaboration allows teams to share perspectives, fosters an environment for creativity, and encourages the exchange of ideas.
For example, a marketer knows well about the ideal customer's profiles, but the QA team or the solutions team knows every nitty-gritty of the product. This kind of cooperation can help marketers highlight the best features to promote on marketing initiatives, understand customer pain points, and more.
Marketing is a dynamic and fast-paced industry where staying current with the trends and developments is crucial. Teamwork ensures effective research, planning, and execution of projects, accelerating the process.
Minimizing avoidable error
Blunders are every marketer's nightmare. While we're humans and errors are bound to happen, collaborating with the right teams will keep everyone on the same page, align them with a common goal and vision, accelerate the process, and minimize avoidable errors.
Cross-functional team collaboration can boost productivity by allowing individuals from different departments to share their unique perspectives and skills, leading to more efficient marketing campaigns. 
It can also facilitate sharing of resources and information, reducing duplication of effort and increasing innovation.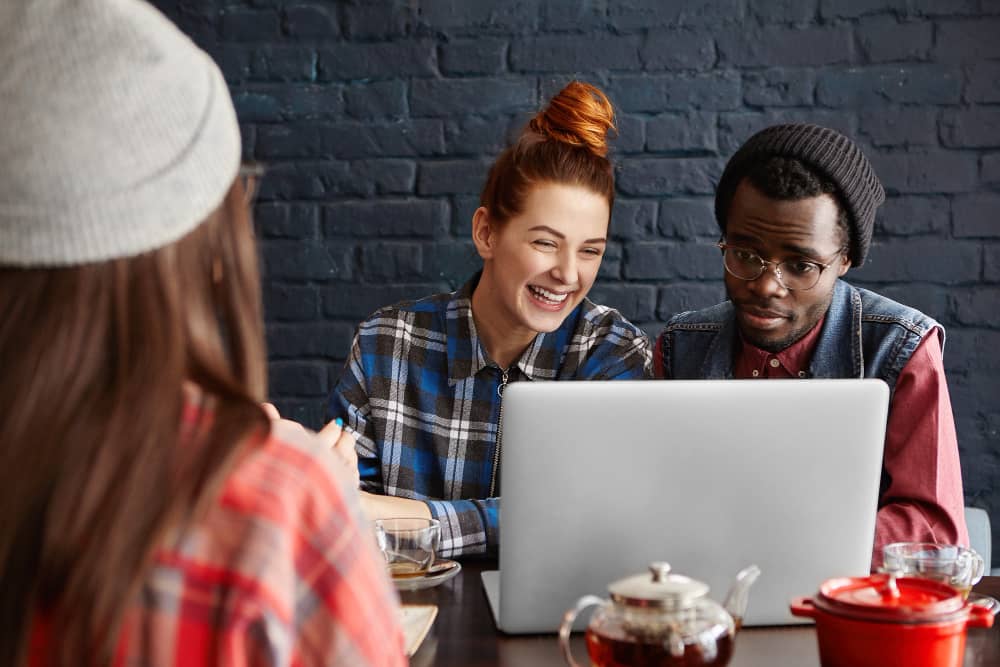 Additionally, involving team members from different departments can lead to buy-ins and ownership and increase the likelihood of successful implementation and overall productivity.
Excelling in team collaboration can help marketers unlock goldmines of insights. These insights help them make their marketing initiatives, including newsletters, more effective, leading to a higher ROI and more satisfied customers. Let's see how it works in real time.
Teamwork in action
Teamwork undoubtedly works miracles in unlocking insights and boosting efficiency. But who is the right person in the organization that marketers can connect with? The answer depends on the type and size of the organization. 
For example, in an IT company, marketers need to collaborate with the solutions team to understand how the business functions and what features they can highlight. Moreover, while dealing with email marketing for a startup, a founder or head of a department (usually a one-person army) would be your go-to person. 
Followingly we will outline some general roles that marketers connect with for a fruitful collaboration.
It may seem like HR and marketing teams work in parallel and have nothing to contribute to one another. This cannot be farther from the truth. 
Marketers and HRs essentially have the same role – to promote the company's value, vision, and mission to attract the right clients. The only difference is that HR targets top talent to hire for the company, and marketers target clients/customers to drive business revenue. Collaboration between these two teams is unlikely, but a highly rewarding initiative. 
Apart from knowing and adopting the major HR trends, HR has profound knowledge of what the company offers and wants to achieve. This can be helpful when creating newsletters promoting the company's values, which in return can benefit the HR team also. 
Moreover, an HR's knowledge can be invaluable to creating an internal newsletter. They know precisely what motivates and engages employees, what company goals are, and how to drive action.
Another department marketers can tap into when creating newsletters is customer support. This can go by a few names like customer service and success; you get it.
CS collaboration with the marketing team can be a huge success because they have a wealth of knowledge about the customers. 
When customers are frustrated or facing an issue, who do they go to first? No prizes for guessing – it's the CS team. They know exactly what bothers the customer, what solution they are looking for, and most importantly – how to satisfy them.
Besides talking to the team, marketers can read the chat transcript and listen to important calls.
For example, your CS team can help you learn what messaging works the best, where your customer expects to see you, and what are their pain points. Think about the multichannel approach – interaction with CS can help you understand which channel would reap the highest ROI.
The bottom line: the direct way to understand customer pain points is to talk to your CS team and leverage those insights when writing newsletters for the most effective ROI.
Yet another important team to collaborate with is sales. Like the CS team, they are in direct contact with the customer and can open up a treasure box of profitable insights. 
Since salespeople are directly in touch with clients, they know them inside out. This insight can help create newsletters that strike the right chord of emotions, pain points, and challenges. Accordingly, it can help them write better and more effective content.
Additionally, it helps you understand the sales cycle better. Talking to the sales team would also give you a clear idea about the sales cycle, where the prospects drop out often, and address those issues in your newsletter and other multichannel initiatives. 
Designers and copywriters
If you're a one-person army working in a startup, you are the design and content team. But in larger organizations, you need to collaborate with designers and copywriters. Your design and content teams are eventually the ones who will create impactful, results-driving newsletters. 
Therefore, communicating the insights you gain with cross-team collaboration, the direction of newsletters, and the results you're trying to achieve will result in less back-and-forth and drive desired outcomes.
For example, to make an email more engaging, GIFs are used. But if you're not communicating with the designers, explaining to them the flow of the email, and other nitty-gritty, you won't know if they are facing any issues, leading to a gap in expectation, eventually hampering the outcome.
Best practices for cross-team collaboration
We've talked tonnes about the effectiveness and importance of cross-team collaboration, but let's be honest: it's not a day's job.
In a company of 2-10 team members, it's usually easy to communicate since everyone knows one another and can catch up with them easily. There are no department heads you need buy-ins from, and it wouldn't take days to contact other people. You're usually a message away from connecting with them.
However, larger teams of 50, 100, 500, or more can present communication challenges. So as a marketer, you need a communication strategy to be effective.
Here are some of the best practices you can follow to create effective newsletters with cross-team collaboration.
Each department has its structures, goals, and way of working, making it challenging to work across teams. Maintaining transparency is vital to ensure goals are met and everyone involved feels their contribution led to something valuable.
Thus, to collaborate effectively and ensure a higher ROI of newsletters, marketers must be clear about their objective to collaborate across teams, discuss the (KPIs), and brainstorm the ideal way of collaborating.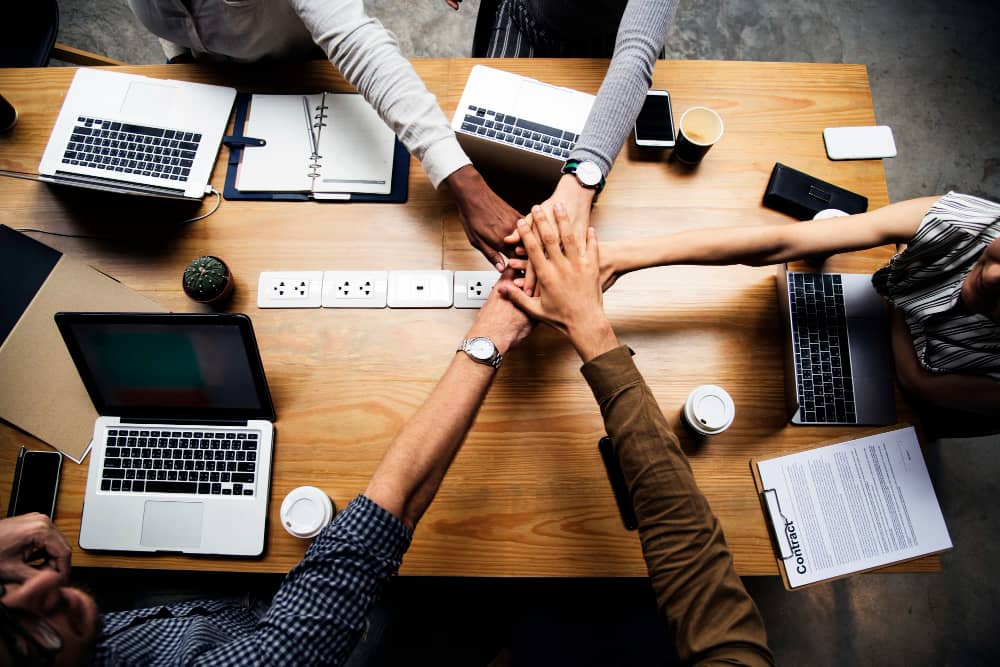 Communication is the key to a successful collaboration. Holding a kick-off meeting to conduct introductions and align everyone on the vision and goals for the project is imperative. Moreover, these meetings also ensure that you can overcome any objections, resolve any conflict, foster relationships, and motivate everyone on the team for the course of action. 
Furthermore, the meeting should also discuss the following:
Project goals, milestones, deliverables, and interdependencies.

Online and/or offline channels and tools used for collaboration.

Frequency and duration of meetings.

Progress on the project.

How to share drafts, revisions, and the final outcome.
This will allow you to collaborate effectively despite team challenges and differences.
Using collaboration tools for effective workflows
Disjointed tools and workflows are the biggest roadblocks to any team collaboration, especially for cross-functional ones. Without well-defined guidelines and technology, projects will be stuck in feedback loopholes, action items will fall through the cracks, and it will take forever to complete the project. Worse, it will demotivate everyone on the team and reduce any scope for future collaboration. This becomes even more important for remote teams.
Gartner notes that 80% of workers use collaboration tools post-pandemic, ensuring productivity. Therefore, project management tools, communication, video conferencing, and the like become vital for team collaboration. Finally, don't forget to maintain a central database where everyone can share updates or ask any questions if they are unclear.
You can also use unified communication services that unite all business communication channels and third-party software integrations within one unified platform to prevent miscommunications that negatively impact team productivity.
Sticking to the company values
Collaboration with cross-functional teams, when done right, can be highly beneficial for multichannel marketing, and in this case, with newsletters. It allows you to draw ideas and perspectives from every nook and corner of your company, write a more effective and valuable newsletter, and engage your audience. 
However, once the research process is done and you proceed with creating the newsletter, you must always check whether the newsletter aligns with the tone and branding of the company.
In the collaboration process, it is easy for the tonality to slip through, making your messaging inconsistent. Therefore, always check for branding before publishing the newsletter.
Conclusion
Cross-functional teams are essential for creating newsletters that drive ROI and growth for your business. These teams foster innovation, increase productivity and minimize errors. Clear communication, realistic expectations, and utilizing technology are key to successful cross-collaboration. Despite any challenges, cross-team collaboration can lead to significant insights and improve the effectiveness of your newsletters.