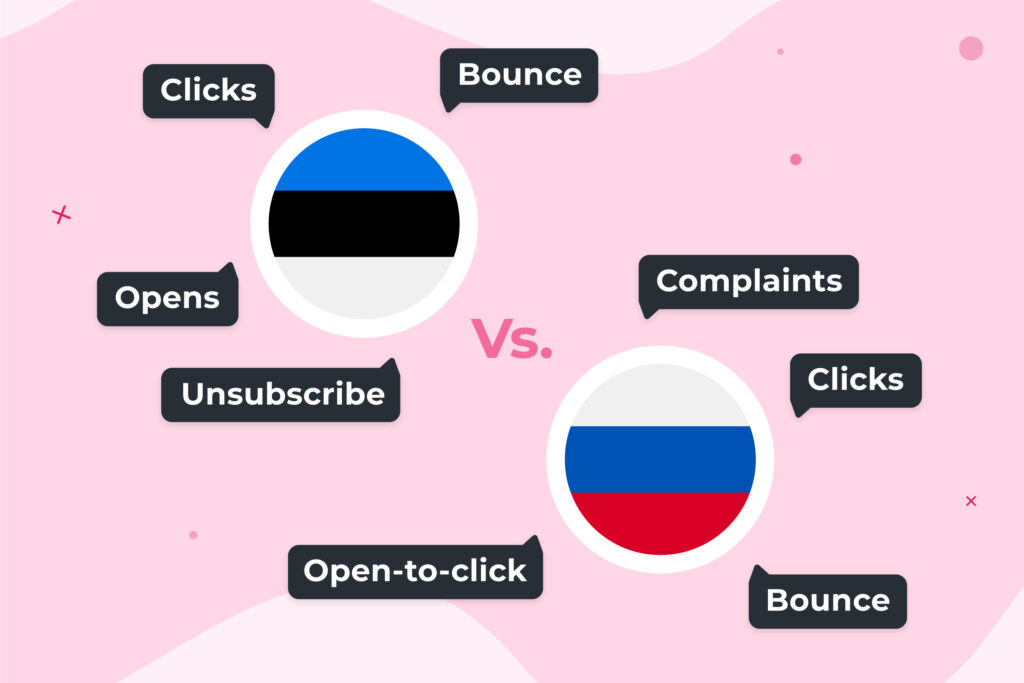 Sending messages in multiple languages ​​seems scary at first – how can I do that? And should I even do it? In this blog post, we will give an overview of this topic and also share statistics based on Smaily database on why it would definitely be worthwhile to communicate with a customer in his or her native language.
24.3% of people living in Estonia speak Russian as their mother tongue – a lot of companies actually find it difficult to address those customers. There are many large providers who have the ability to serve customers in several languages, but at the same time, there are very many smaller ones who tend to focus on one language only. They may even have several language options on the website, but they do not have the resources to apply this knowledge in email marketing.
Why should you do email marketing in the customer's native language?
At first glance, it seems that in Estonia addressing only Estonians with email marketing is sufficient. If necessary, English is used as a second and rather universal foreign language, thinking that everyone understands it. Usually, when an Estonian company is thinking about serving customers outside of Estonia, then they start by adding English to their website and making first marketing activities in English.
At the same time, probably all companies which have headed to foreign markets agree that English alone is not enough. In order to succeed in a new market, you need to communicate with your customers in their local language, because that is the only way you can win their trust and support.
Since almost a quarter of people living in Estonia speak Russian first, marketers should approach them in their mother tongue. Why do this? Here are some ideas:
A Russian-speaking customer feels respected when communicating with him or her in their language. Imagine a meeting between you and someone who speaks a completely different language, and you both need to speak in English. It's a little scary and uncomfortable, not all the words come to mind immediately and some of the thoughts don't get through as well as you'd like. The same applies when reading letters – your mother tongue letters are warm and understandable, they are comfortable to read.

If your client's mother or grandfather does not speak Estonian very well, the client will definitely not forward them a letter in Estonian. But a letter in Russian with useful information can be forwarded by the customer to their acquaintances, thus increasing the number of your potential customers.

A Russian-speaking customer is rather loyal and does not change the service provider for a cheaper price. For him, the relationship with the brand is important. He expects respect from the brand and at the same time offers respect to the brand as well. The client wants to feel special and cared for, and you can offer a good relationship to the customer by communicating with the client's native language.
Results from Smaily: Russian customers are more loyal
Smaily anonymously examined 34 accounts from which letters in both Estonian and Russian are sent in parallel, the statistics of more than 4,200 campaigns were reviewed. Statistics show that, on average, Russian-speaking customers click on letter links more often than Estonians (3.16% vs. 1.98%). Russians also open letters on average more often than Estonians (23.51% vs. 18.07%). There are also twice as few people who unsubscribe from the newsletter among Russian-speaking customers (0.03% vs 0.06%)!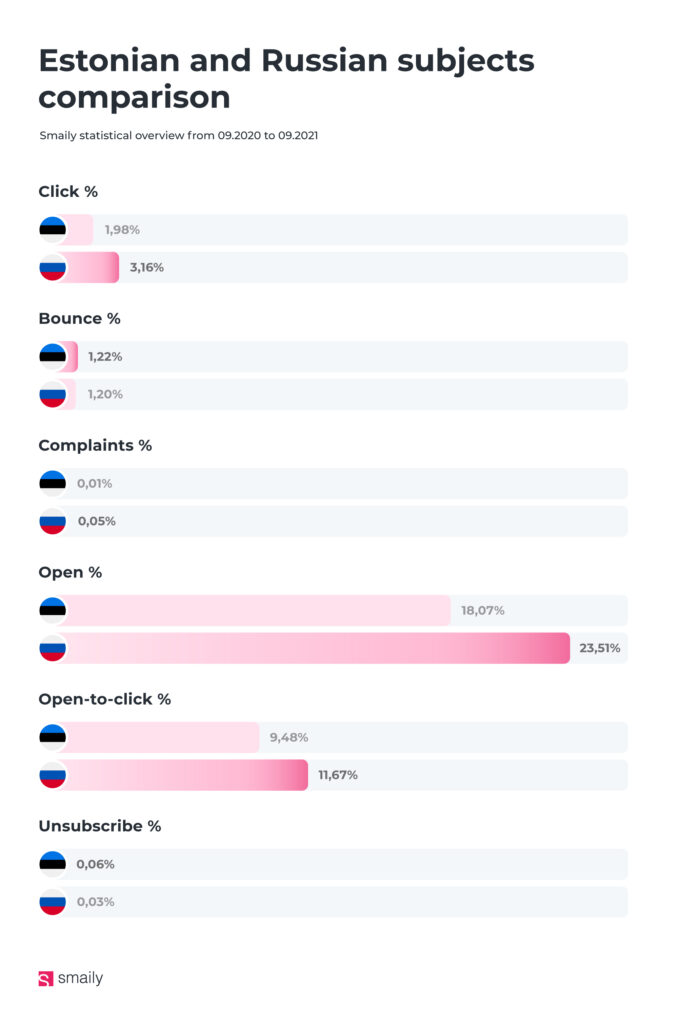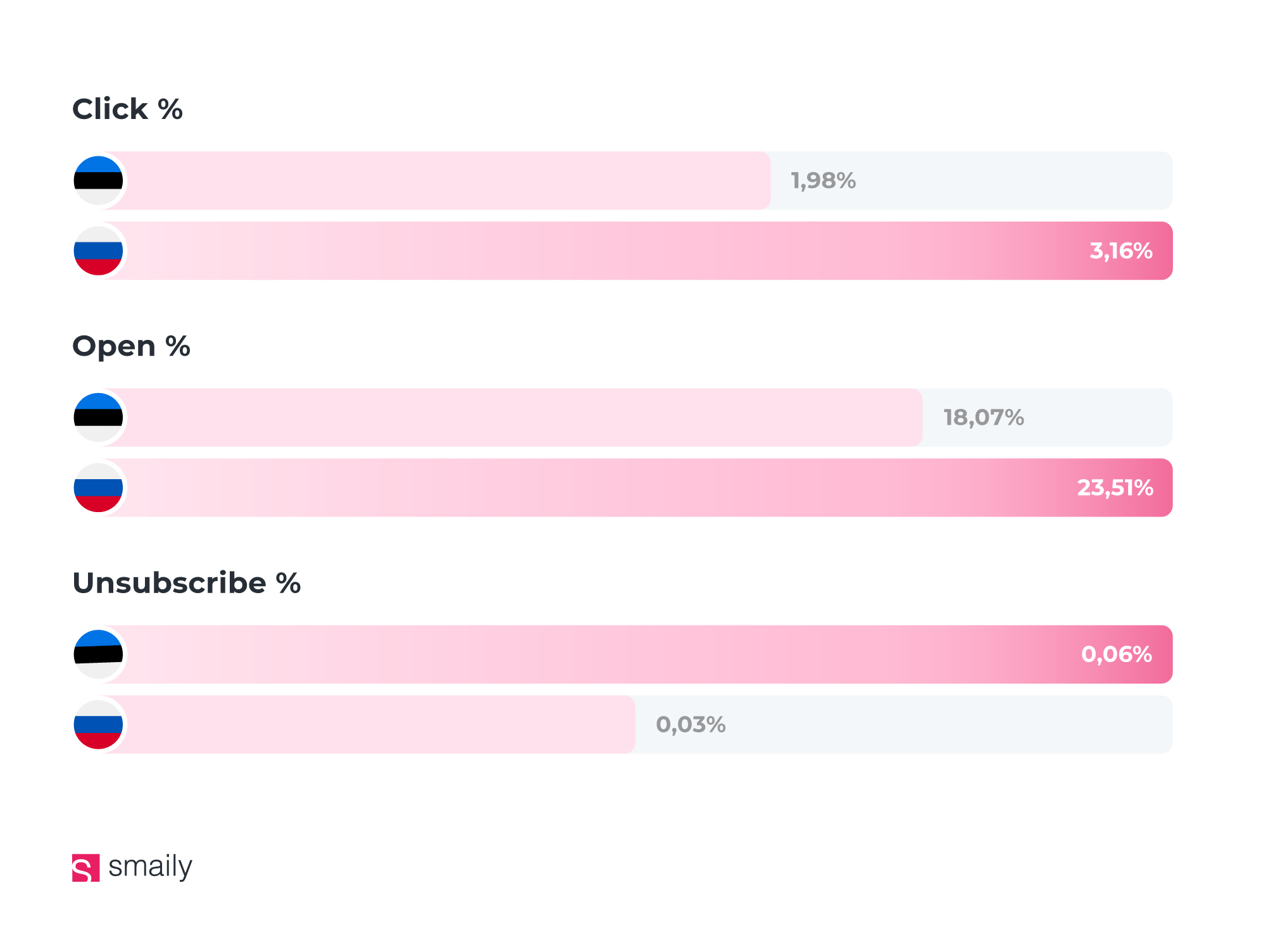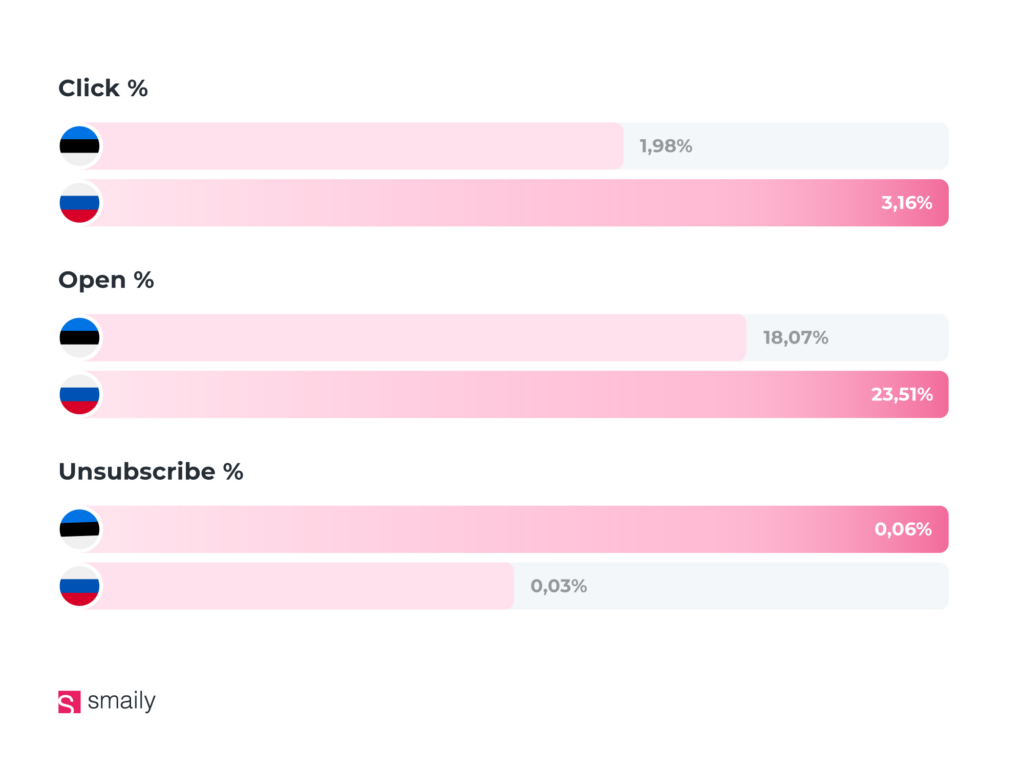 The use of Russian does not automatically guarantee better results. The subject of the letter and the content also play a very important role, as well as the quality of the customer list itself. A study conducted by Smaily showed that there are several accounts in which, on average, the opening rate of letters in Russian is lower than in Estonian. In general, these accounts also have a lower clickthrough rate (with minor exceptions), while the number of bounced letters and complaints is similar among Estonian and Russian letters. This shows that the quality of the lists in these accounts is similar, but for some reason, they are better able to approach Estonian-speaking customers.
So, it turns out that even if Russian-speaking customers are generally more loyal and tend to communicate more with the brand, they still need to be addressed with an important message for them and think primarily about the customer's needs and interests.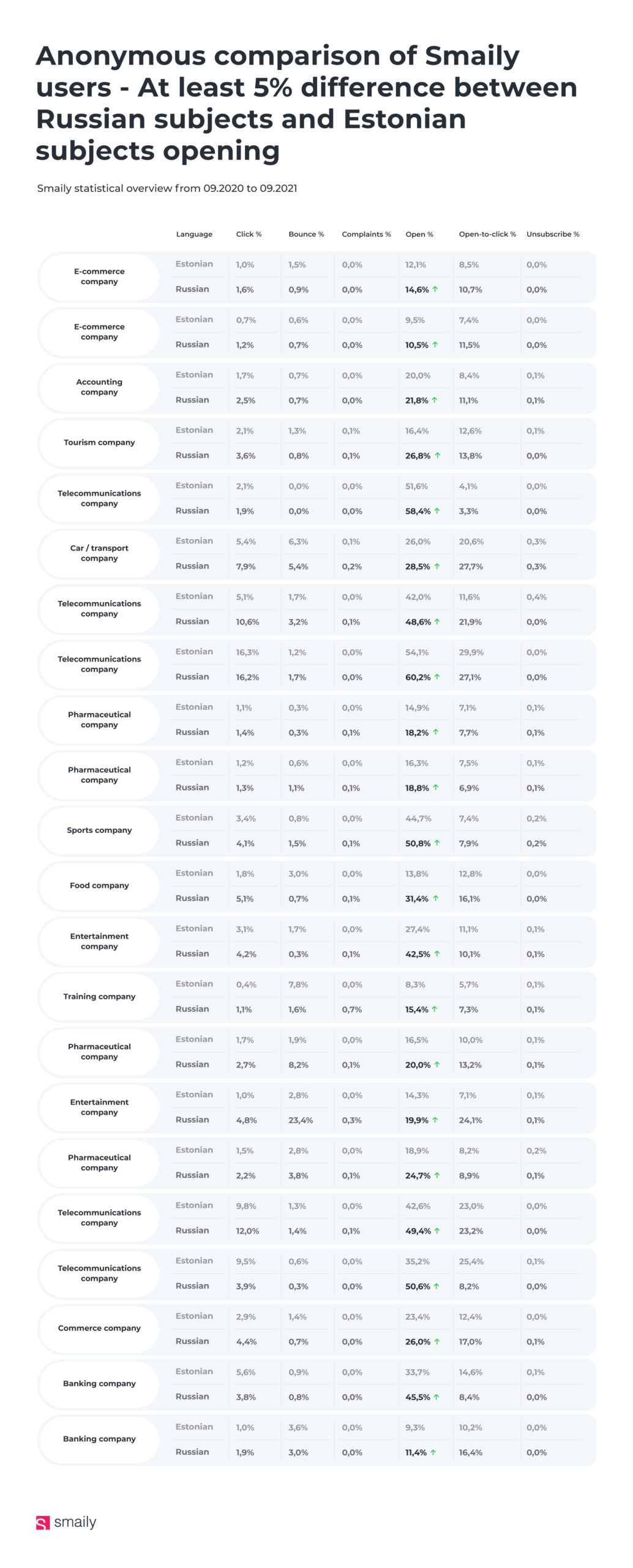 How can I segment by language in Smaily?
In order to be able to send a letter to a customer in a language that suits him or her, it is necessary to know the customer's language preference. There are a few ways to find out:
One option is to add the customer's language preference to the customer profile automatically by detecting the language in which he reads the website (works when your website has multiple languages), this information can be sent to Smaily via API connection.

If the website does not have relevant language options, the desired communication language can be added to the newsletter subscription form.

If the list already exists, but you would like to know the language preferences afterwards you can just send the customers an email asking for their preferred language. You can use landing pages in Smaily for that.

One newsletter can have multiple languages as well, the client would just need to scroll to the relevant language. Later on you can see on which CTA the customer clicked and use that for language preferences for future.
Once you know the language preferences and have saved that info to Smaily, you can easily use the filters to make language based segments. A great tutorial for that is HERE!
How to communicate with different nationalities?
The rule of the thumb in communication is to get to know your partner. If you have created customer personas for marketing preferences, make sure that the different language personas are actually different (not just have a different language). Nationalities tend to have different ways of acting and different needs and expectations. For example, Russian speaking clients like luxury and they expect you to be more personal with them. But do not just rely on stereotypes- make an actual effort in getting to know your customers by asking them what they like and need. The best way to do that is to analyze customer support tickets, but you can also send customer feedback questionnaires or have a look at which emails have more popular content. Also, always A/B test subject lines, pictures, colors, content etc.
At first, sending emails in multiple languages might seem overwhelming and difficult. If you only have a small client list, then it might actually not make sense because it actually is time consuming to create good emails in many languages. But if you already have a few hundred customers in one language then the investment will have a good return. Clients really appreciate the personal approach!