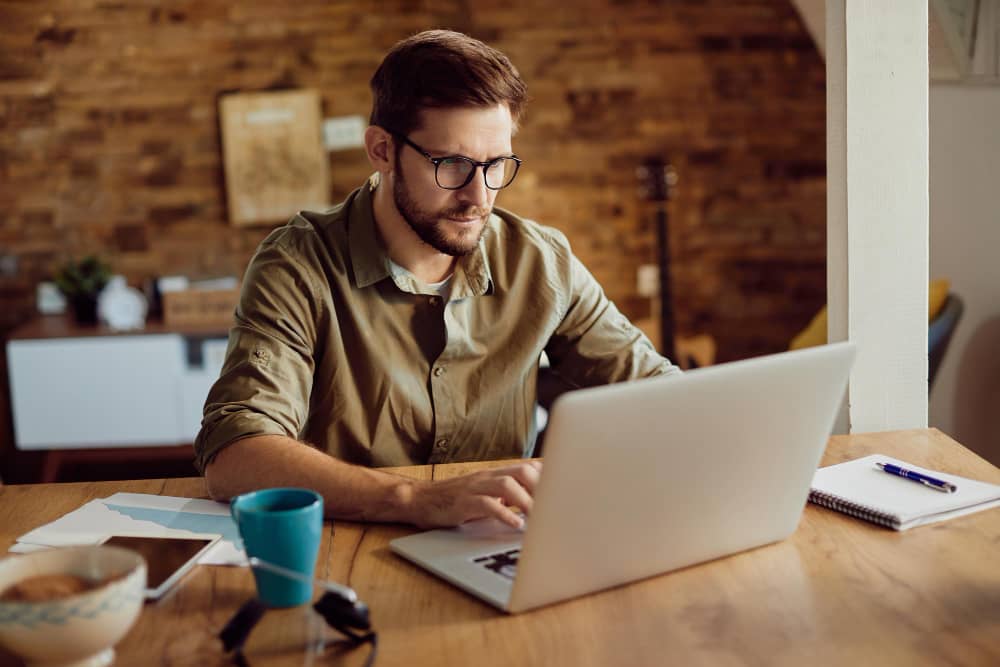 To build an email list is to engage in one of the most effective strategies to grow your business. Email marketing helps you build relationships with your customers, effectively reach out to more people, and increase your sales.
While email is one of the oldest digital marketing channels, it still generates revenue for companies and has one of the highest returns on investment (ROI). According to Omnisend, the average ROI is $40 for every $1 spent. But for many new entrepreneurs, this may seem like a formidable task. And in some ways, it is if you don't have a great strategy. 
In this article, we'll give you a brief overview of what an email list is and why it is an integral part of a company's success. Plus, we'll give proven tactics you can apply to your business. By the end of this, you can start employing your chosen email marketing strategy and start developing a mailing list poised for more customers and higher conversion rates.
What Is An Email List, And Why Is It Important?
An email list is a collection of email addresses that you can use to send valuable content. The list contains a group of people who have subscribed to receive updates from your business via email. It's an essential part of any successful digital marketing strategy.
If you look at the image below, you'll see that in 2019, there were 3.9 billion email users. By 2023, the figure moves closer to 4.3 billion users. That data will give you an idea of why having an email list is a must for business. Don't let those billions of daily emails pass by without you utilizing a strategy to get a piece of the pie.
Additionally, it's a great way to build relationships with your customers and keep them notified of news, special offers, and promotions. You can also utilize the list to send product updates or new services and even ask for feedback.
It's an effective approach to reaching your current and potential customers. Plus, having an email list can make it easier to connect with your customers in the future. That connection can mean the difference between success and failure. Overall, it's excellent for marketing campaigns, customer support, or anything else you can think of.
With that, it's time to give you the mailing list strategies you can employ for your business.
The 15 Email List Tactics To Grow Your Subscribers
Having a strong customer base means more potential customers are likely to become actual customers with repeat purchases from satisfied customers. With the right tools and strategies, you can create a successful email list that will help you reach your business goals.
1. Use A Trustworthy Email Service Provider
Email marketing is a powerful tool for your business to reach your target audience and drive sales. Choosing the right email marketing platform, however, is essential to getting the most from it. 
The decision about which platform is right for you depends on the goals of your email marketing strategy. In general, it should be easy to use and integrate with other tools and systems. It should also offer automated emails, analytics, segmentation, and personalization features to meet your business needs. 
The email service provider should allow its users to seamlessly integrate it with platforms like Shopify and WooCommerce. Plus, it should offer automation services, so you can send engaging marketing emails more effortlessly.
2. Develop Personalized Calls-To-Action (CTA)
If you're not personalizing your CTA-s, you're missing out on an opportunity to connect with your customers and grow your business. Personalized CTAs also help build trust with your customers by showing that you understand their wants and needs.
When you send a relevant and interesting CTA, it increases the chances of them taking action. For instance, if you offer HR services and a blog post on your website discusses staff augmentation, you can add a CTA to people visiting that particular page that offers them some relevant added value.
This is what it can look like: Register for the newsletter here for a free staff augmentation model evaluation.
Then once they sign up, you can thank them and give instructions on how to proceed to get the evaluation. You can do the same for your other blog posts or web pages that are getting a lot of hits. This will give your users a chance to know exactly what they're getting when they register.

A great real-life example would be the CTA of Career Sidekick on their homepage, which says: "Create a professional resume for free!". If you look at the image above, you'll see that it's not just a generic CTA that says "Sign up now." It's related to what the company offers. 
It entices the site visitors to try the services without commitment. Once they like what's offered, they can register and utilize more premium services.
3. Have An Opt-In Signup Form
With an opt-in form, visitors can willingly and easily provide their email addresses and other information to subscribe to your mailing list. It's a great way to build an email list and keep in touch with potential customers.
But where should you place these email signup forms?
A high-converting opt-in form should be placed in areas that will get the most attention from users. This could include the home page, the most popular blog posts, and landing pages. You can also create the registration form as a popup, which we will further discuss in point #5. In any case, the form should also be easily accessible and visible on all devices. 
So, ensure your opt-in signup form is in the best possible location for maximum visibility. The goal is to get as many email subscribers as possible without being intrusive and depleting their user experience on your website. Just let the form be visible to serve as a reminder.

A great example would be Estuary's signup form at the bottom of its page, as seen in the image above. It's not intrusive and allows the site visitors to see it once they're done consuming the content on whatever page they're on. It's also an attention-grabber with the "Don't Miss A Thing!" phrase. 
4. Build A List Offline
Online tactics are not the only way to go. You have to maximize in-person opportunities to get more email addresses. It can be a great way to build your email list because they offer a more personal connection with your audience. 
For instance, attending a local event is an excellent way to get your name out there and get people interested in what you do. It doesn't matter whether the event is hosted by another company or by yours. If it has an audience, then it's a great place to meet new people and grow your email list.
What's more, you could join trade shows or utilize the foot traffic if you have a physical store. Not only that, you can collect information about people who attend your event and use it later on when contacting them about something else, making the experience more personalized.
Aside from having the obvious signup sheet, you can also make use of business cards. Include your name, business information, contact details, and even the link they can go visit to sign up.
5. Add A Pop-Up On Your Website
Pop-ups are a great way to grow your mailing list and get more people engaged with your brand. However, be wary because pop-ups should not get in the way of your user's browsing experience to avoid irritating potential leads. Make sure they can close the pop-up.
In essence, they're designed to bring attention to something specific on that site, like a limited-time offer, promotion, or survey. Additionally, they're most effective when displayed where visitors are likely to spend the most time, such as the homepage or the blog posts with the most traffic.
A great example of a website that could use a pop-up is SeekaHost's homepage. There's a lot of information on the page, which means site visitors may miss seeing the 7-day free trial offer. As such, a pop-up informing users that they can get a free trial when they register would be helpful. 
6. Maximize Your Email Signature
One of the best tactics to increase your email subscriber list is to include a link in your email signature. It's easy to do, and it works. Just imagine how many emails your or your employees send daily and how many people you're in constant contact with. Getting a fraction of that can be immense.
Your email signature can say something like "Get our email newsletter!" or "Sign up now!". It's a subtle way to remind them that you're there, and it gives them the freedom to decide when they're ready to join your list.
In addition, including an email signup link in your email signature also helps you build trust with your contacts. It's because they recognize that you respect their time by not spamming them with marketing messages.
7. Utilize Gamification
Gamification refers to the use of game mechanics like points or badges to encourage users to engage with your content or website. You've probably seen some of these, including the spin-to-win wheel game much like the wheel of fortune.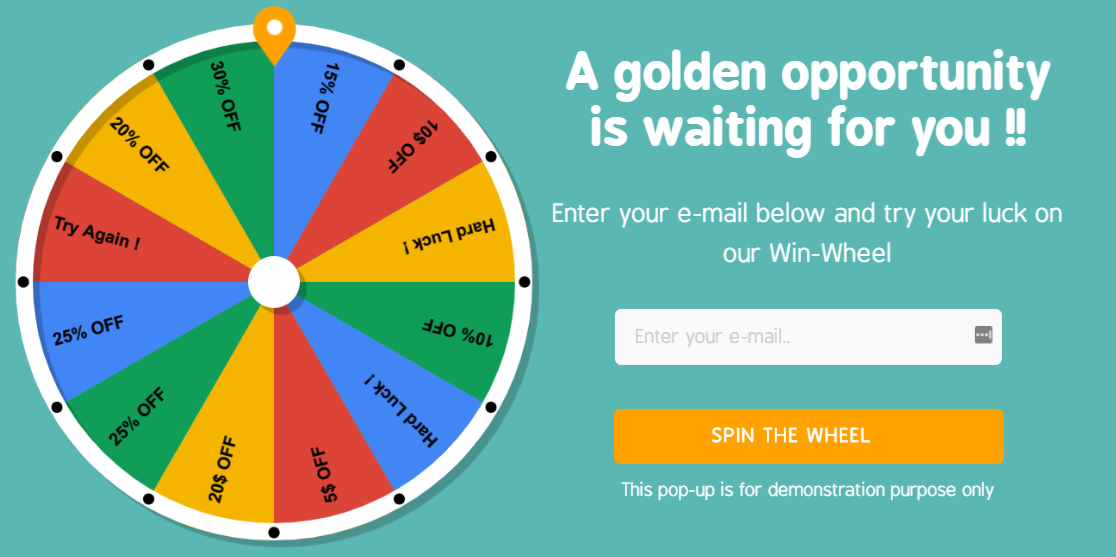 This is a great mail list-building strategy because it allows you to create a fun and interactive experience that could turn your site visitors into subscribers. By providing incentives like points, rewards, or discounts, you can increase engagement rates and get more subscribers. 
The idea behind this is that it's easy to get users excited about earning points. And once they're eager for points, they'll be more likely to do what you want them to do (in this case, sign up for your email list).
8. Have A Personalized Landing Page
A landing page is a web page that visitors land on when they click on an online advertisement or search engine result. It's often used in email marketing campaigns to increase conversions and generate leads. And a personalized one goes a long way. 
Personalized landing pages are those that are designed specifically for a particular visitor. In the case of a cookie company, if a visitor comes to the site from your Facebook ads for chocolate chip cookies, then you can show them the chocolate chip cookies that you offer on the landing page.
This type of tactic is useful for a multi-industry company like Vivion. It's involved in the nutraceutical, food & beverage, and cosmetics industries, just to name a few. So, if someone clicks an ad about its nutraceutical products, it should lead the users to a dedicated landing page showing only its capsules or powders.
9. Create A Referral Program
Referral programs are an effective way to build customer loyalty and increase the number of email addresses for a business. It's a great way to utilize what you already have (current subscribers) to get more email addresses of people who may otherwise not have heard of your business. 
What you do is allow your current customers to forward email newsletters to whoever they want to refer. You'll need to offer incentives like discount codes or rewards to encourage them to invite their friends and family members to join the program.
For example, let's say you're a business assessment provider. Now, business assessments are not one-and-done. It should be carried out consistently because the climate in any industry is ever-changing. What works today may not be successful next month. 
You could offer a free business maturity model for the referrer if they successfully get someone to sign up for an assessment on the website. It's a great incentive for entrepreneurs and those who want to increase their qualified leads. 
In the end, you'll get an additional email address for your mailing list, and the referrer gets something for free. The number of free maturity model assessments you provide is up to you. 
10. Leverage Your Social Media Channels
In today's era, social platforms are the go-to for hundreds of millions of consumers. They're easy to use, they're free, and they reach a lot of people. As such, this needs to be utilized for your email marketing efforts. 
Here are some ways to do this:
Include links to your newsletter in the bio section

of all of our social media accounts so that anyone who follows your business can easily subscribe if they'd like updates.

Utilize lead generation cards

on Twitter to capture leads from your followers and turn them into customers.

Use lead forms on Facebook

to allow you to collect your users' email addresses and other information right as they're on your Facebook group page.
With the right strategy, social media platforms can be a powerful tool for building an effective email list and growing your subscriber count. 
11. Guest Post On Websites In Your Niche
One of the best ways to get subscribers is to write guest posts for other publications that are open to it, like Writer Alpha. You can reach a wider audience by writing something interesting, useful, engaging, and valuable. Think about what you wish someone else would write about in your niche, then go ahead and write it yourself.
You can include a signup link at the bottom of your guest posts. Hence, if the blog visitors like what they read and want more information from you, they can click your link to enter their email addresses. 
However, if that won't be allowed by the publication, you can just include information about your business. If the post is good, then that means more people will search for your business and see what else you have to offer.
12. Use The Tools Available
You don't have to start everything from scratch. We're in the digital era, so leverage technology. For instance, use email marketing software. You just have to research to find the one that fits your strategy and business needs. This includes the following:
SMTP

Smaily

Mailchimp

Omnisend

Campaigner
If you plan on employing the gamification tactic, you can leverage Adoric's spin-to-win pop-up or Smartico's scratch-and-catch game. These are just some examples, but there are many more gamification providers you can use.
13. Leverage Ad Campaigns
When you run an ad campaign, you're essentially paying for the opportunity to get your ad in front of potential customers who might be interested in your product or service. Here's how to maximize your ads' impact:
A solid ad strategy:

This means creating a compelling offer, writing copy that converts, and getting feedback from your team on what they think works and what doesn't.

Keep things simple:

Don't try to cram too much information into one ad. Instead, split up the various elements of your offer, so they're easier for customers to digest and understand.

Match your landing page to your ad:

This will ensure that there is no confusion about what a customer needs or wants once they've clicked your ad and landed on your website

Clear CTA:

It doesn't have to be an order button (although that's always welcome), but it should make it very clear what you want people to do when they click on your ad.
There are plenty of platforms to use for ads, including Facebook Ads or Google Adwords. The right platform would depend on your data. For instance, are your target audiences more likely to use Facebook or Instagram? What type of ad do they prefer (images or videos)? 
14. Run A Giveaway Contest
It's a two-for-one deal: you get new subscribers, and they get something amazing in return. It's a great way to incentivize people who may not otherwise want to give up their contacts but will do so if they get something of value in return.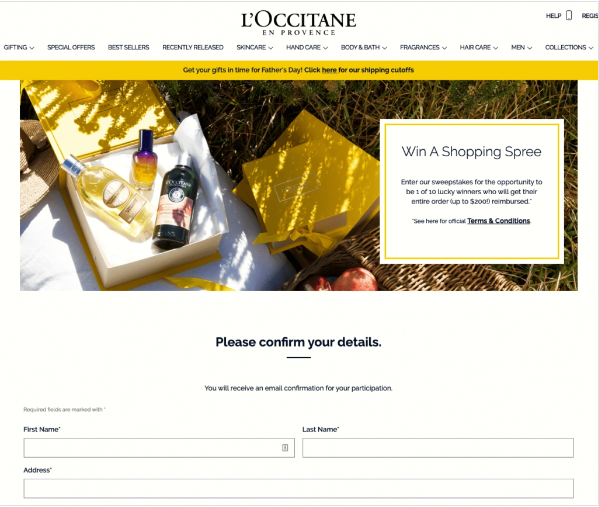 And here's why this works so well: People love free stuff. 
You can use free tools like Rafflecopter or Woobox, which allow you to create a giveaway without having to code anything yourself. Not to mention, you can use your social media accounts to run the contests.
Look at the image above and see the giveaway contest done by L'OCCITANE. The participants have a chance to go on a shopping spree with the brand. All they have to do is provide their information and contact details.
15. Create Valuable Content 
Creating valuable content is one of the foundations of many email marketing strategies we listed above. Without it, your other strategies can fail.
If you create great content that speaks to your audience, they'll be more likely to sign up for newsletters and other communications from you. Plus, they'll be more likely to share things with their friends, family members, and colleagues. It will push them to take action when asked by you (like clicking on an ad or buying something from your website).
A great example would be this blog post about hiring a virtual assistant by Zirtual. The article includes in-depth information as well as the pros and cons of each platform. Detailed information is provided along with the pros and cons for each. It gives readers options and insights to help them make an informed decision. Thus, making it valuable content.
And at the end of the blog post, there's an attention-grabbing CTA, and it says "Request a Consultation." The article is there to encourage readers to click the CTA and push them to try a consultation.
Would readers sign up for a free consultation if that article isn't relevant or useful? No, they won't.
Conclusion
Building a mailing list is one of the most effective strategies to market your business and increase sales. Our list of strategies can help you start your business effectively and give you a head start.
By implementing these strategies, you can create a solid foundation for your email marketing efforts and ensure you can reach out to potential customers and keep them engaged with your brand.
Would it be easy to tackle different strategies at the same time? Yes, if you have a helping hand.
That's when we, Smaily, come in. We can make it easy for you to employ your email marketing strategies with our abundance of services, including automation and landing page creation. Don't wait any longer, and sign up now.
---
About the Author
Burkhard Berger is the founder of Novum™. He helps innovative B2B companies implement revenue-driven SEO strategies to scale their organic traffic to 1,000,000+ visitors per month. Curious about what your true traffic potential is?