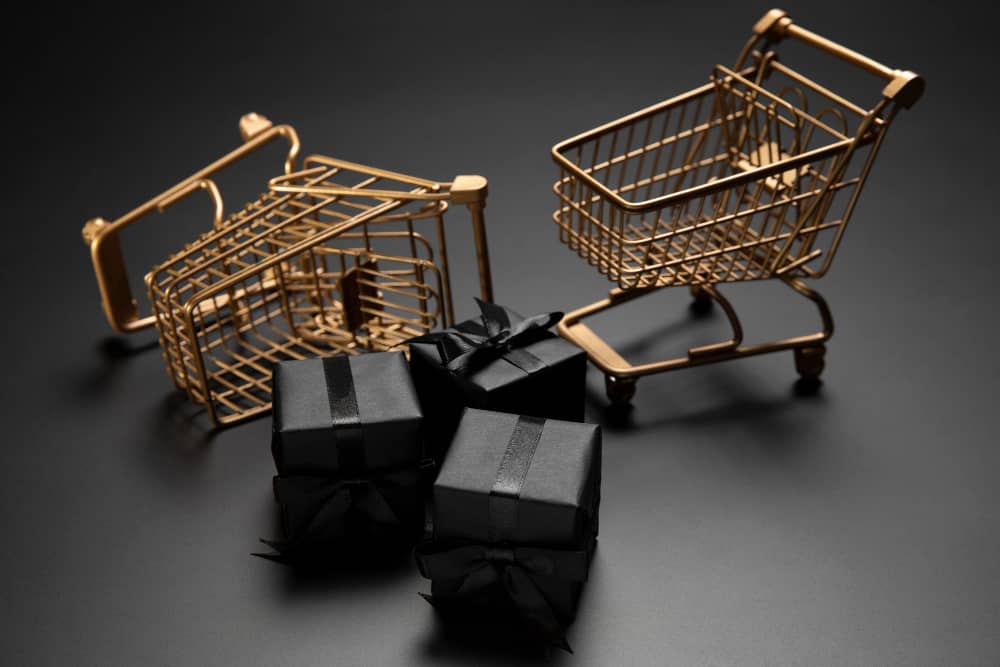 Black Friday is when the most considerable number of emails are sent. Approximately 7.1 million emails were sent via Smaily on Black Friday. The difference stands out if you compare this number with previous Fridays in November when an average of 4.2 million letters were sent out – 1.6 times less than on Black Friday. That makes it challenging for one individual email to stand out. In this article, Smaily's partner Viivika Lumberg reflects on how to make Black Fridays a little bit brighter for your email marketing. 
Black Friday is the biggest shopping holiday of the year, and customers are waiting for this day because it is the perfect time to buy Christmas gifts. Also, Black Friday is the best day to purchase electronics since this product group does not usually have significant discounts. Some brands also use this day to surprise their clients with unannounced discounts – they keep the discounted products a secret and reveal them only on Black Friday. This creates a "Christmas present" feeling for the clients – they know to expect something good, yet do not know exactly what they will get.
It is not a surprise that the open and click rates on Black Friday might be lower than usual. There are two main reasons for that:
The amount of emails sent on that day is so huge that both outgoing and incoming servers might get overwhelmed by it, and your email might take longer to deliver. For example, this year, Klaviyo had a server issue, and for a couple of hours, the platform was unavailable for mailing services on Black Friday. Also, some other platforms have been reported to be slower than usual.

There is an abundance of emails in the customer's mailbox, which makes it more difficult for one email to stand out. The subject lines mostly tell us about Black Friday, black emojis are used, and the overall picture can get overwhelming.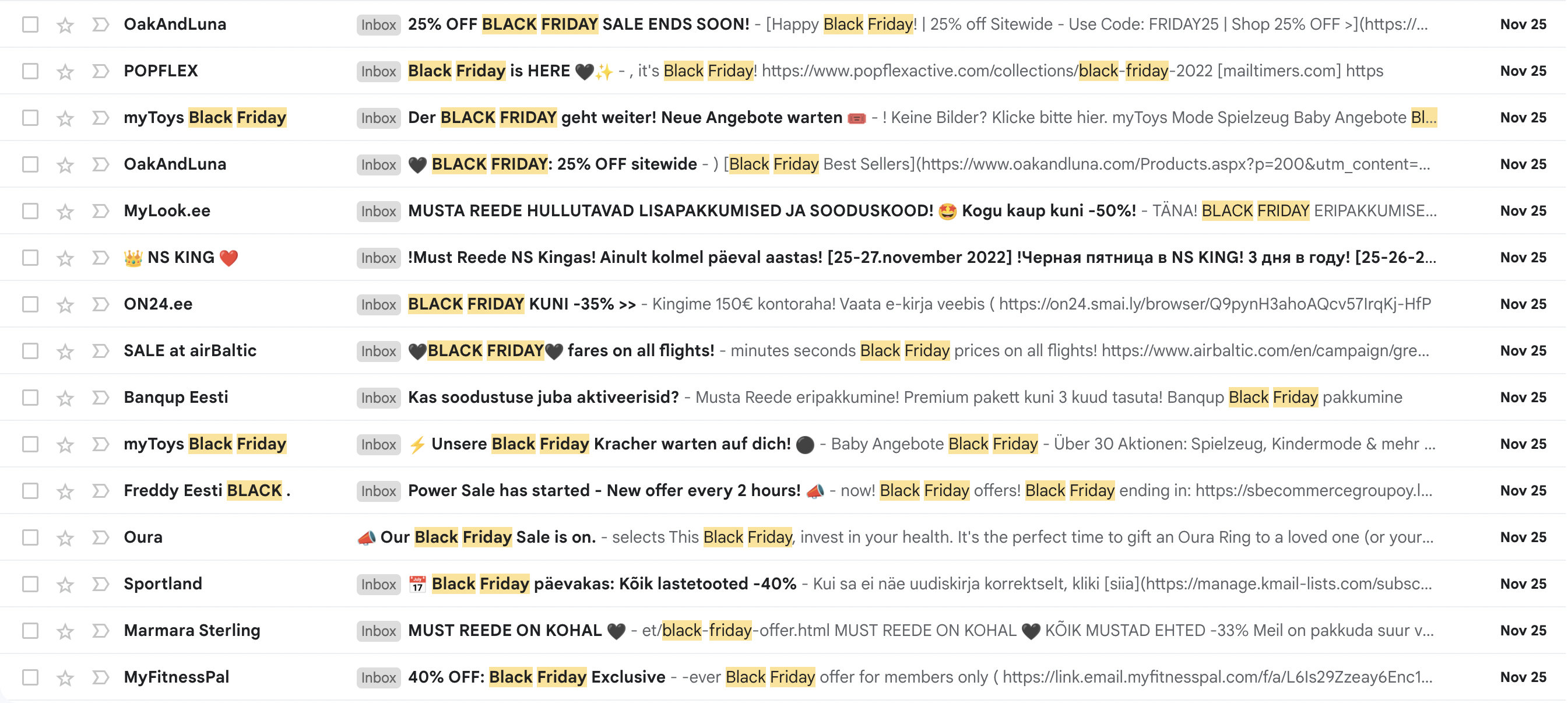 How to Plan Better for Next Year?
You can already start preparing for next year's Black Friday so that it will be a great success and all your marketing activities are well thought through.
No Last-Minute Marketing Activities
Although it might seem appealing to offer a last-minute campaign, then on Black Friday, it can do you more harm than good. That is why many brands have already learned that clients are studying the offers long before Black Friday. They compare offers and make their purchase decision earlier. So if you fail to send your discounted items to them many days ahead, they might just buy similar products from another store.
It may also happen that your campaign does not reach the customer on time for technical reasons. Black Friday might as well be named International Email Day, as no other day is so famous for the number of email campaigns sent. 
So make sure that next year you will start sending the Black Friday offers at least a few days before the offer becomes active. That gives your customer to prepare and make sure they have a budget for your products. Also, you will avoid the sudden "oopsie" moment in case there is a technical error.
Stand Out in the Mailbox
You can be sure that your email is not the only one your customer receives. Out of all the emails, more than 50% of them have "Black Friday" in the email subject line, accompanied by some black emoji. If yours is similar, then, unfortunately, it simply does not stand out.
If you want to use emojis, try colorful ones and use some that represent your products. Alternatively, add "Black Friday" to the sender's name instead, where you can also add emojis.
Try to avoid generic subject lines like "Black Friday Offer". Instead, mention very clearly which products or groups are discounted. If you offer -20% off all products, mention it. The more specific you are in your email subject line, the bigger chance it has to be opened. 
Use Many Different Channels
The clients might visit your website two weeks before Black Friday (or even earlier) and try to find information about products that will be on sale. Use that to your advantage! Set up social media and/or search engine ads that will "follow" these clients and remind them of the products that they looked at on your website. This ensures the client will remember your brand well. It's also important because your client will check out your competitor's sites to see if they're offering a better price. You want to ensure their return to your shop instead of the competitors' store. 
Once it is already Black Friday, then you could also send an SMS in addition to an email. For example, you can see which clients opened your pre-Black Friday emails and send them an SMS to ensure they'll remember your offer. 
Segmentation and Unique Offers are Key
There are only a few brands worldwide for which customers already know to expect discount campaigns. If your brand isn't iPhone, then you're probably offering a wider selection of products. That means that you also have clients with different interests. So, it is crucial to know the purchase history of your clients and use this knowledge to segment them. That way, you can modify your marketing messages to appeal to various clients and offer them the right products. For example, if your client previously bought a men's shirt, it would probably not be reasonable to send them Black Friday offers for women's dresses.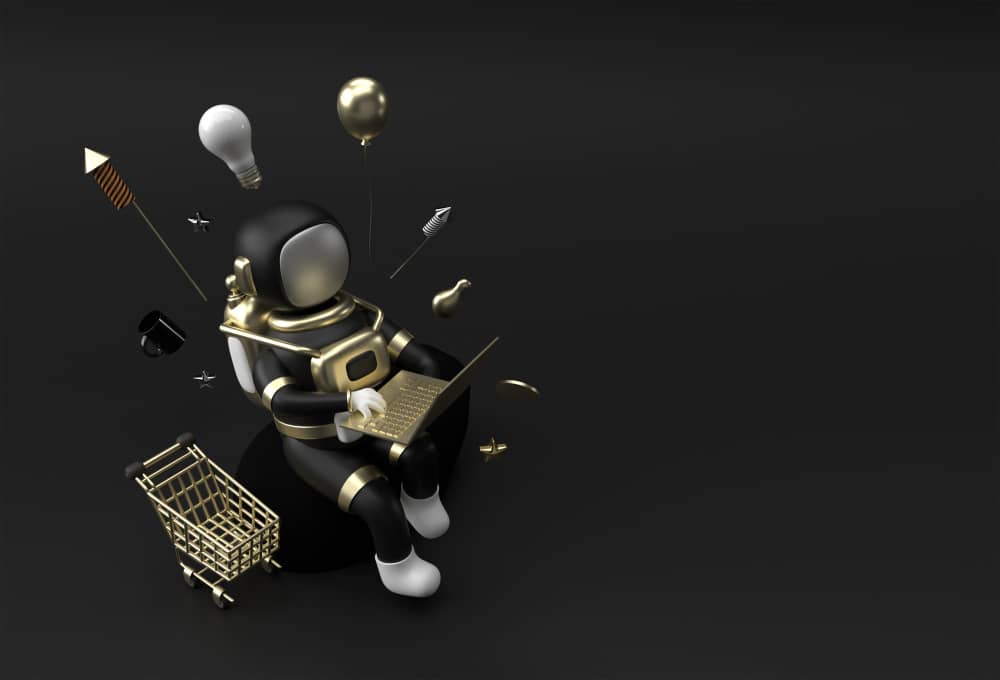 Also, if you know the browsing history of your clients, then it is wise to send them offers, including the products they have already looked at. Maybe they are waiting for the discount and will purchase as soon as they get the offer. 
Offer a Real Discount
It's a bit of a shame, but some brands offer fake discounts each year. They just increase the original price for their products and afterwards show the regular price as discounted. Believe us – your client is very smart! Those things will be noticed, and the fake discount will be told to family, friends, and discussed on Facebook groups. This will lead to an unimaginable loss in brand image. In this case, it would be better not to make a discount at all than to engage in deception. 
In conclusion
As Black Friday has just finished, it is a perfect time to look back. See what your competitors did. Go through your mailbox, and read the emails sent to you. Make notes of the best examples and think of how to stand out. So next year, you will be prepared and know exactly which buttons to press to get customers into your store. And please start preparing your campaigns early to avoid all sorts of technical problems. If you need help, let us in Smaily know!